Gardner '89 Awarded Second National Humanities Grant
Jan. 17, 2020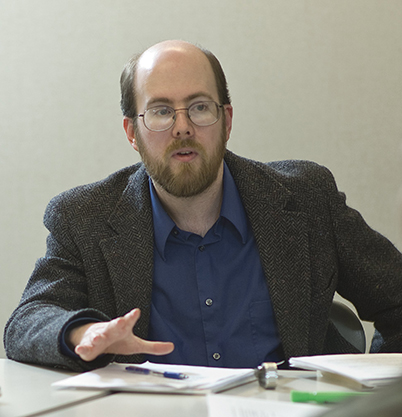 BLOOMINGTON, Ill. — Illinois Wesleyan University alumnus Eric Gardner '89 was awarded his second National Endowment for the Humanities (NEH) grant, which will provide $60,000 worth of funding to support his year-long study in African American Literature.
NEH Fellowships are competitive awards granted to scholars pursuing research in history, literature, philosophy and other areas of the humanities. This year, the NEH funded only 8% of the applicants who completed the rigorous fellowship proposal process.
"I'm still a little stunned, and I'm gigantically excited," Gardner said.
A current professor of English at Saginaw Valley State University (SVSU), Gardner majored in English at Illinois Wesleyan before completing a doctorate at the University of Illinois, Urbana-Champaign. As a member of the SVSU English faculty since 1996, his teaching and learning interests center on African American literature and culture. His research has allowed students in his classes to be among the first in the nation to read rediscovered literary texts by early African American writers.
"Nineteenth-century African American literature is simply so rich, so compelling, and so good — and the nineteenth-century, especially the Civil War and Reconstruction, is closer to our reality than we sometimes think," he said.
Gardner's interest in African American literature stemmed from his experience at Illinois Wesleyan, which he described as "a pretty magical place for a geek who grew up in a small town and was fascinated by words."
He remembers being constantly inspired by faculty members and taking courses in creative writing, history, and literature, one of which included an English class that was centered on Toni Morrison's late 20th century novel Song of Solomon.
"I remember asking myself why I was only reading that text now — and why I knew nothing about Morrison or a host of other Black authors or lots of the people and issues they were writing about," he said. "I knew even less about the 19th century."
Since then, Gardner began his commitment to researching and uncovering major works of American literature, culture, and history that are often dismissed, ignored and even destroyed.
"We all deserve to know these stories, and we need to know them: thinking about difference enriches you, helps you grow, helps you try to be better," he said.
This commitment led him to conduct extensive research on nineteenth-century African American writers and activists. He has received multiple awards for his work, including his first NEH Fellowship in 2012-13, which resulted in the publication of Black Print Unbound: The Christian Recorder, African American Literature, and Periodical Culture. The book won the Research Society of American Periodicals Book Prize in 2017 and was recently named by the Black Press Research Collective as one of the ten most important books of the decade on the Black press.
This year's NEH grant will allow Gardner to research and publish a book on the life of Frances Ellen Watkins Harper, a 19th century African American writer, orator and activist during the Civil War and Reconstruction era.
"Harper was amazing. In an era dominated by discrimination against both African Americans and women, she fashioned a public career that lasted for decades. She lectured across the nation. She wrote poems short and long, novels, essays, and sketches — many of which are rich as both (and simultaneously) literature and political argument. And she worked alongside figures from Frederick Douglass to Susan B. Anthony on African American rights, women's rights, temperance, and a range of other issues," he said.
Gardner hopes that by publishing a biographical narrative that explores Harper's ideas, art and community, he can increase his students' and colleagues' familiarity with the importance of her work.
"In making the manuscript, I'll have learned so much and have so many new questions that I'll be both a better scholar and a better teacher. And if I'm successful in the work, I'll be able to help not only my students and myself but also other scholars, teachers, and students grow and ask more questions, too."
By Vi Kakares '20