Community Challenge Encourages Student Voter Engagement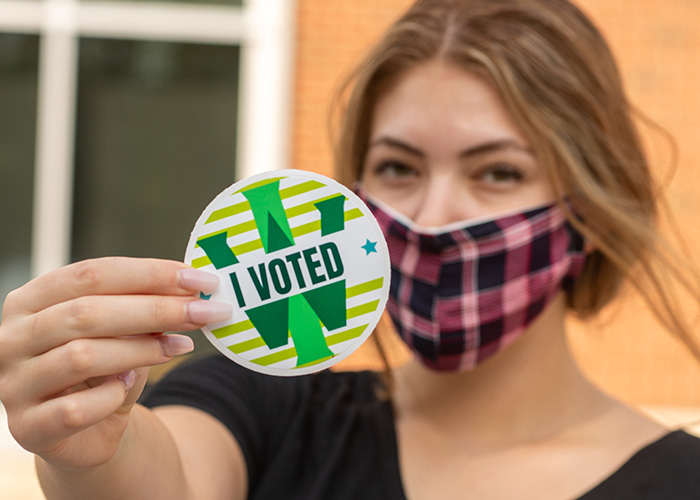 Sept. 22, 2020
BLOOMINGTON, Ill. — Launched on National Voter Registration Day, Illinois Wesleyan University is participating in a friendly competition against Illinois State University and Heartland Community College to encourage voter engagement across the three campuses.
The "BloNo Campus Voter Registration Challenge" aims to see which institution can get the most students to register to vote ahead of the upcoming Nov. 3 election. The competition runs through Oct. 18, the last day to register to vote online in Illinois.
Action Research Center Coordinator Bevin Choban '10 spoke at a virtual kickoff event which included representatives from the three competitors and local election officials.
"At IWU, one of our core mission values is preparing Titans for lifelong democratic and global citizenship," Choban said during the kickoff event. "In that spirit, we're thrilled to partner with ISU and Heartland to engage as many students as possible in the 2020 election."
In addition to the BloNo Campus Voter Registration Challenge, several campus organizations are encouraging student voter engagement, including the "Titan Votes" initiative organized by Student Senate in partnership with the Athletics Department.
Students will be "counted" for the voter registration challenge by posting and tagging their Instagram posts about registering to vote with #Titanvotes2020, and tagging @iwusports and @iwusenate. Alternatively, students can send an email to iwusports@gmail.com to be counted. Participants will also be entered in an IWU Athletics raffle.
Information about voter registration can be found at vote.gov.
By John Twork