Students Present Original Research at STEM Conference
Dec. 18, 2019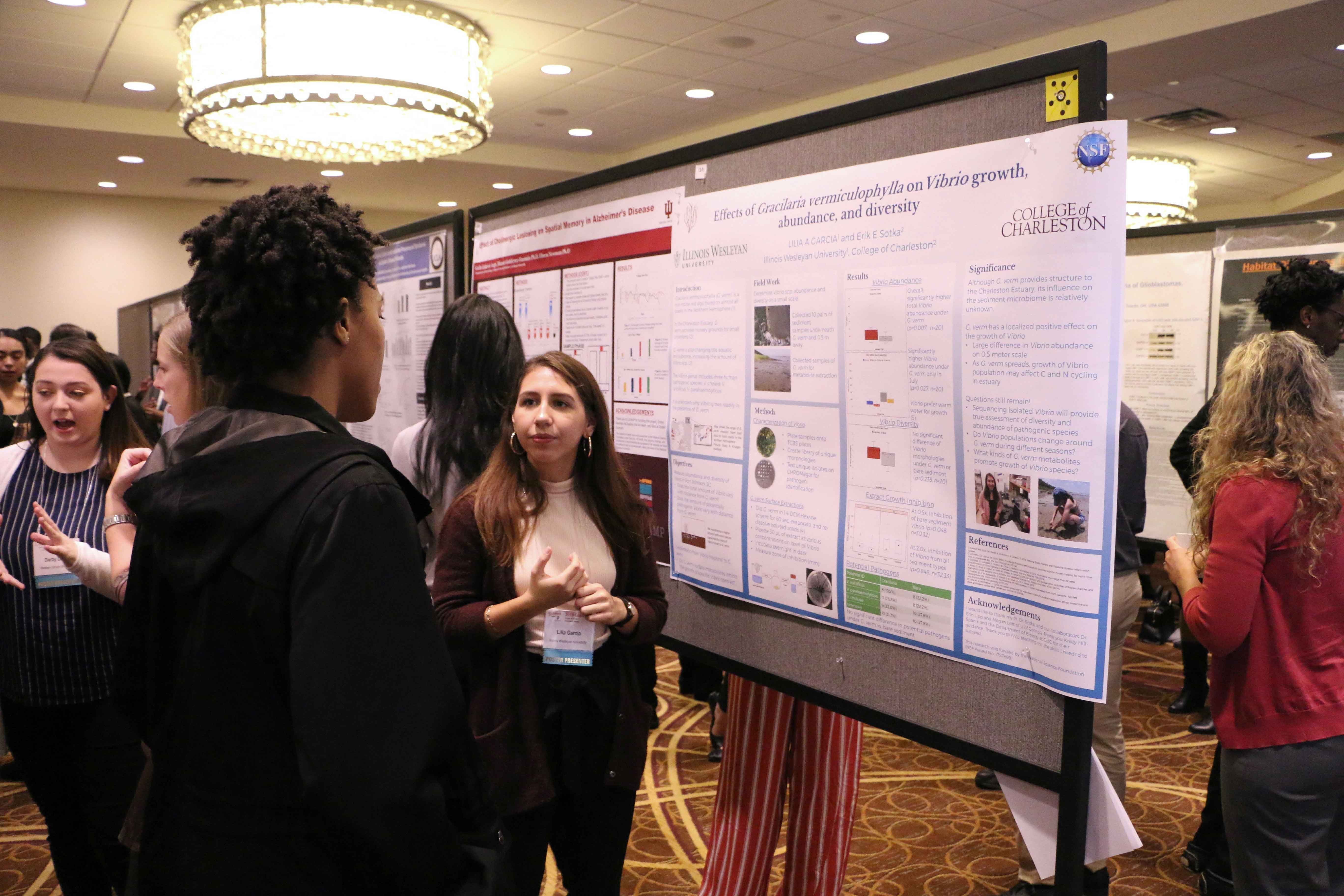 BLOOMINGTON, Ill. — Biochemistry major Ayana Blair '21 and biology major Lilia Garcia '21 recently presented their original undergraduate research at the Louis Stokes Midwest Regional Center of Excellence (LSMRCE) 2019 Annual Conference in Indianapolis.
The conference, "Building a Diverse STEM Talent Pool: Classrooms to Careers," featured 151 poster abstracts from undergraduate and graduate students from 53 colleges and universities across the nation.
As part of the LSMRCE's mission to increase diversity in the U.S. STEM workforce, the conference supports the professional and personal development of students. Illinois Wesleyan's partnership with the LSMRCE provided funding for Blair and Garcia to attend the conference, along with Assistant Professor of Biology Loralyn Cozy.
Cozy noted that more than 500 students attended, nearly all of whom were African American, Hispanic, Native American or Native Pacific Islander.
"For students who are in the minority in their chosen field of study, being immersed in a space where STEM peers and leaders look like them is incredibly powerful," Cozy said.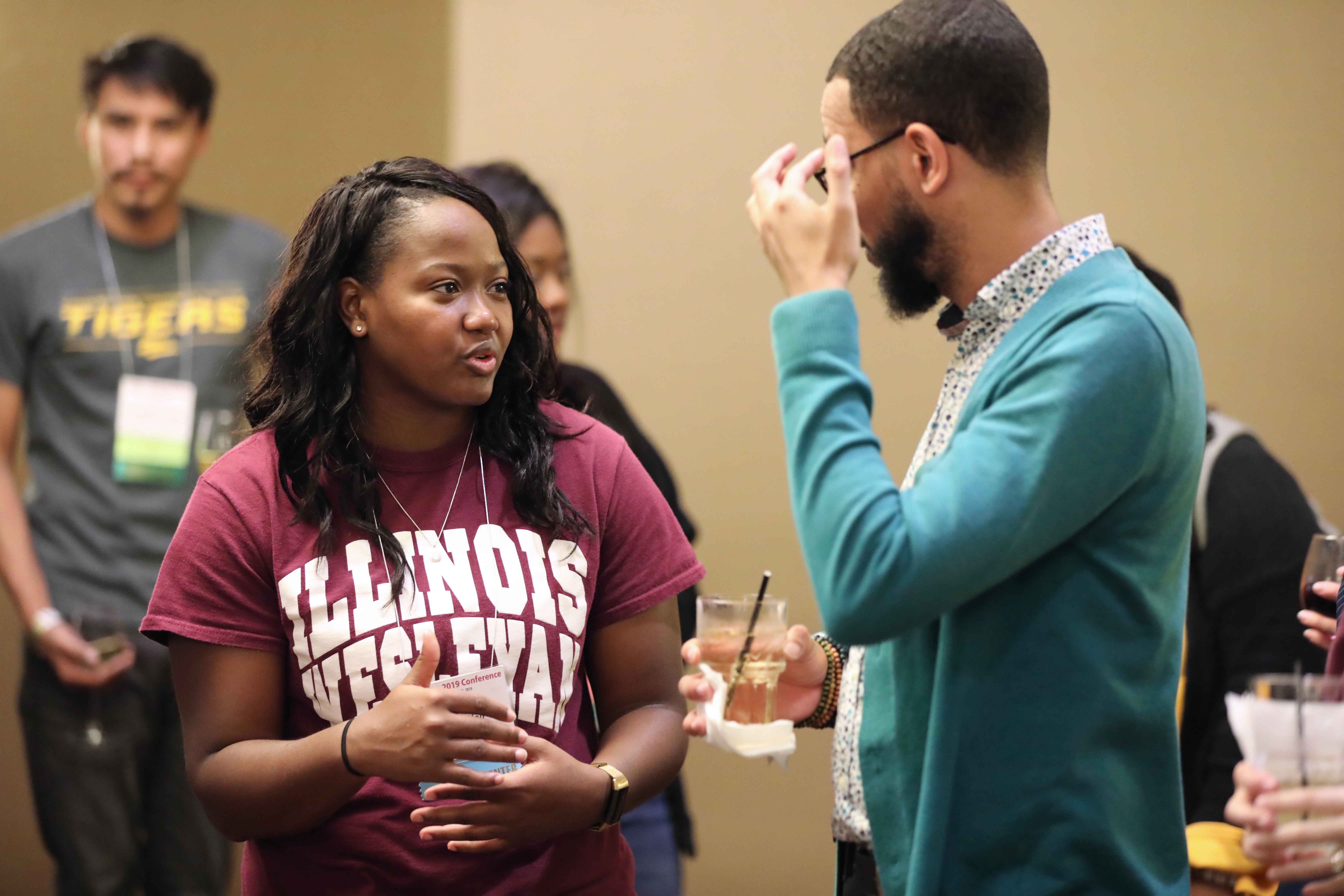 Blair said the conference was an "amazing experience," as she presented the research she conducted with Professor of Chemistry Rebecca Roesner. Her research, which focused on the host-guest chemistry of polyoxoanions, was funded by the Illinois Wesleyan University Forrest Frank Fund and the Department of Chemistry and Biochemistry.
"Working with Dr. Roesner has made my college experience great," Blair said. "I was able to learn a lot from her, inside the research aspect and even outside of it. Researching was a lot of fun, even though there were many different challenges we faced and overcame."
Garcia faced similar rewards and challenges throughout her research process. She presented research conducted as part of a summer internship at the College of Charleston which focused on how invasive species can alter environments in both positive and negative ways.
"My research experience during the summer was challenging because it was self-led and independent. Although there were periods of stress, I learned how to trust myself, my skills, and build my confidence in the lab," she said.
Blair and Garcia also had the opportunity to connect with professionals in the field.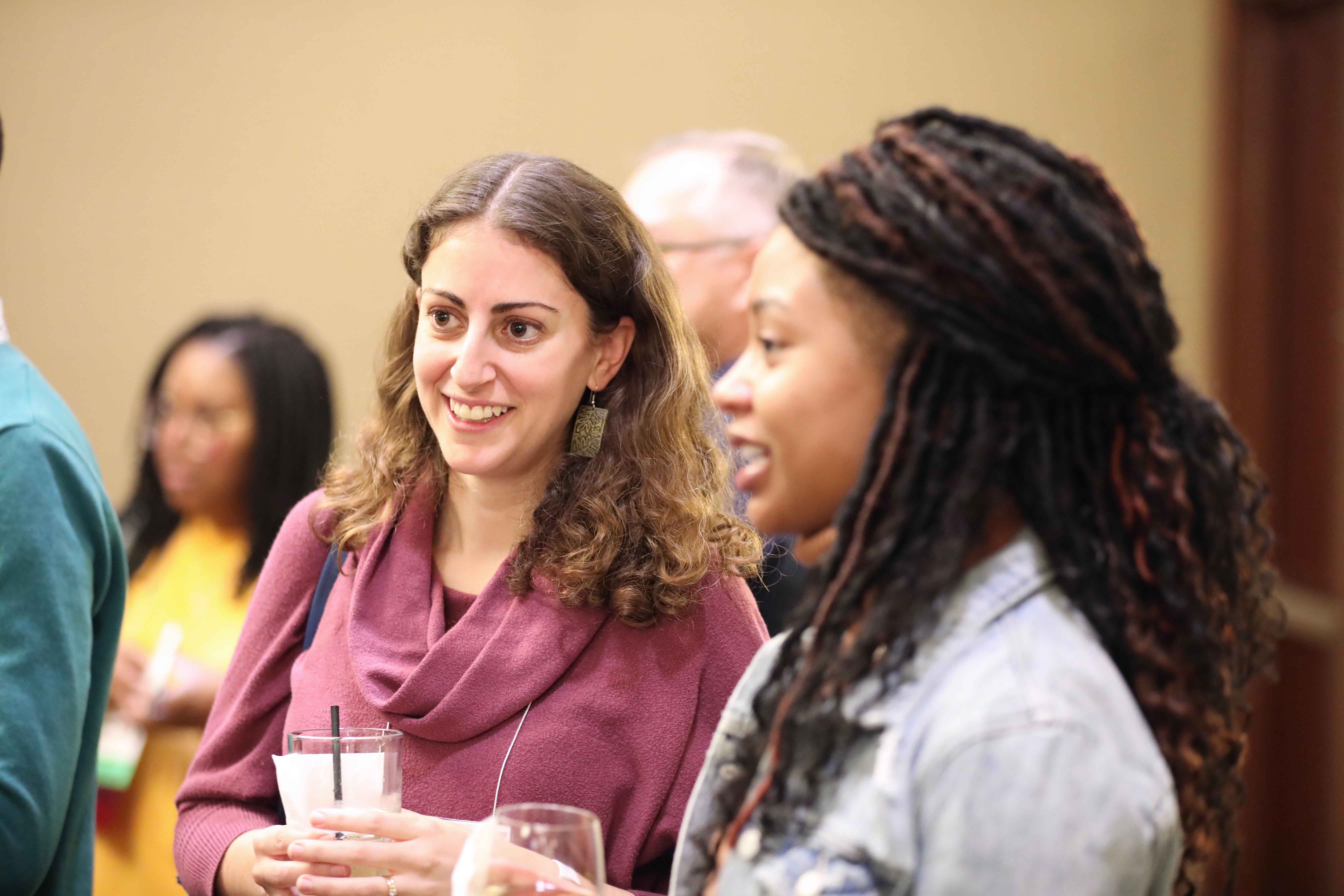 "They had amazing women in STEM talk to us about their experiences, while also encouraging us to never give up even if we hit a roadblock. One of the major takeaways for me was to find your network of people early, the people who will be there to make you better by encouraging you to do things you never thought you could do," Blair said.
Garcia also added that "it was motivating and reaffirming" to hear from speakers working in the field.
"The keynote speakers at the conference were incredibly amazing, inspiring women of color in science, working in places like NASA and FermiLab," she said.
Through this experience, Blair and Garcia gained insight into their future careers. For Blair, this future is in medical or graduate school. Garcia hopes to combine research with educational outreach and work in a museum or other public institution and engage with guests about science.
"I hope that Lilia and Ayana, as well as future students we bring to this conference, leave with the feeling that they are part of something much bigger," Cozy said. "That there are students just like them across the country working and succeeding in their passion for science and that there is a vast community of people ready to help them achieve reach their goals."
By Vi Kakares '20