Students Present Inclusive Education Research at Conference
May 22, 2019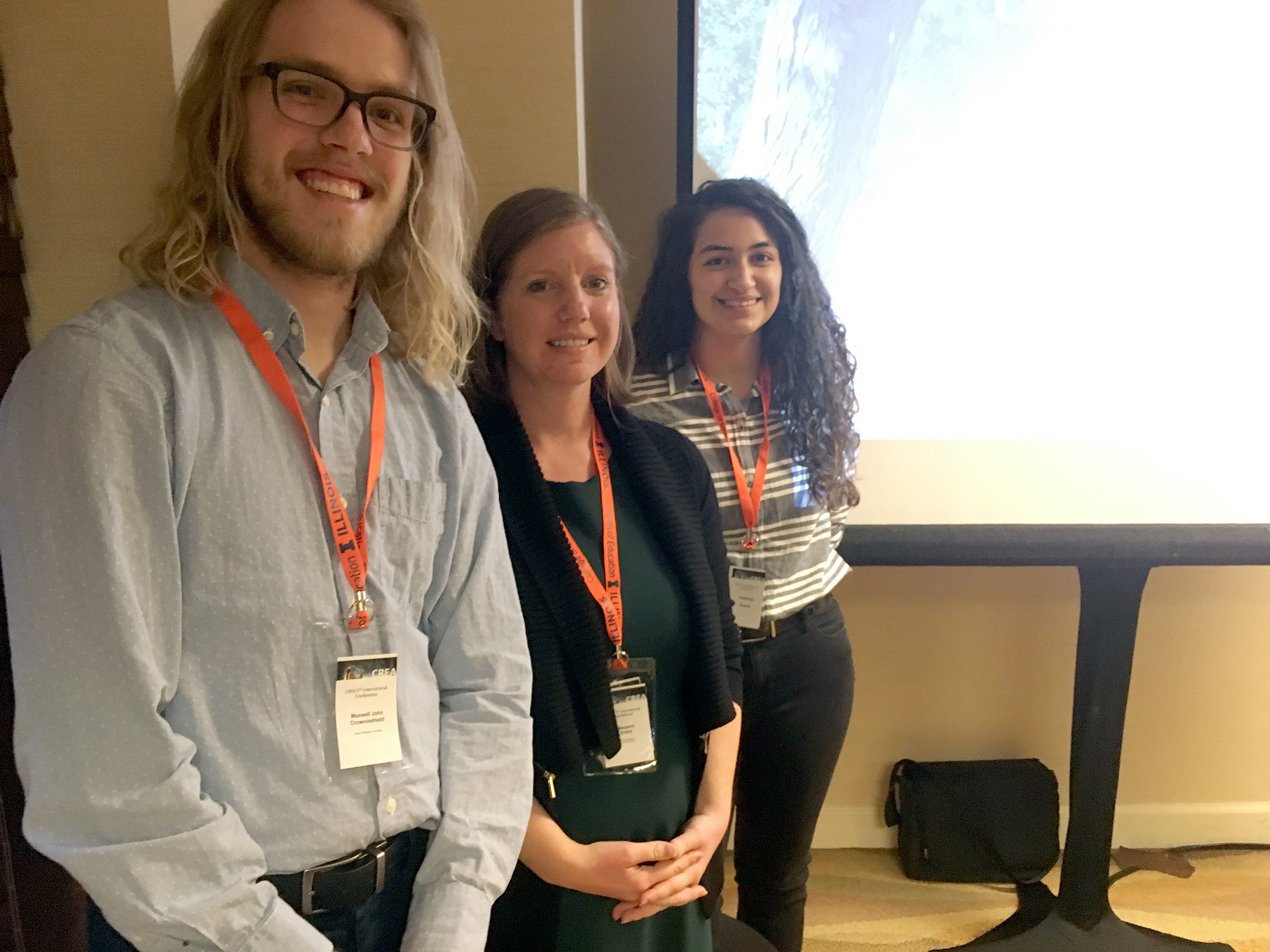 BLOOMINGTON, Ill. –– Yesenia Martinez-Calderon '20 and Maxwell Crowninshield '20 presented their two-year long research project at the fifth Culturally Responsive Evaluation and Assessment (CREA) Conference in Chicago.
Collaborating with Assistant Professor of Educational Studies Maggie Evans, the group's research focuses on inclusion in higher education, exploring traits and strategies of inclusive professors who create welcoming, supportive classrooms for all students but particularly students of color, students with disabilities, and students who identify as LGBTQ+.
"One of the phrases that everyone has heard at least once on this campus is 'Do Good.' As a Hispanic Studies and Secondary Education double major, I value my Latina identity tremendously and through this research I have unlocked a world where I am able to do good for my people," Martinez-Calderon explained.
Martinez-Calderon and Crowninshield, a History and Secondary Education double major, started this research project when they were first-year students and have "contributed to every aspect of the project including establishing research questions, designing and distributing a survey, conducting interviews, analyzing our data and now presenting at two major academic conferences," Evans said.
As he reflected upon the experience, Crowninshield acknowledged that his involvement with this research has defined his time at Illinois Wesleyan.
"It was challenging at points but has been so rewarding to feel like I have contributed something to the world on an academic level," Crowninshield said. "It has also given me a level of confidence that I believe has helped me throughout my studies at IWU."
The research culminated with the two students presenting at CREA, where they shred ideas for an evaluation tool that would offer professors formative feedback regarding their classroom's inclusivity. Martinez-Calderon and Crowninshield complemented the 2019 CREA theme: Intersectionality as Critical Inquiry, Method and Practice: Moving Beyond Nominal Categories and False Dichotomies in Culturally Responsive Evaluation and Assessment.
"It really opened my eyes up to a world of people who are really working to make sure that everyone is treated fairly in regards to evaluation, in the classroom and beyond," Crowninshield said. "This conference really made me feel like I was taking steps into the real world outside of IWU, but I knew everything that I had learned at IWU would allow for me to be successful there."
For the students, presenting their research alongside scholars from around the world was a surreal and rewarding experience.
"We have been working on it for so long that seeing it get shared with other people was an incredible feeling. It was an even better feeling when people seemed to have positive responses to our work," explained Crowninshield.
Martinez-Calderon added, "I can truly say that it was exciting to present our own research, but after the presentation is when everything began to seem real. People were coming up to us and expressing their interest in our topic and wondering if we would take this research on the road. As someone who dislikes being the center of attention, this kind of attention was encouraging and filled with positivity."
The ability for undergraduate students to conduct and present research of this caliber is a unique feature of an Illinois Wesleyan education.
"Undergraduate research contributes to the student experience by increasing the critical thinking of the students and their ability to explore diverse topics," said Crowninshield. "I personally have felt more connected to this research, and have developed more as a person, due to the fact that I was able to help start this project and be a part of every choice we made.
"It has changed my time here because it has given me the chance to meet Yesenia and Dr. Evans," Crowninshield continued. "Both of them have not only shaped this research but given me valuable lessons to take to the rest of my life."
Martinez-Calderon echoed Crowninshield's appreciation for the mentorship provided by Evans and other Illinois Wesleyan faculty.
"I think I can say that the emotional support from the professors at this institution is what I value the most. Professor Evans has been one of the many people that has offered support both in and outside of our research," said Martinez-Calderon. "My experience has been filled with so much academic and emotional support that I could truly say my experience changed for the better."
Evans credited the Educational Studies Department, the Office of the Provost and other "encouraging students and professors around campus" for making the project possible.
"This level of undergraduate research is not possible without support from multiple stakeholders," Evans said. "We are sincerely grateful for the ways in which administrators, faculty, and students have embraced and supported this project."
By Megan Baker '21