Siblings Thank Benefactors for Investment in Student Success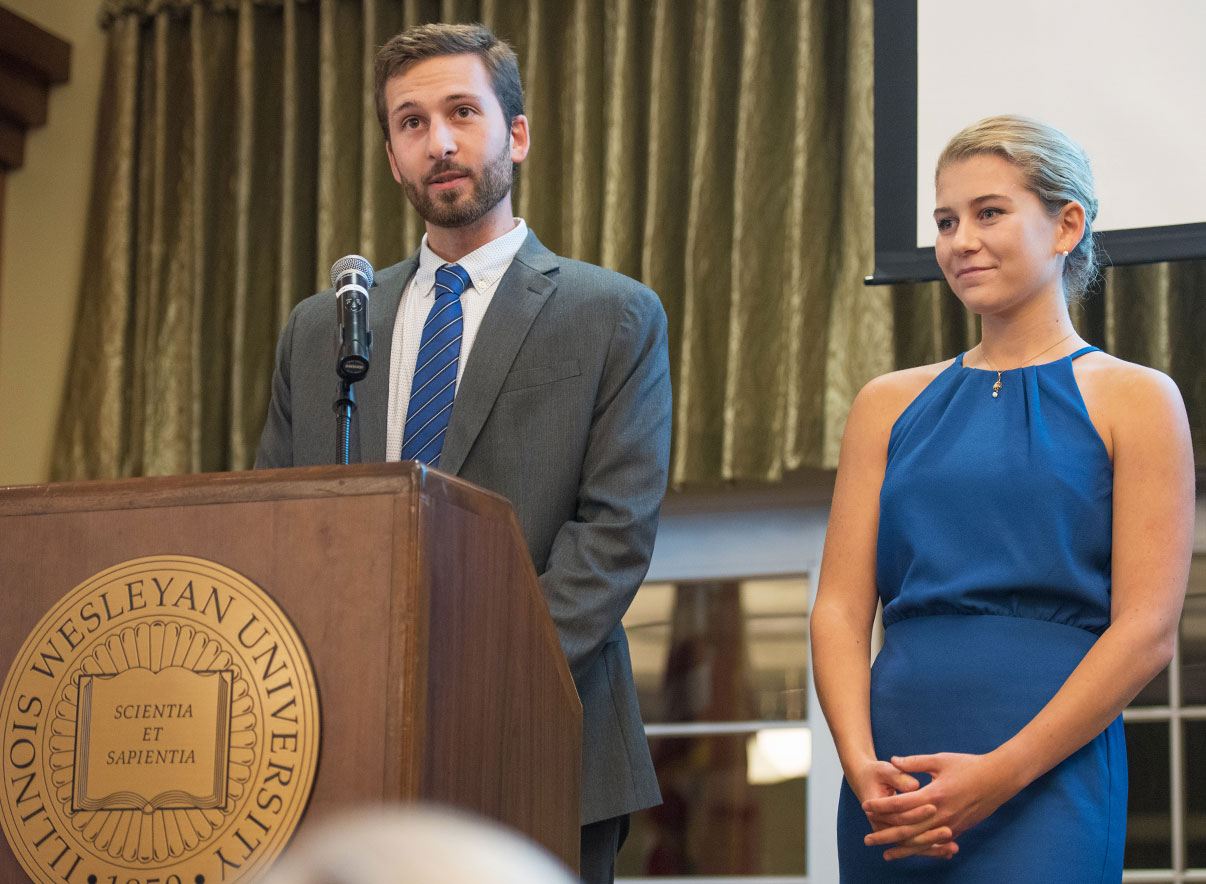 Oct. 4, 2019
BLOOMINGTON, Ill. — Forever etched in Star Commanday's memory is the moment she opened an email from Illinois Wesleyan University congratulating her on earning a substantial School of Music Director's Scholarship.
"I apparently made a noise out of excitement that made my mother rush into my room thinking I had somehow hurt myself, and when telling my father, I don't think I've ever seen him more proud in my life," Commanday recalled.
In that moment, Commanday's seemingly unattainable dream of attending Illinois Wesleyan and studying under Associate Professor of Music Ilia Radoslavov had suddenly become financially possible.
Star Commanday '21, a junior piano performance major, and her brother, Lark Commanday '20, a senior English major –– both from Peoria, Illinois –– expressed their gratitude to a record-setting gathering of 275 attendees at the 23rd Scholarship Benefactor Dinner on Thursday, Oct. 3.
"Now that I'm here, I am thankful every day to be attending Wesleyan," said Star Commanday, who transferred to IWU from her hometown community college. "The School of Music's program is developing me into a well-rounded musician, and my general education classes and arts management minor are turning me into a real, knowledgeable businesswoman."
Lark Commanday also shared the story of his journey to Illinois Wesleyan with the audience of benefactors and scholarship recipients. After training as a ballet dancer for 11 years, Commanday put his education on hold to join the Kansas City Ballet when he was 17 years old.
Following a three-year professional ballet career, Commanday decided to return home and enroll at a local junior college while teaching dance. It was during this time that Commanday was offered, and accepted, an adjunct ballet instructor position at Illinois Wesleyan.
"I got the job, got to know it, got to know my colleagues in the department, and got to know the beautiful campus and the culture around here," Commanday said. "Up to this point, Wesleyan had never been on my radar as a transfer school because I had never been able to imagine affording such quality of education – even with my new job as an adjunct."
Similar to his sister, Commanday worked with Illinois Wesleyan's Admissions and Financial Aid offices to secure enough scholarships and aid –– including the Alumni Scholarship Award –– to attend Illinois Wesleyan as a student, while also continuing to teach.
"This is the place and these are the people that have guided me through and built me up in this time, from my decision to be an English major to my ambitions to attend law school," Commanday told the benefactors. "Thank you for making this possible for me."
Star Commanday echoed her brother's heartfelt appreciation.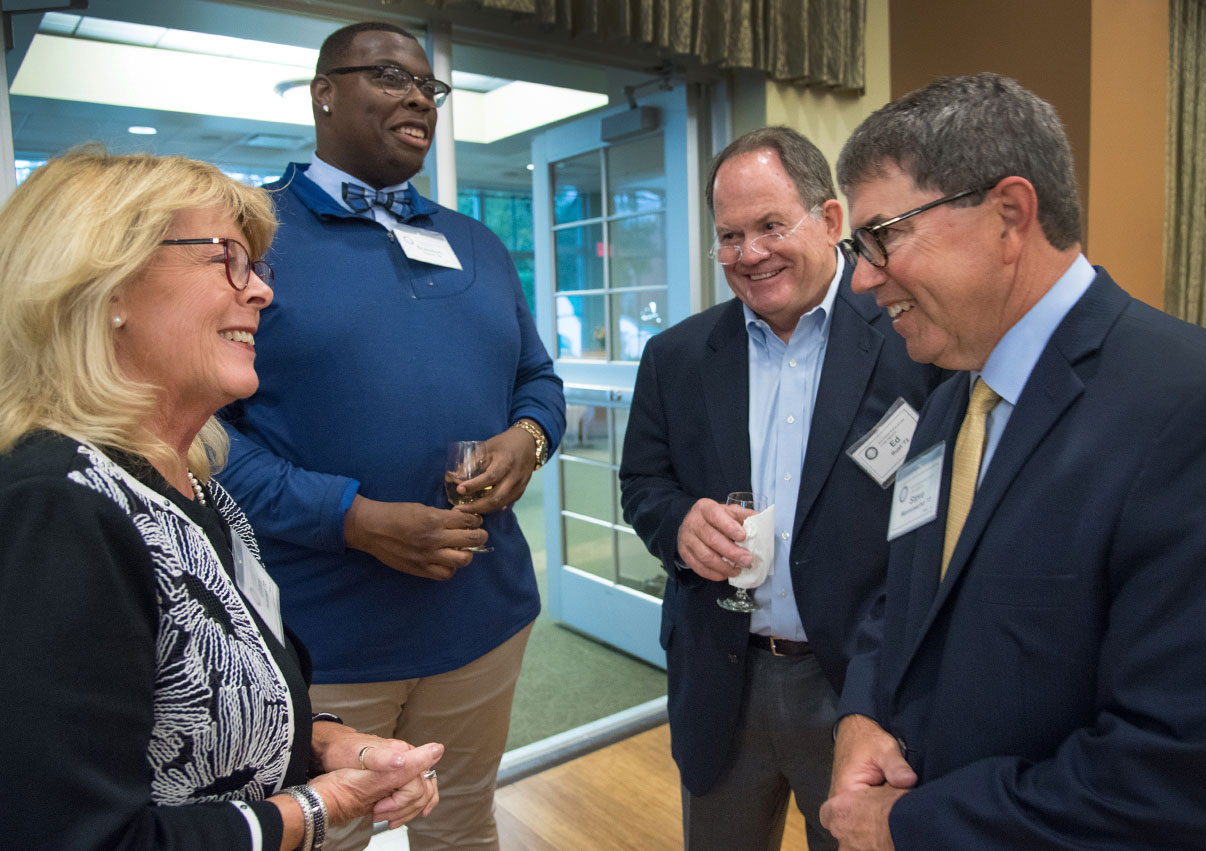 "I am so glad to have this time to develop at Wesleyan, and it would have never been possible without the generous support of my benefactors. Benefactors, what you do unlocks incredible potential in all the students you sponsor that might otherwise lay dormant. Thank you, for what you do."
Star and Lark Commanday were two of the 89 students who joined 170 benefactors to celebrate 334 scholarships –– including 29 new scholarships –– awarded to 452 recipients.
Interim President Georgia Nugent told the audience, "To see so many benefactors gathered together here together with their students, to me, provides very tangible evidence of how much our alumni and friends understand and value the education that Illinois Wesleyan can offer. As well, this largest-ever gathering enables us to literally see the IWU family in action, as one generation passes on to another the transformative power of higher education."
More than 95 percent of Illinois Wesleyan students receive some form of financial assistance from the University. Nearly seven out of 10 students on campus have demonstrated need and receive scholarships and grants from Illinois Wesleyan.
Scholarships created by alumni and friends meet part of the needed funds for those students, allowing Illinois Wesleyan to provide more than $43 million in annual financial aid.
The tradition of named scholarships at Illinois Wesleyan dates back to 1893, when the Board of Trustees decided it was important to recognize supporters by naming scholarships in honor of those contributing $1,000 or more.
To learn more about providing support for Illinois Wesleyan, please contact the Advancement Office at (800) 689-9743 or advancement@iwu.edu.
By John Twork