Oreskes Addresses Science in a Changing Climate
Jan. 18, 2019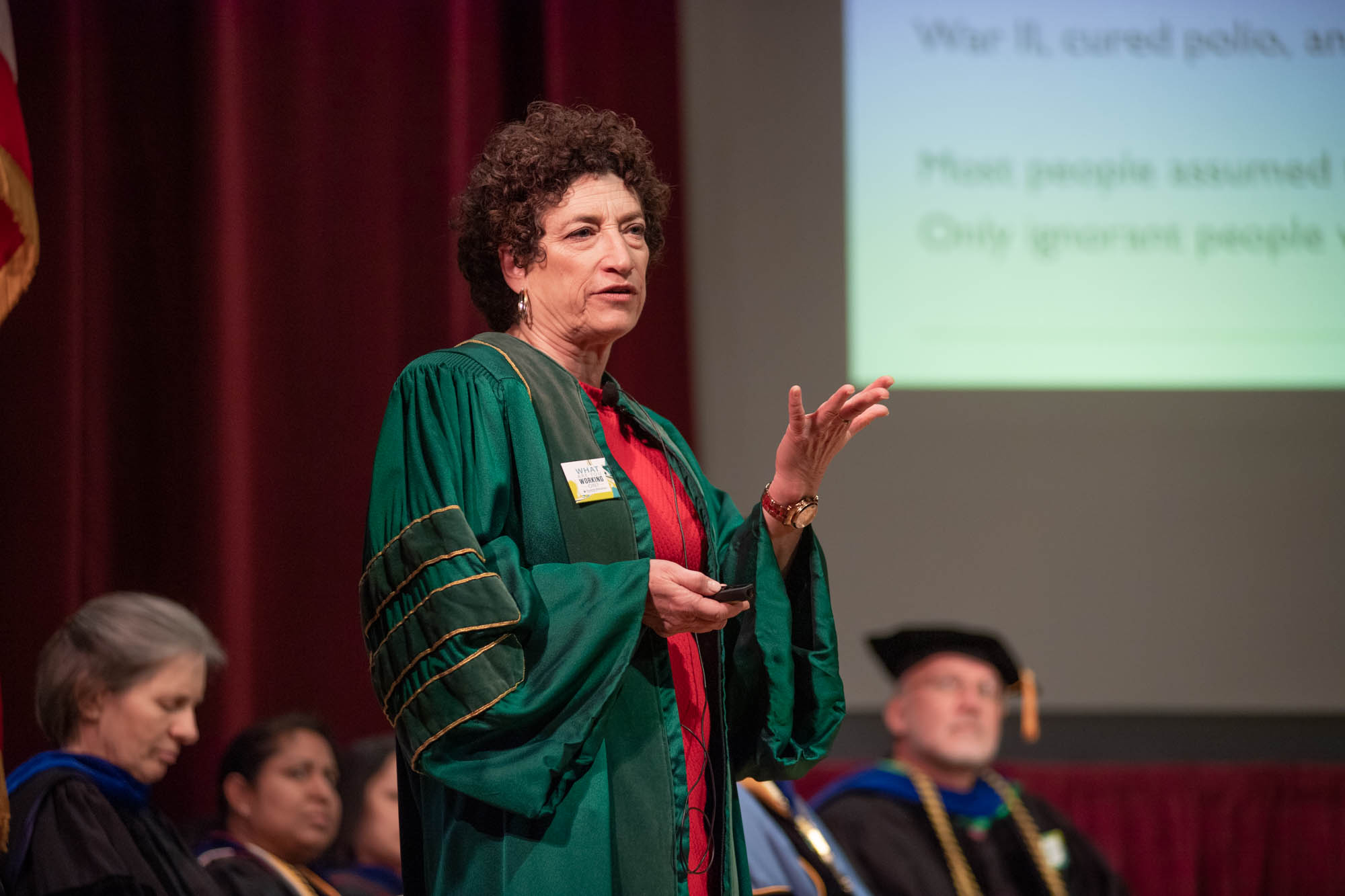 BLOOMINGTON, Ill. — As the global climate changes, so too does the climate for science, according to internationally renowned geologist, science historian and author Naomi Oreskes, who spoke during Illinois Wesleyan University's Founders' Day Convocation Wednesday afternoon.
"We now live in a world where many people doubt science – where the claims of science are contested routinely," Oreskes said. "We live in a world of truthiness, of fake news and alternative facts."
Oreskes, who is a leading voice on the issue of anthropogenic climate change, contends that when people reject facts – such as in the case of climate change – they make bad choices with potentially dire consequences.
"If people don't believe in climate change, then why would they support action to address it?" Oreskes said. "The answer, of course, is that they wouldn't."
While rejecting facts can be dangerous, Oreskes also said it is important to ask, "Why trust science?" She urged the Founders' Day Convocation audience to question, "What is this based on? What is the evidence behind these claims? What is the basis for which we should trust what you're telling us?"
Scientific evidence gathered through various research methods is critical, according to Oreskes.
"Evidence is really the key element in science, not method," Oreskes said. "And so, I believe that when you talk about science, it's really important for us to talk about 'What is the evidence that supports these claims?'"
Oreskes said it is the responsibility of scientists collectively to determine if evidence supports an expert consensus, in order for a claim to be deemed a scientific fact.
"Our scientific knowledge is based on the accumulated expertise and experience of – not just one genius – but of hundreds of thousands of scientists working together," Oreskes said. "We should not trust scientists as individuals, but we do have good reason to have confidence in the process of which they are a part."
Many Illinois Wesleyan students in attendance at Wednesday's Founders' Day Convocation are either already – or soon to be – part of this global scientific evidence gathering, evaluating and truth-seeking process.
"We challenge students to push through personal and academic barriers, to solve the world's most complex problems and to be the leaders of tomorrow. In fact, you're the leaders of today," President Eric Jensen told the audience.
Jensen added that Illinois Wesleyan – founded 169 years ago – is institutionally committed to equipping students with the understanding and insight to navigate and positively influence our changing climate, which is this year's intellectual theme.
"So, the challenge for you today is 'What are you working on?' Jensen declared, in recognition of what Provost and Dean of Faculty Mark Brodl considers "the coin of the realm on campus."
"What problems will you solve, locally and globally? What talents are you developing to contribute to the world?" Jensen continued.
"What climates will you change both now and in the future?"
By John Twork