Mohan Receives Second Fulbright of 2019-20 to Teach in India
Aug. 30, 2019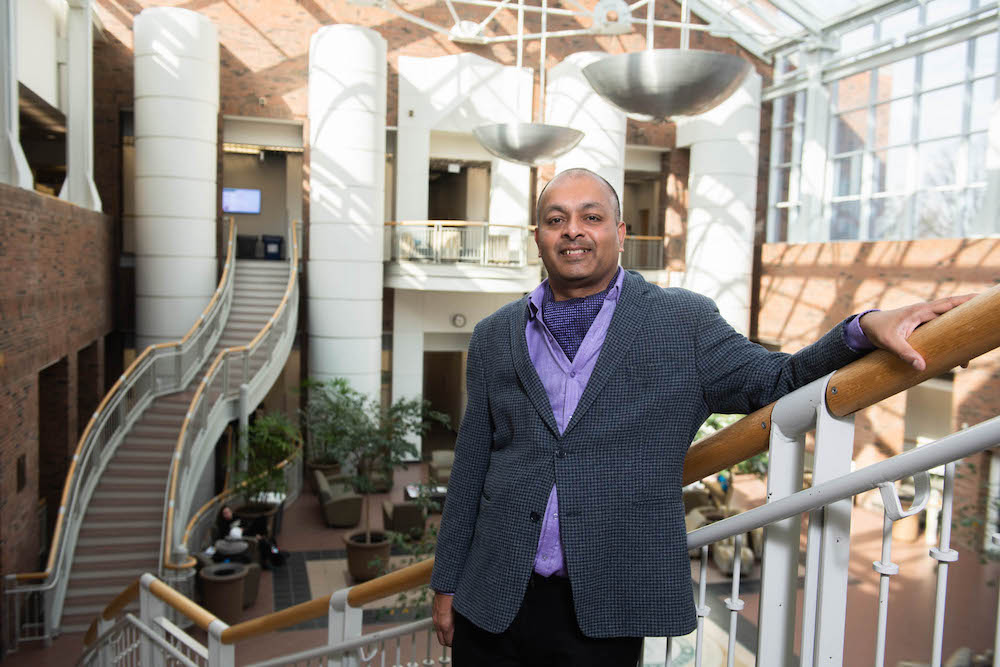 BLOOMINGTON, Ill. — Wendell and Loretta Hess Professor of Chemistry Ram Mohan is the recipient of a second Fulbright grant for the 2019-20 academic year, the third Fulbright award of his career.
In late August, Mohan was awarded the Fulbright Specialist Grant to teach at the Indian Institute of Technology (IIT) Indore this fall. Mohan will continue his work in India as a Fulbright-Nehru Teacher Scholar at IIT Delhi in the spring of 2020, an award he learned of last winter.
"I'm deeply honored and humbled to receive a Fulbright Specialist Grant," Mohan said. "I teach green chemistry at IWU. The opportunity to take the course to other countries is exciting, and will allow me to bring back exciting things to incorporate into my course next year."
As the recipient of both Fulbright grants, Mohan will continue his efforts to promote green chemistry at Indian colleges and universities, which he began in 2012 during his time at the Indian Institute of Science Education and Research (IISER) in Mohali, India as a Fulbright-Nehru Fellow. Additionally, he will lecture on green chemistry this fall at Hong Kong University.
"Green chemistry is more a philosophy than a subject," Mohan said. "Green chemistry utilizes 10 principles developed by Paul Anastas and John Warner in the 1990s to eliminate hazardous chemicals, and replace them with safer chemicals and products. The benefit of practicing green chemistry are multifold: improvement in human health and environment quality –– cleaner air, soil and water."
At IIT Indore, Mohan will spend the month of September teaching the principles of green chemistry to master's and doctorate students.
"It is especially an honor to be at IIT Indore," Mohan said. "Although started only in 2009 by the Government of India, IIT Indore has quickly emerged as not only one of the top research and teaching institutes in India, but globally. It'll be a great experience to interact with eminent faculty at IIT Indore. I also look forward to interacting with master's and Ph.D. students there."
Mohan plans to extend his time at IIT Indore beyond the grant duration to pursue research collaborations with Professor Chelvam Venkatesh to develop a simple and inexpensive way to detect human immunodeficiency virus (HIV) infection in bodily fluids by using direct interaction of a fluorescence labeled attachment inhibitor with gp120, a protein involved during the initial binding of HIV to its target cell.
"My contribution to this project will be developing greener ways to make such inhibitors while my host will carry out the biological work," Mohan said.
Beginning in January, Mohan will spend the spring teaching the principles of green chemistry to undergraduate and graduate students at IIT Delhi. In addition to offering a green chemistry course at IIT Delhi, he will visit numerous undergraduate colleges to give lectures on green chemistry. He will also help these small colleges incorporate green chemistry experiments into their curriculum.
Mohan's work in India supports the Fulbright Scholar Program's mission to strengthen international relations by sending recipients abroad to work as cultural ambassadors in educational, economic, scientific and various other fields.
In addition to receiving three Fulbright grants, Mohan is the recipient of numerous awards including the national Henry Dreyfus Teacher-Scholar award (2001) and the ACS-CEI Award for Incorporating Sustainability into Chemistry Education, sponsored by the American Chemical Society's Committee on Environmental Improvement (CEI) (2017).
He has also received multiple research grants from the National Science Foundation, the American Chemical Society and from Research Corporation, and was recognized for co-authoring two articles in the international journal Tetrahedron that were among the 50 most-cited articles from 2004-07 and 2007-2008. Mohan has co-authored numerous articles with Illinois Wesleyan undergraduates as co-authors, his most recent work being published in Green & Sustainable Chemistry in 2019 with several IWU students.
By Vi Kakares '20