Mohan Receives Second Fulbright Award
March 1, 2019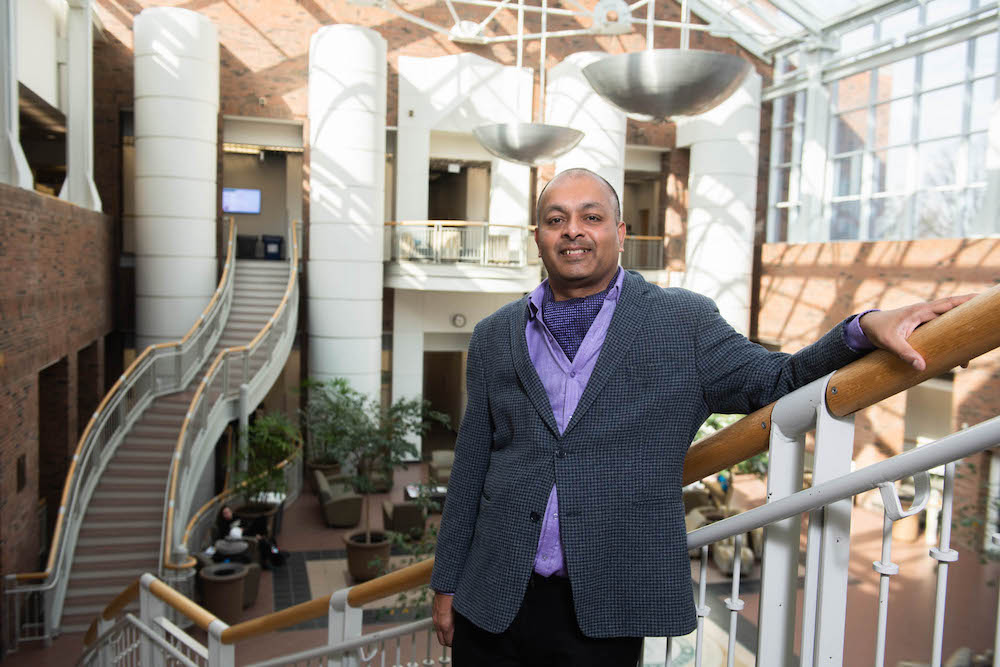 BLOOMINGTON, Ill. — Wendell and Loretta Hess Professor of Chemistry Ram Mohan has been named a recipient of the United States' Fulbright-Nehru Award to India, in support of his work to promote green chemistry at Indian undergraduate colleges and universities.
Overseen by the United States Department of State's Bureau of Educational and Cultural Affairs, the Fulbright Award honors individuals at the top of their fields, including dozens of Nobel Laureates, Pulitzer Prize winners, MacArthur Fellows and Presidential Medal of Freedom recipients. The program was founded to strengthen international relations by sending recipients abroad to work as cultural ambassadors in educational, economic, scientific and various other fields.
This is Mohan's second Fulbright Award, which is a rare achievement. "I'm deeply honored and humbled, but also shocked to receive the Fulbright-Nehru grant a second time," said Mohan. "It is an honor to go as a representative of America to the country where I was born."
Mohan will spend the spring of 2020 as a Fulbright-Nehru Teacher Scholar, teaching the principles of green chemistry – the design of chemical products and processes that reduce or eliminate the generation of hazardous substances – to undergraduate and graduate students at the Indian Institute of Technology Delhi. In addition to offering a green chemistry course at IIT Delhi, he will visit numerous undergraduate colleges to give lectures on green chemistry. He will also help these small college incorporate green chemistry experiments into their curriculum.
"Because of increasing environmental concerns, it is imperative that the coming generation of scientists in India be educated on the practice of green chemistry to prevent pollution and improve human health," Mohan explained.
In 2012, Mohan received his first Fulbright-Nehru Award, which enabled him to introduce green chemistry at the Indian Institute of Science Education and Research (IISER) in Mohali, India.
During his second visit as a Fulbright-Nehru Teacher Scholar, Mohan plans to reach a broader student audience by travelling outside major metropolitan areas. During a 2015 visit to a small college in western India, Mohan met with students from tribal communities who routinely travel over 20 miles daily to attend college, and he hopes that his upcoming visit will provide him with more opportunities to work with students in such remote areas.
"This experience was eye-opening and humbling," said Mohan. "This single visit has motivated me to want to visit many such remote corners of the country."
Mohan looks forward to returning to India to share his expertise on how green chemistry can be implemented to reduce pollution and improve environmental conditions in India.
"Over the last 20 years, as I have incorporated green chemistry principles into my own teaching, research and practice of chemistry, I have gradually developed clear ideas on how I can help change things," said Mohan. "As an American with Indian roots, I will find this an exciting opportunity to serve as a U.S. cultural ambassador to a country that has changed significantly since I left in 1987."
By Rachel McCarthy '21