Liu '21 Earns Optics and Photonics Education Scholarship
June 24, 2019
BLOOMINGTON, Ill. — Illinois Wesleyan University mathematics and physics double major Henryken "Minzhao" Liu '21 (Dalian, China) was recently selected from an international pool of candidates to receive an Optics and Photonics Education Scholarship from the Society of Photo-Optical Instrumentation Engineers.
Optics and Photonics Education Scholarships are available to students located anywhere in the world, in high school, undergraduate and graduate programs, who are studying in a related field of optics and photonics. The award supports students' cost of tuition, books, and/or research activities as they pursue their educational and career goals in optics and photonics, which is the study of the fundamental properties of light and harnessing them in practical applications.
"Many qualified applicants from all over the world in the field of optics, most of whom are Ph.D. candidates, worked really hard and presented their best selves to the committee because they wish to be able to contribute further toward optics," said Liu. "I am fortunate enough to be one of those recognized, thanks to my great faculty advisor at IWU, (B. Charles and Joyce Eichhorn Ames Professor of Physics) Gabe Spalding."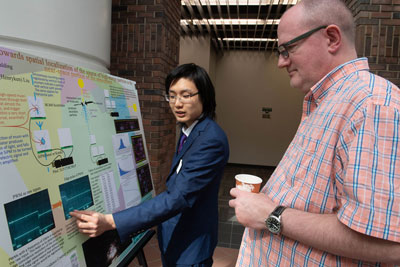 Liu is also a 2019 Eckley Scholar. Students selected for the Robert S. and Nell B. Eckley Scholars and Artists Program work on campus over the summer as scholars and artists under the supervision of a faculty member. His project, titled "Quantum State Separation and Demonstration of High-Dimensional Entanglement," is in collaboration with Spalding. As part of his research, Liu is spending a portion of the summer in Scotland conducting optical quantum sensing research at the University of Glasgow. At Illinois Wesleyan, Liu has developed an extensive understanding of optics.
"I work with Dr. Spalding on single photon quantum optics research, and he has given me countless valuable suggestions and honest guidance," Liu said. "Dr. Spalding also connected me with IWU alumni in optics, who also helped me with my research efforts. Last winter, he encouraged me to apply for the SPIE scholarship. Knowing how much competition I would face, I was not confident that I would win. However, Dr. Spalding supported me throughout the application process and wrote letters of recommendation along with (Professor of Physics) Dr. Narendra Jaggi, which were essential to my recognition."
Liu said he is eager to continue researching and learning during his final two years at Illinois Wesleyan.
"With the recognition from SPIE, I can do optics research with more curiosity and joy."
Katie Fata '22