Entrepreneurship Fellowship Winner Plans Luxury Pet Hotel
Dec. 19, 2019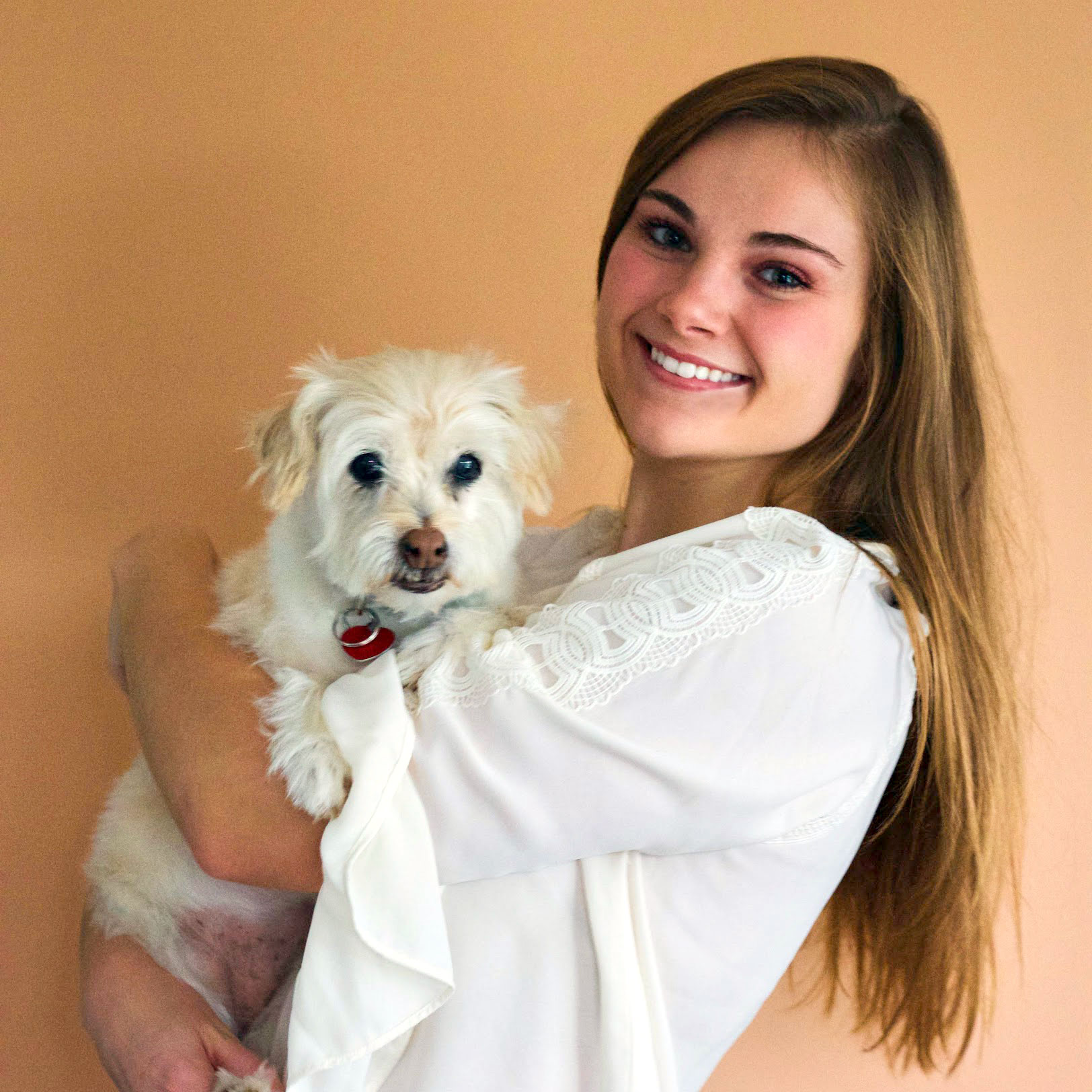 BLOOMINGTON, Ill. –– Senior business administration major Rachel Rosch '20 (Fox River Grove, Illinois) has dreamed of owning her own pet boarding facility since she was eight years old. Thirteen years later, Rosch is poised to make her dream a reality.
Rosch is the recipient of the $5,000 IWU Entrepreneurship Fellowship for "Amber's Playground," a luxury pet boarding business she plans to open in northwest suburban Chicago in 2020.
The biannual fellowship provides students with the opportunity to pursue their entrepreneurial passion under the supervision of a faculty member and guidance of a successful entrepreneur. From an early age, becoming an entrepreneur was appealing to Rosch.
"I like to come up with my own ideas and I liked the whole idea of owning my own business and being able to take it down all the paths that I can and the only blockage be me," Rosch said. "From there, I knew I wanted to own something with animals. And then when (our family dog) Amber came into my life, I decided that was the name."
Amber's Playground will be a luxury pet hotel with a "rustic, retreat" vibe that includes indoor and outdoor facilities for the pets. The hotel will welcome all kinds of pets, in addition to offering a variety of pet services such as grooming, dog walking and at-home sitting.
Rosch prepared extensively for her future as a pet hotel owner. For years, Rosch has worked at various pet boarding and service shops, in addition to working as a freelance dog walker and pet sitter.
Along with her relevant work experience, Rosch extensively researched the pet care industry. She noted that 68% of American households own a pet and over $72 billion was spent on pets in 2018, according to the American Pet Products Association.
"My knowledge of the industry has grown a lot," Rosch said. "I don't really know how this industry can go obsolete because I kind of look at it like childcare or senior care because your pet is a living thing."
Rosch will use part of the fellowship monetary award for developing a business website and marketing materials, but says that the majority will go toward an exterior sign for the hotel. She even has a location in mind.
"I want the sign to be something that I can pull up to work every day and know that Wesleyan supported me through it," Rosch explained. "And that sign basically came from Wesleyan."
Rosch, who is a client of the Small Business Development of McLean County at Illinois Wesleyan, credits her Illinois Wesleyan liberal arts education for preparing her to operate a business and manage people.
"I want Amber's Playground to be a really flattened organization where everybody feels important and equal," explained Rosch. "And Wesleyan has taught me a lot about how to do that and how to get everyone to feel like they're really involved and everybody matters."
As she finalizes her business plan for Amber's Playground, Rosch expressed gratitude for supportive communities both back home and on campus. Rosch's mom, who works at an animal hospital, is Rosch's business partner and biggest supporter.
"To see that I'm actually excelling in something that I really enjoy, and for it to actually be something I can do for a living, it's really exciting," Rosch said. "I can make my living with what I love to do."
The IWU Entrepreneurship Fellowship application is open to all current IWU students. Spring proposals are due Feb. 24, 2020. Learn more.
By Megan Baker '21