Class of 2019 Celebrated at Commencement
May 5, 2019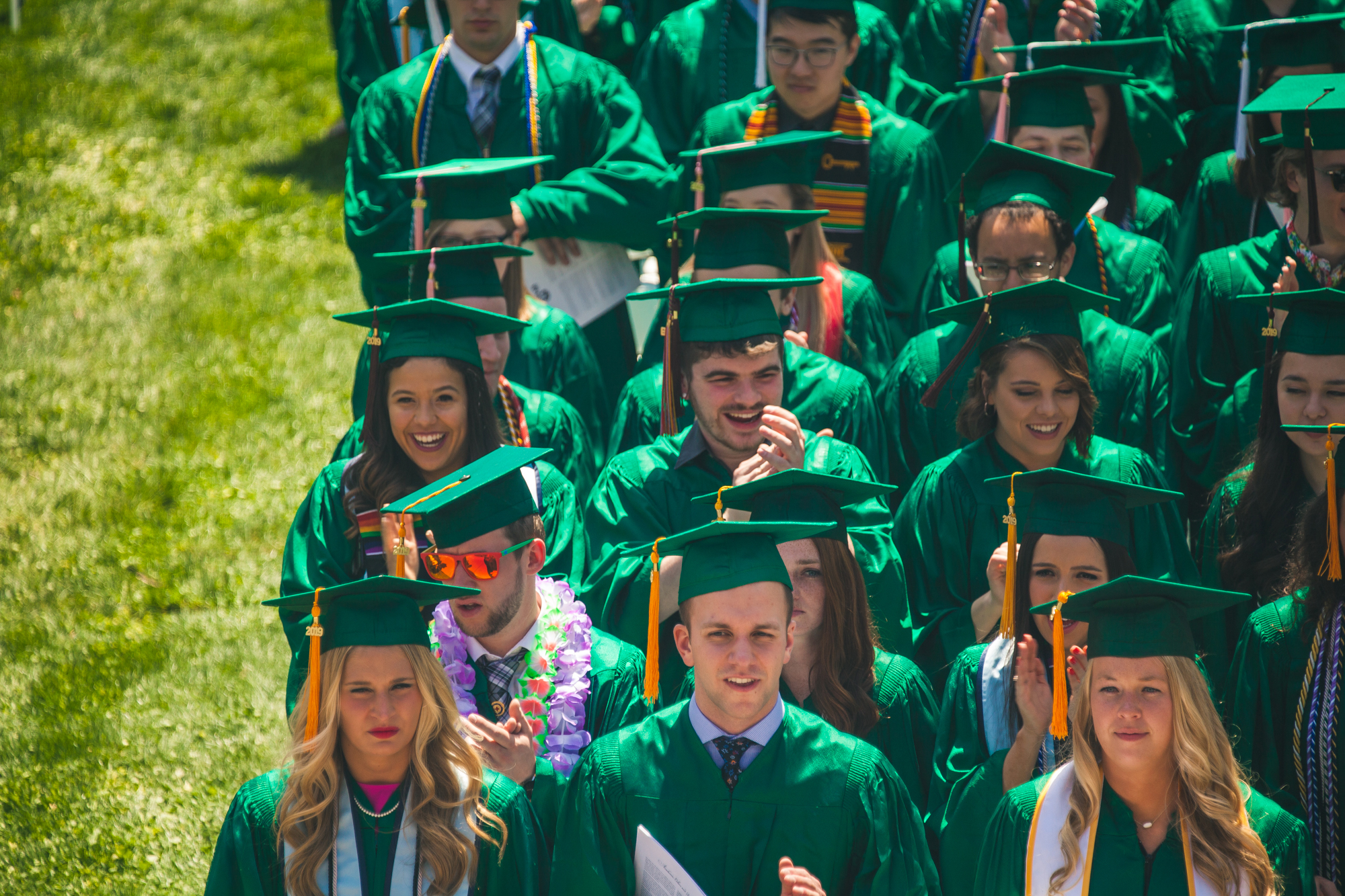 BLOOMINGTON, Ill. — Illinois Wesleyan University celebrated more than 400 graduating members of the Class of 2019 during Commencement exercises on Sunday, May 5.
Standing on the Glenn '22 and Rozanne Parker Kemp '27 Commencement Plaza under a sunny sky in front of State Farm Hall, outgoing Board of Trustees President George Vinyard '71 congratulated the graduates and cited Robert M. Pirsig's fictional autobiography titled Zen and the Art of Motorcycle Maintenance. Within the book, Pirsig writes "You look at where you're going and where you are and it never makes sense, but then you look at where you've been and a pattern seems to emerge."
After reading this philosophical thought to the crowd, Vinyard said, "In your time here on campus we trust that you not only developed your intellects but also cultivated the essential curiosity, perceptiveness and values to set a pattern that will serve you well as you strive to live with care and create a future of greater knowledge, wisdom, quality and personal fulfillment."
Outgoing President of the Alumni Association Board of Directors Scott Huch '86 welcomed the Class of 2019 to a network of more than 23,000 living alumni in all 50 states and the District of Columbia, plus 52 other countries around the world. Huch also shared a personal anecdote. If he could go back in time to his own graduation from Illinois Wesleyan in 1986 and change just one thing, Huch said he would have flossed his teeth more between then and now.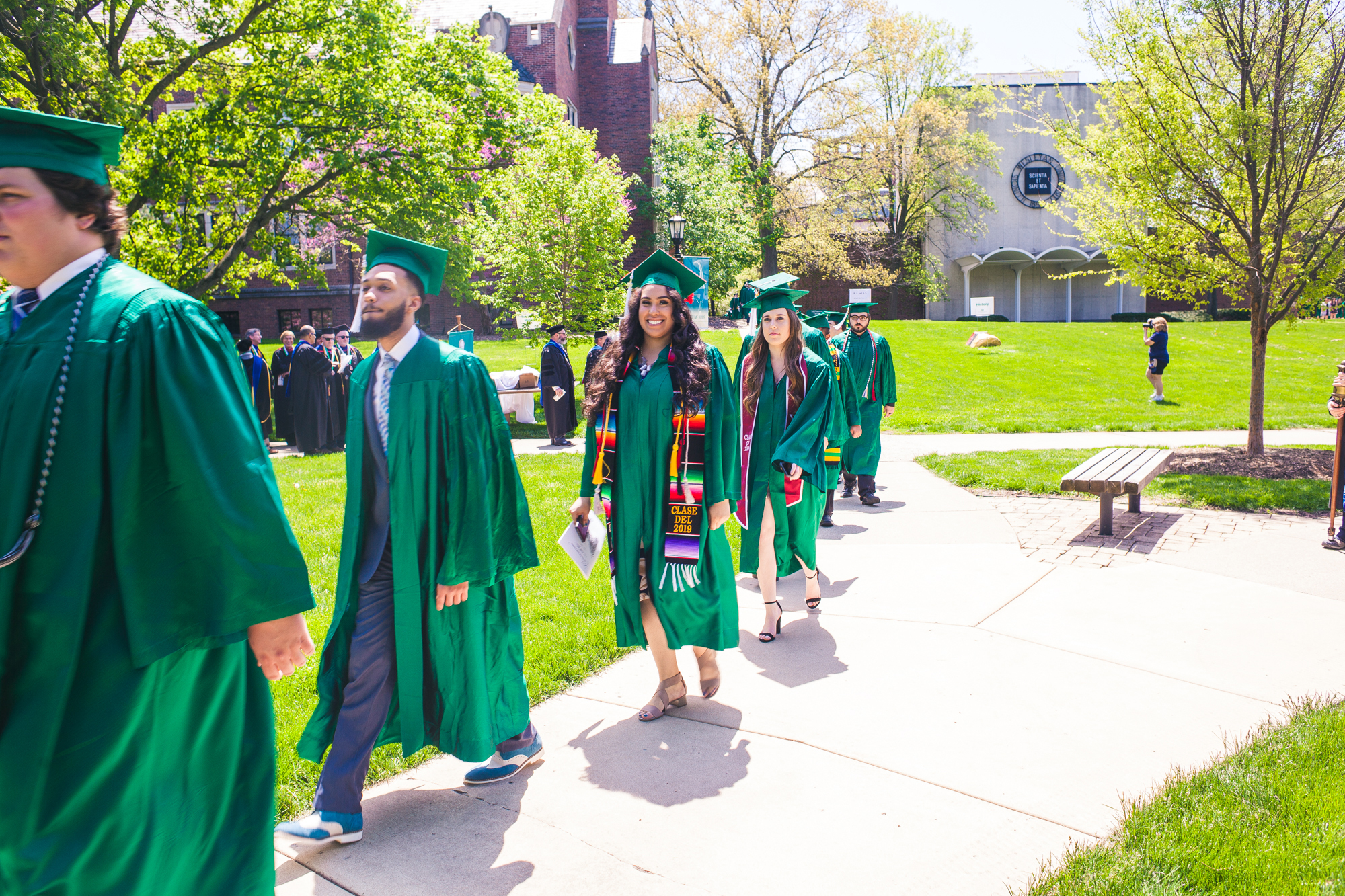 "I've learned that very small actions –– when undertaken diligently and consistently on a regular basis over a very long period of time –– when their collective effect is considered, those small actions can make a massive impact that cannot be achieved through any other method," Huch said. "The biggest mistake is doing nothing because you can only do a little. I hope you'll keep that in mind as opportunities come along to stay connected with Illinois Wesleyan."
Class of 2019 President Alani Sweezy '19 reflected upon her journey as an Illinois Wesleyan student that began 1,325 days prior to Sunday's Commencement ceremony. She also spoke about the next big endeavor which is about to begin for Sweezy and her fellow graduating classmates.
"Since we were little, we were often told that we were the leaders of tomorrow, that we would be able to change the world," Sweezy said. "As we graduate today, we can no longer say that we'll do it tomorrow or help make changes in the future. We must begin to do it today."
Adjunct Assistant Professor of Biology and Class of 2019 Professor of the Year Sheryl Soukup shared life lessons told within the context of human anatomy. Soukup spoke of melanocytes that make the brown pigment of human skin which provides adjacent cells with protection against the sun's harmful rays.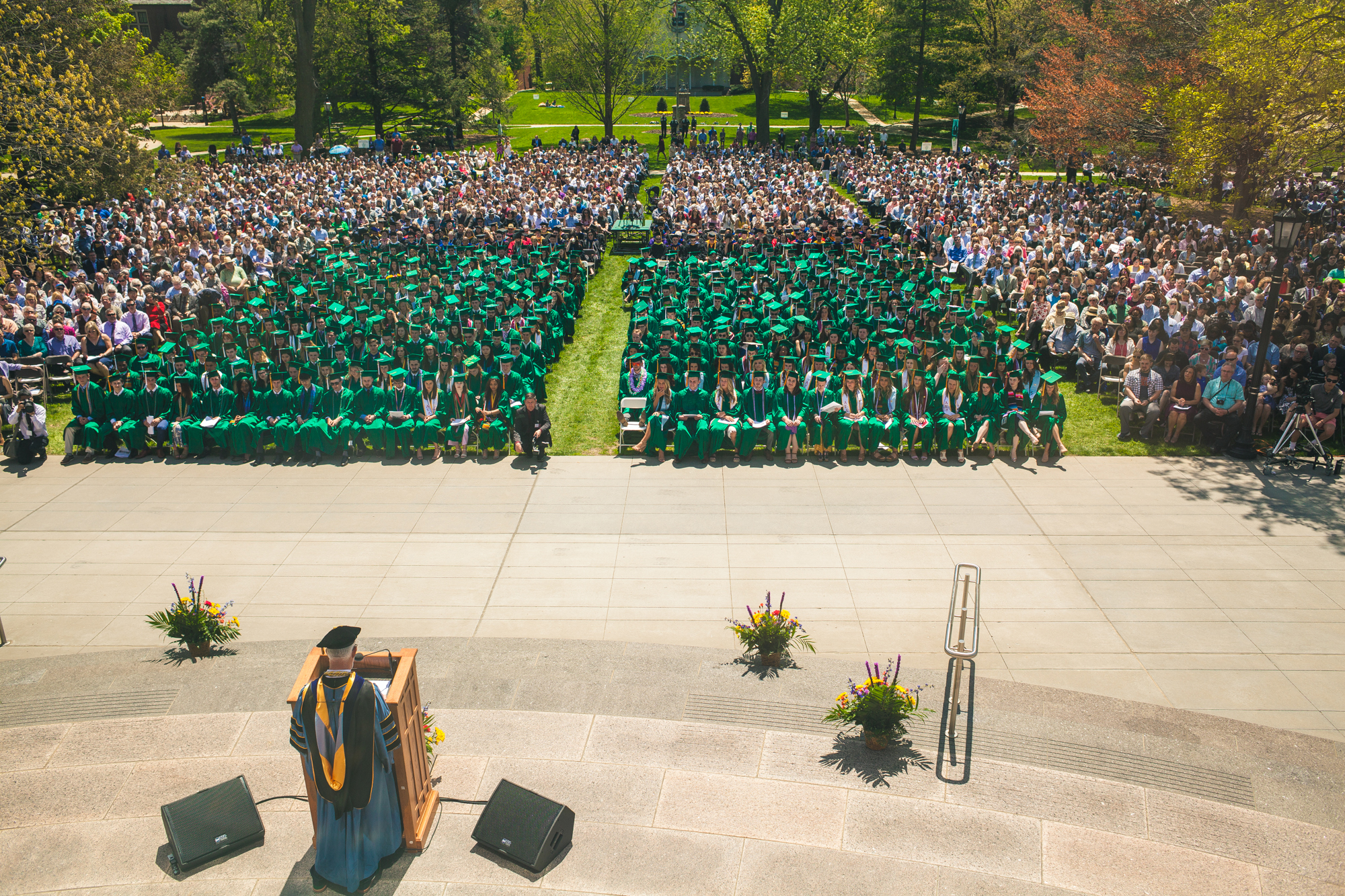 "Be generous to those around you." Soukup said in relation to melanocytes. "Like the melanocyte, give of yourself to better the lives of others."
Soukup shared another lesson taken from the anatomy of human bones which are constantly being reworked on a cellular level. Cells known as osteoblasts continuously build new bone, while osteoclasts routinely break bone down.
"Every day we have a choice to be an osteoblast –– a person who builds up others through encouragement, kindness, and friendship –– or an osteoclast –– one who tears down others with careless or even harsh words or actions," Soukup said. "Choose to be an osteoblast, an encourager and supporter of those around you. The world needs more osteoblasts."
Soukup concluded by speaking broadly about the human body. She said our amazing assemblage of bones is of no use without muscles to move us.
"Each of the body's systems has a special purpose, but each would be useless without the assistance and special functions of the other systems of the body," Soukup said. "In the same way, each of us has unique gifts and abilities, but unless we work together with others who offer different talents, our efforts are often futile."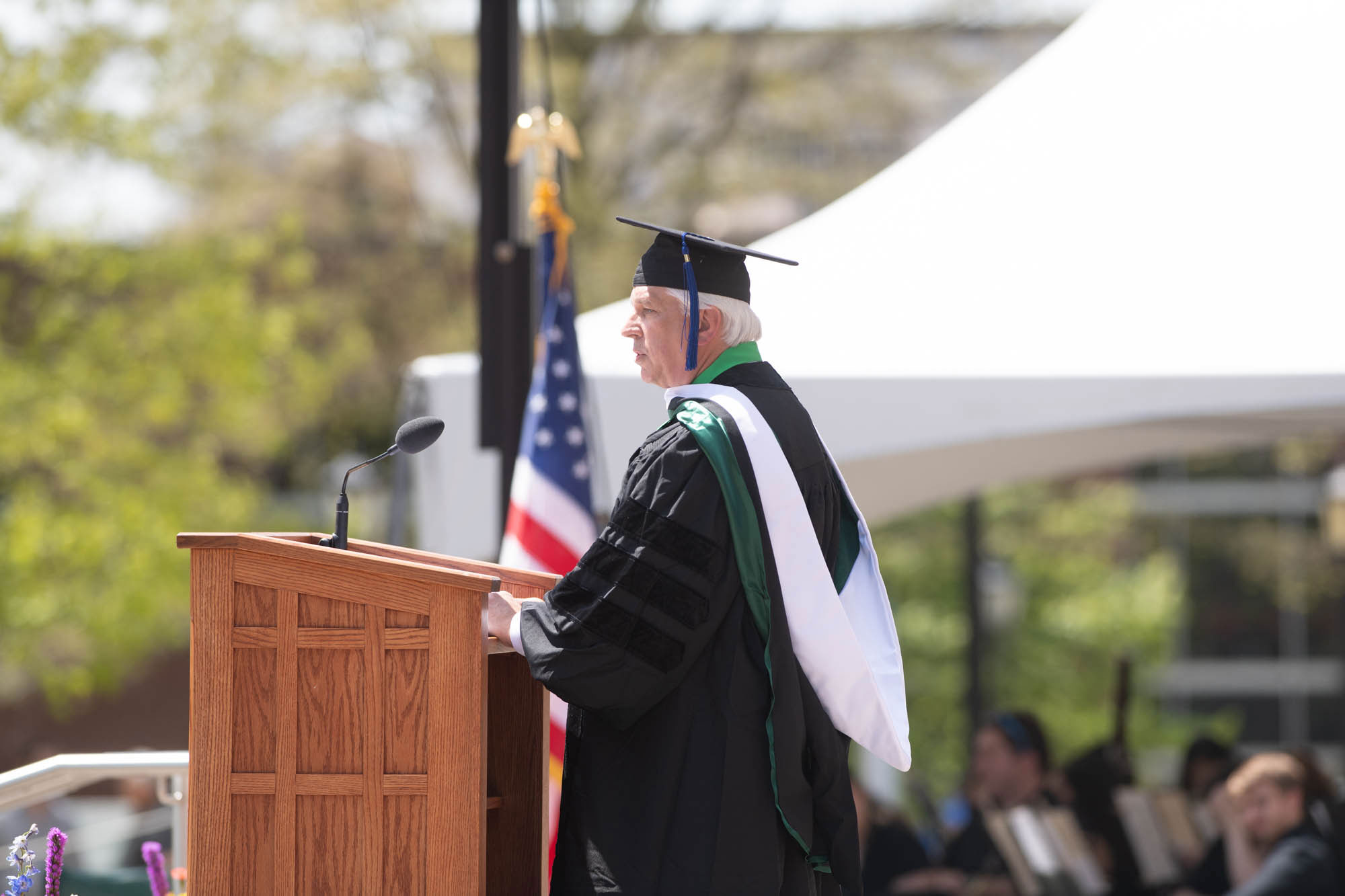 President Eric Jensen and Provost and Dean of the Faculty Mark Brodl then conferred an honorary doctor of humane letters degree upon Dr. Stephen L. Ondra '80, a former military surgeon and leading healthcare policy expert.
In his address tilted "Scientia et Sapientia" –– Illinois Wesleyan's motto which translates to "knowledge and wisdom" –– Dr. Ondra distinguished between the two words.
"Knowledge is knowing that a tomato is actually a fruit. Wisdom is knowing it does not belong in your fruit salad," Dr. Ondra said with a laugh. He continued by congratulating the graduates who grew up in the shadow of the Great Recession of 2008 and 2009 which forced families to scrutinize the value of college.
"The fact is, a Liberal Arts education has never been more important to your future and there is no better investment in time or money that you and your families could have made," Dr. Ondra said. He cited a statistic which says that at the end of World War II, human knowledge was doubling every 25 years. Today, Dr. Ondra said, our knowledge of the world doubles every 12 to 13 months.
"Within your lifetime, it will very likely be doubling every single day," Dr. Ondra said. "The result will be that many professions and entire industries will fundamentally transform in a single lifetime.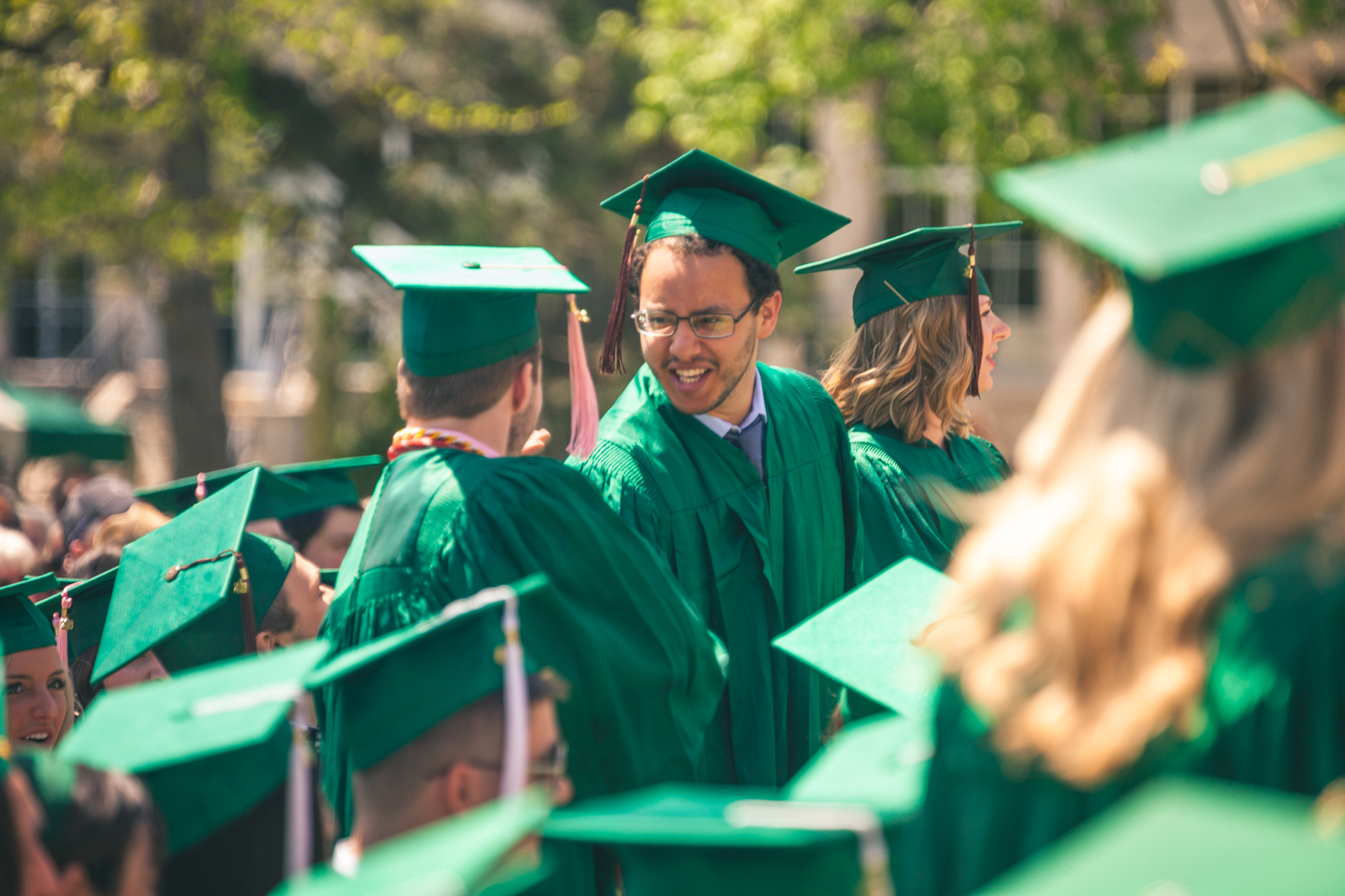 "With that in mind, it is clear that the skill of continual learning, that is at the core of a liberal arts education, isn't just a nice thing, it will be an essential thing," Dr. Ondra continued. "It will allow you to reinvent yourselves when needed, to not just cope with changes in your workplace or the world around you, but to embrace and take advantage of the opportunities that will open up in ways that none of us can imagine."
Dr. Ondra congratulated the Class of 2019 on becoming the "innovators, thinkers and leaders of tomorrow."
"Whatever life brings, I have great confidence that Illinois Wesleyan has prepared you for it," Dr. Ondra said. "Go out and make a great fruit salad."
President Eric Jensen told the graduates that it was a privilege for he and his wife, Elizabeth, to see students in the Class of 2019 through their collective Illinois Wesleyan journey.
"The first year on campus for today's graduates was my first year on campus, and so it's especially sweet to have the opportunity to award diplomas to you all. We're kind of classmates," Jensen said with a smile.
"You're a spectacular group who will always have a prominent place in my memories. My parting words to you are simple: Remember who you are, remember how you got there, and remember Illinois Wesleyan."
By John Twork