Alumni Say "I Do" at IWU
Feb. 14, 2019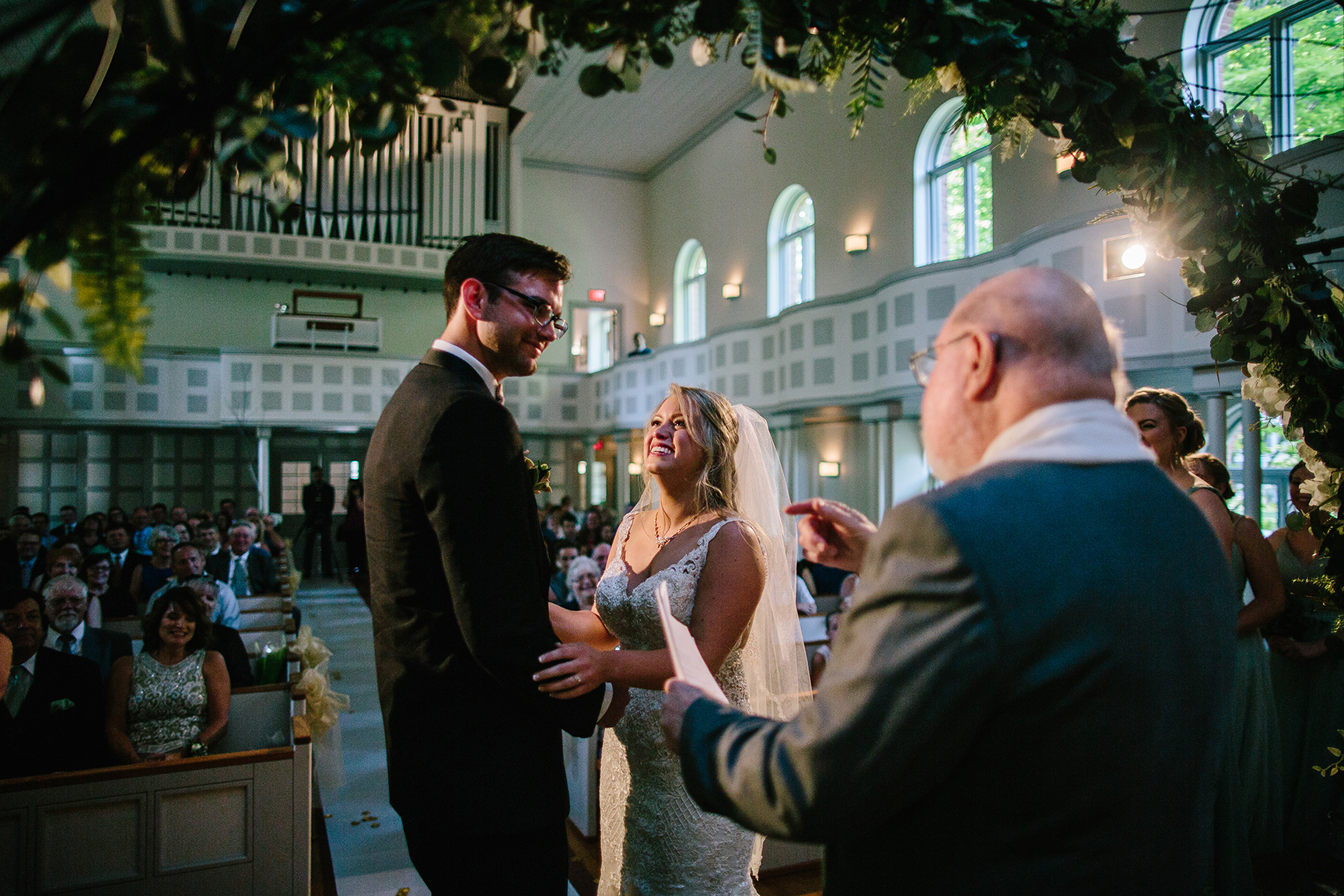 BLOOMINGTON, Ill. –– Once upon a time, they were students in love. Now, Haley (Lower) Loyet '16 and Cameron Loyet '18 are married Illinois Wesleyan University alumni who chose to say "I do" at IWU.
Their love story is an Illinois Wesleyan fairytale. Haley and Cameron met, became friends and fell in love on campus. They returned to exchange wedding vows in June of 2018.
"We met at a friend's party where we bonded over our love for Hawaii, Settlers of Catan (board game) and Mario Kart (video game)," Haley recalled.
Cameron later asked Haley out on a date, and a few years after that, Cameron asked for Haley's hand in marriage. She said "yes," and so began the wedding planning process. Fortunately for the couple, picking a wedding location was easy.
Haley and Cameron chose Illinois Wesleyan's 215-seat Evelyn Chapel, a simple and beautiful sanctuary which is available year-round to both alumni and the general public for wedding ceremonies.
"It felt natural to have our wedding at the place where we met and fell in love," Haley said.
As students, Haley majored in biology and Cameron majored in business administration. And, like many alumni, they developed deep relationships which have extended beyond graduation.
"We made so many amazing memories together, and have life-long friends from our time on campus," Haley said.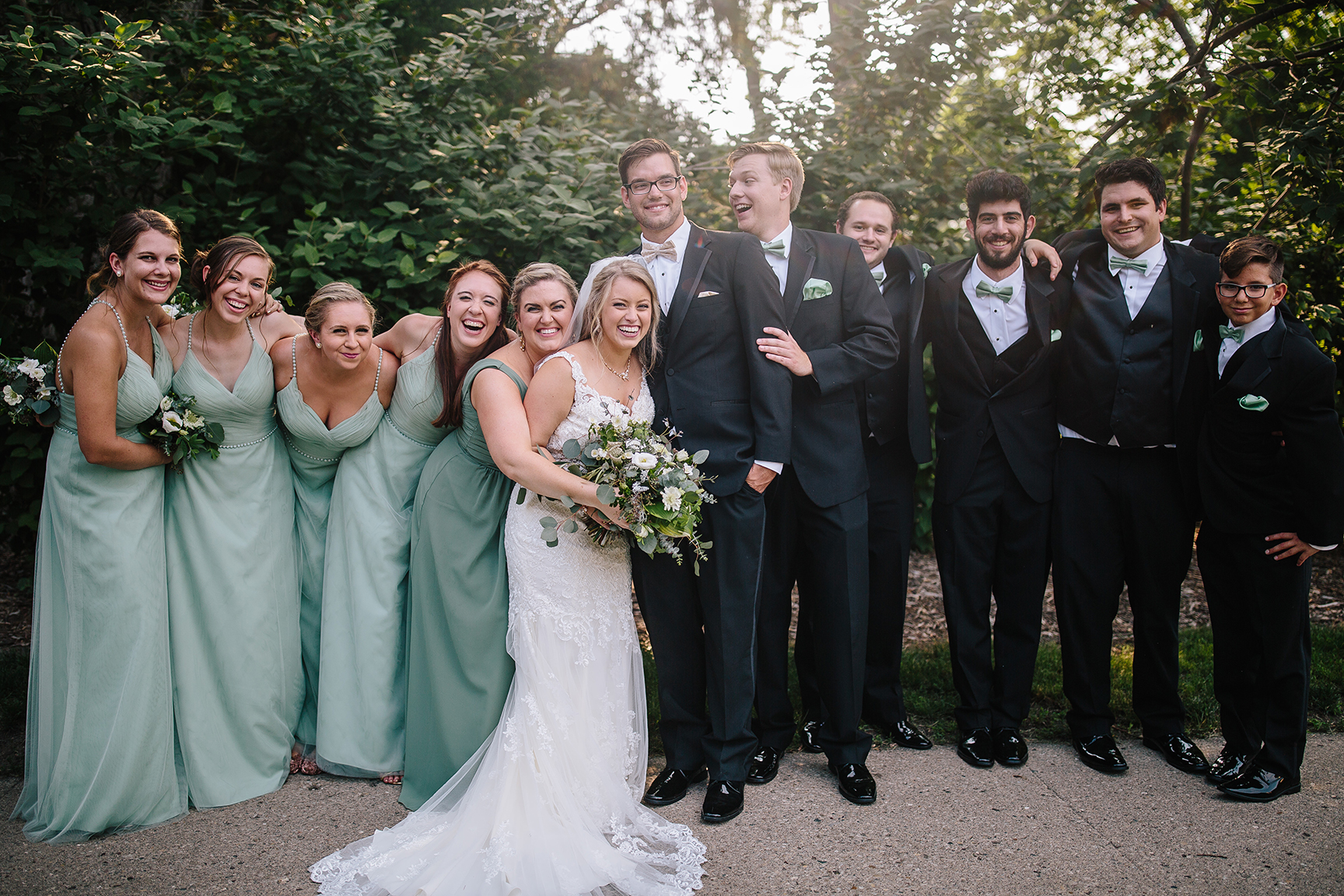 Several of Haley's bridesmaids were also Illinois Wesleyan graduates, including Jessica Edwards '17, Jennifer Burns '15, Sydney Seeman '18, and Brianna (ne Piro) Gambetti '17. Matt Capone '18 was a groomsman for Cameron as well.
"Having our wedding at IWU reminded us where we started, and how much we had grown since we first met," Haley said.
Fellow alum Anna Bromaghim Compton '07, who serves as Event Coordinator for Conference Services, played an integral role in helping the couple prepare for their big day.
"It has been a very special privilege to be involved in wedding celebrations such as Haley and Cameron's," Bromaghim Compton said.
Bromaghim Compton said between 25 and 30 weddings are typically hosted at Evelyn Chapel each year, and of those, about half involve Illinois Wesleyan alumni.
"I think it's special for IWU alumni to be married on campus because for many of the couples, IWU is where their love grew," Bromaghim Compton said. "So many alums feel a special connection to the Illinois Wesleyan campus and want to return 'home' to be married."
Bromaghim Compton added that couples without affiliation to Illinois Wesleyan also love the campus because of its beauty and inclusive, community atmosphere.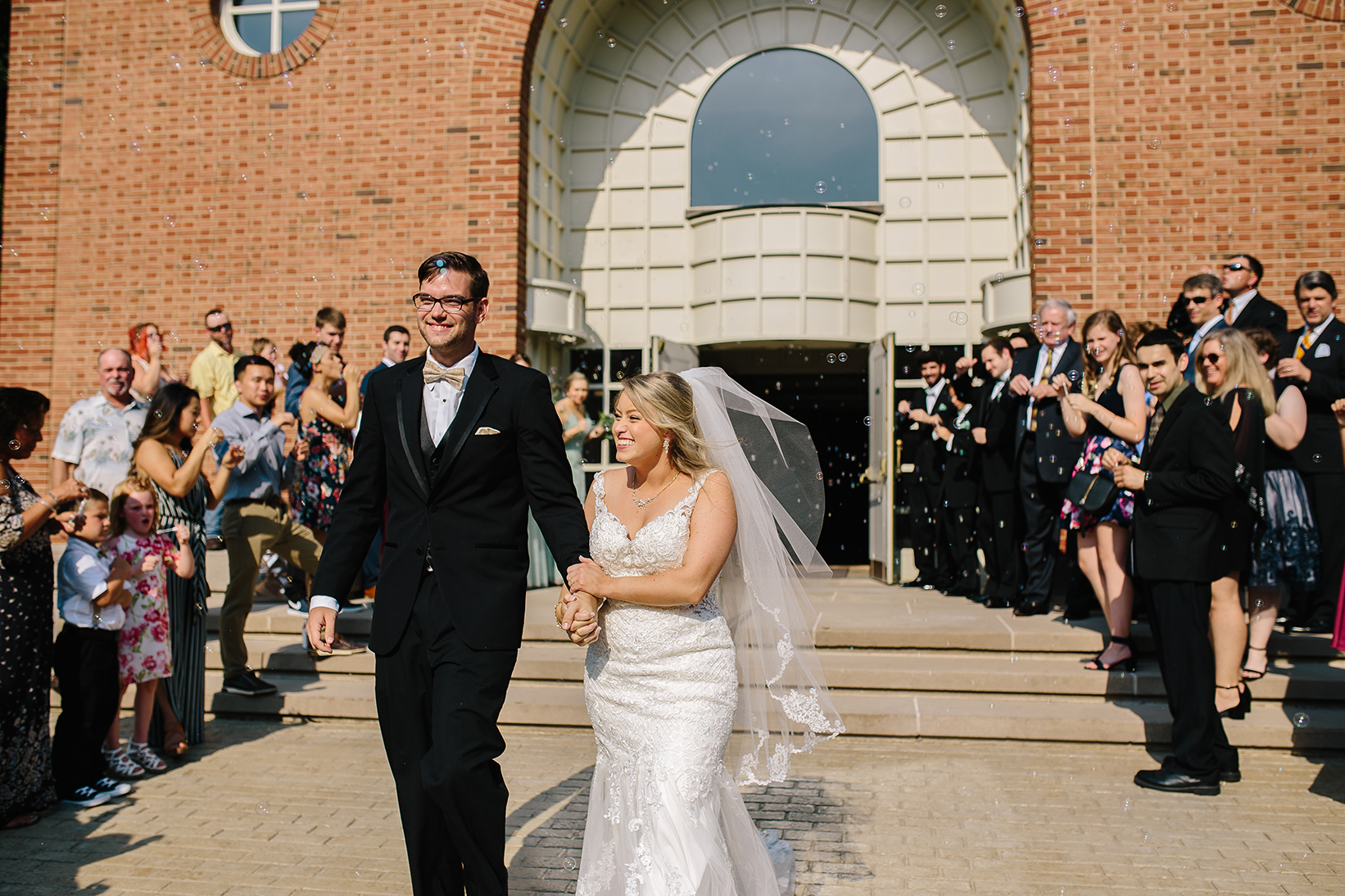 "Anna answered all of our many questions about how things would work day-of, about the space, and furniture and props available for our use," Haley said. "We also worked with the Event Coordinator Summer Intern, Sierra Eidsmoe (a class of 2021 nursing major), for our rehearsal and day-of coordination, and she was lovely as well."
When Saturday, June 16, 2018 – Haley and Cameron's wedding day – finally arrived, everything came together beautifully. Evelyn Chapel provided the perfect backdrop for their ceremony. Guests looked on as the couple was married under a lush green archway of plants and flowers. Sunlight poured in from the chapel windows, basking the entire event in a warm glow.
The bride wore an elegant white lace gown, and her bridesmaids were adorned in dresses of minty green. The groomsmen's tuxedos were also accented with light green bow ties and pocket squares. Talk about Titan Green Over Everything (#TGOE)!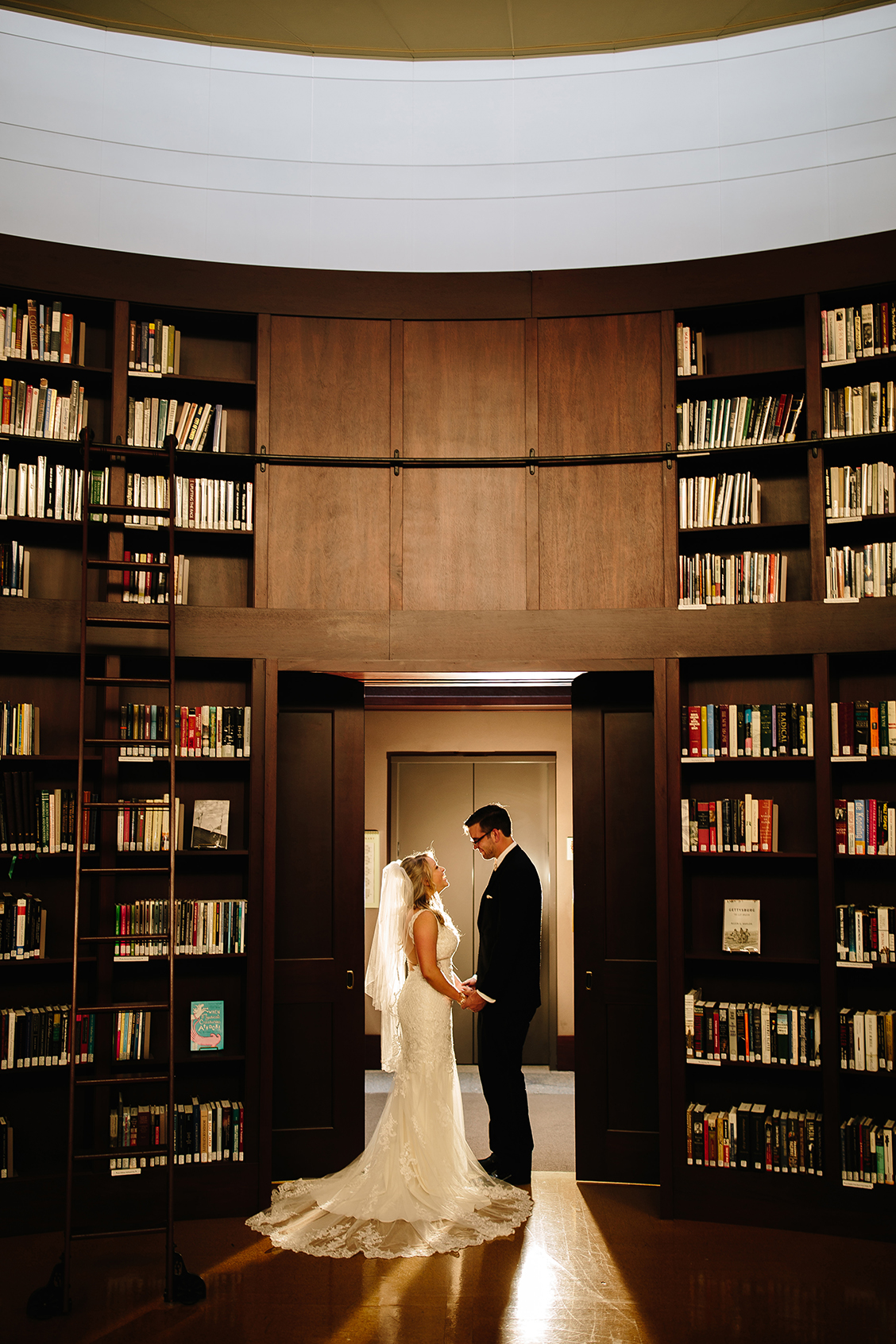 While the ceremony took place at Evelyn Chapel, the couple also visited several campus locations for photo opportunities, such as the Bates & Merwin Reading Room, also known as the "Beauty and the Beast Room" because of its rolling ladder resembling the library featured in Disney's animated classic.
Life after graduating from and getting married at Illinois Wesleyan has remained busy for Haley and Cameron. Haley is in her second year as a medical student at Saint Louis University School of Medicine, and Cameron is employed as a Grants Specialist at Washington University in St. Louis. They live in downtown St. Louis with their cat, Kala.
Now, with their first anniversary on the horizon, Haley and Cameron are grateful for the memories they made and the future they built at Illinois Wesleyan University.
"We will always look back on our days at IWU fondly," Haley said. "Our time at Wesleyan was an integral part of our love story. If we hadn't both ended up there, we may have never met."
For information about hosting a wedding at Illinois Wesleyan, just like Haley and Cameron's, please visit www.iwu.edu/weddings, email weddings@iwu.edu, or call Anna Bromaghim Compton at (309) 556-3035.
By Megan Baker '21