Evelyn Chapel
Beautiful, simple, intimate, and filled with light, the Evelyn Chapel is available year round for wedding ceremonies for alumni as well as the general public. Illinois Wesleyan University is welcoming and affirming of all couples. If you have any questions or would like to visit the Chapel, please contact the our Conference Services office by phone at 309-556-3035 or by email at weddings@iwu.edu. We look forward to hosting your ceremony! Thank you for considering Evelyn Chapel on the Illinois Wesleyan University Campus in Bloomington, Illinois for your wedding ceremony!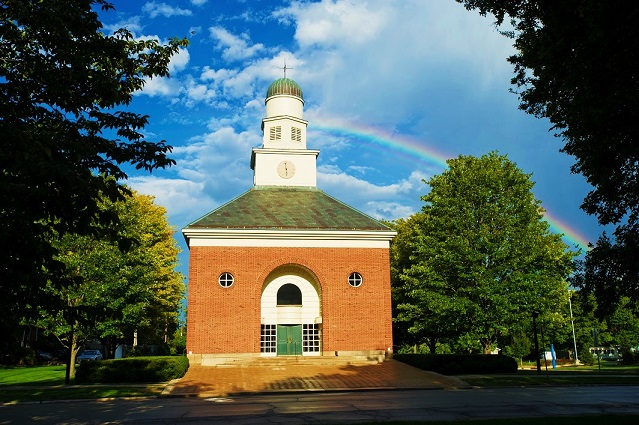 Application Process
In order to reserve the Chapel for your ceremony, please:
Reservations are not final until a contract is signed and a deposit fee is received and confirmed by the Conference Services staff. Due to the large number of services and programs at the Chapel, we suggest putting in your reservation as early as possible. The University may refuse an application because of scheduling conflicts or other reasons at the discretion of the Conference Services office or the University Chaplain.
Affiliation
The reservation fee is determined by the couples affiliation with Illinois Wesleyan University. If one member of the couple is a current IWU student, staff member, faculty member or alumnus, then the couple will receive the affiliate status. Additionally, any children of the before mentioned IWU community members will also be considered affiliates.
Application Timeline
Couples may reserve the Chapel up to 18 months in advance.
Fees
A deposit of 50% of the Chapel fee is required with the signed contract. The remaining balance is due at least two weeks before your wedding. All checks should be made payable to Illinois Wesleyan University. We can take credit/debit cards but an extra fee will apply.
Affiliated: $775
Not affiliated: $975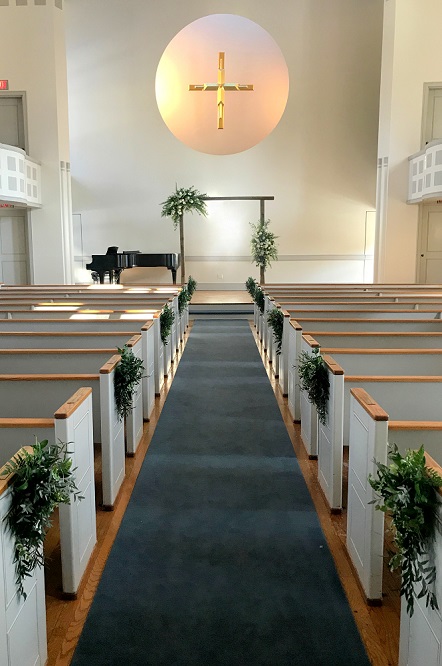 The Chapel Fee includes:
The Chapel space for 1 hour at your rehearsal and 3 hours at your wedding. Additional time may be requested within six weeks of your scheduled ceremony and will be prorated, depending on availability.
A musician to play either the organ or the piano at your wedding ceremony. In addition, we include a one hour music consultation with this musician. Outside musicians are expected to work with the university-provided musician to coordinate all instrument and rehearsal needs. No discount will be given if you should decline using the university musician. Please note: the Chapel is not wired for sound; pre-recorded and electronically amplified music is not permitted in the Chapel.
An Illinois Wesleyan Facility Coordinator, who will make sure the venue is perfectly ready for you.
Ample free parking is available for you and your guests in several Illinois Wesleyan lots nearby.
Use of the entire building including the second floor meditation area, lower level Fellowship area and lower level conference room.
Use of our in stock furniture, such as 2 kneelers, 4 flower stands, 1 altar table, 1 podium, 1 lectern, 2 half moon tables, and 1 easel.
Illinois Wesleyan University is welcoming and affirming of all couples