Students Network With Chicago Business Leaders
June 22, 2018
BLOOMINGTON, Ill. — Students enrolled in Illinois Wesleyan University's "Seminar in Management" stepped outside the classroom and into the offices of big-name companies such as Amazon, Google, and many others, during an immersive three-day trip to Chicago.
"This class, it opened up a wide door for networking purposes and just getting to know business in general," said Design, Technology, and Entrepreneurship (DTE) major Logan Vlk '19. "People should take complete hold of this opportunity."
Led by Director of the Small Business Development Center (SBDC) Karen Bussone, Coordinator of Entrepreneurial Activities and Adjunct Instructor of Business Administration Tara Gerstner '01, Director of the Hart Career Center Warren Kistner '83 and Associate Professor of Business Administration Dave Marvin, the May Term seminar provided 24 students networking opportunities with a diverse array of Chicago-based businesses, ranging from private equity startups and marketing agencies to robotics developers and online retailers.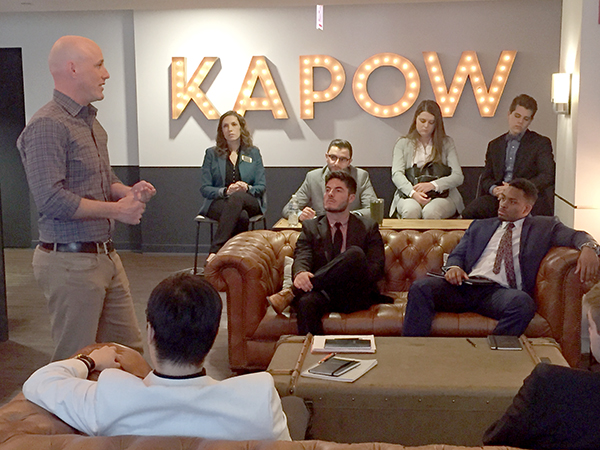 During a series of entrepreneurial panels and office tours, students established face-to-face connections with several CEOs and top executives – including IWU alumni – at companies such as: 1871, Amazon, Athletico, the Chicago Blackhawks, Fruition Partners, Google, Gorilla Group, IRI, Kapow, Kelly Scott Madison, LivCor, LLC, Lotsa Luck Design, mHUB, ParkerGale, Rule29, Style Chicago, and Yaskawa.
"It was awesome that they set aside time for us out of their very busy work schedule," Vlk said.
Vlk's father, the owner of a corporate event production company, was the first to impress upon his son the value of business connections. Following guidance from his father, Vlk secured an internship with production logistics contractor Rob Cray Inc., known for working on Superbowl halftime shows and the Olympics.
Vlk has further explored his business passion through missionary work as a teacher of marketing plans regarding self-sustainability to communities in Nicaragua. For Vlk, the management seminar trip to Chicago particularly helped him land a business card and a handshake from a top executive at Kapow, a corporate event planning company.
"It just goes back to networking," he explained. "It's a lot about who you know."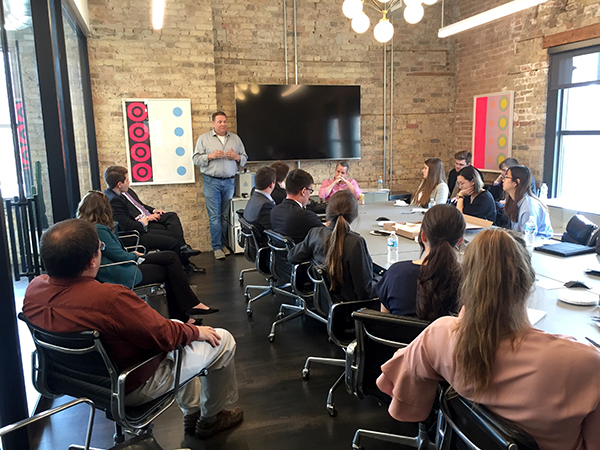 This seminar is one of several offered during IWU's May Term, which is a distinctive month-long experiential learning option. Students engage in unique opportunities beyond the bounds of more traditionally structured courses by focusing on one course or topic.
By experiencing firsthand the expectations of a corporate business environment, students came away with a new sense of perspective on their work in the classroom.
"It was fascinating to see how what we're learning at Illinois Wesleyan and the kind of education that they provide for us – the liberal arts education – is adapting in the business place," Vlk said. "They're leaning toward people with liberal arts education."
Offered for three consecutive years, the May Term trip would not be possible without the continued support of IWU alumni who helped organize the excursion by contacting companies and interacting one-on-one with students during the IWU Entrepreneurship Society Networking Event.
Vlk hopes to pay this generosity forward as a future alum. Reflecting on the success of the alumni he spoke with during the trip, Vlk remarked, "It proves that what Illinois Wesleyan does – their skill sets and what they do here – really does pay off."
By Rachel McCarthy '21