Students Honored with Consulado General de México Scholarship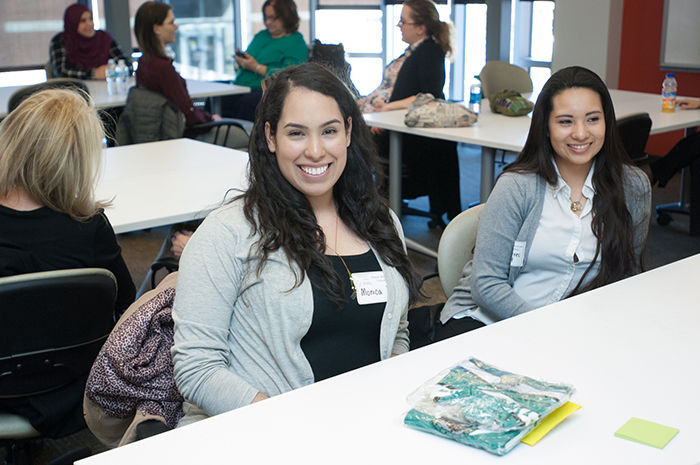 Aug. 8, 2018
BLOOMINGTON, Ill. — Five Illinois Wesleyan University students of Mexican heritage will receive financial support for the 2018-19 academic year through a $25,000 scholarship awarded to IWU by the Institute of Mexicans Abroad (IME) Scholarship Program, funded by the Consulado General de México en Chicago.
"This scholarship will be a great help for me to continue studying at Illinois Wesleyan and to finish my last year in college," said Monica Munoz '19 (Chicago). "And as a Mexican, it is also an honor to be able to receive this scholarship."
Illinois Wesleyan is the only Illinois school outside of the Chicagoland area to receive funding from the Mexican Consulate. This marks the second consecutive year that IWU has received this funding.
The ability to pursue an Illinois Wesleyan education has provided these five students unique opportunities to excel in their undergraduate careers. The scholars have taken on leadership roles in Student Senate, the Spanish and Latino Student Association (SALSA), and other student organizations across campus. They have showcased their talents in an array of activities – from the Titan track and field team to the Ethics Bowl team – and they have been inducted into several national honor societies. The scholarship honorees have also made a positive impact on their fellow students as tutors in the Writing Center, as Spanish tutors, and as first-year resident assistants (FYRAs), in addition to volunteering throughout the community.
"I know that through all these positions, I am preparing to continue building a better me and making my parents proud along the way," said Veronica Torres Luna '19 (Chicago), an FYRA and the Civic Engagement Commissioner for Student Senate. "As a first-generation student, I always strive to be great at whatever I do, because I know how hard my parents and I have worked in order for me to attend college."
For many recipients of the IME Scholarship, the Mexican Consulate's financial support carries special significance in helping them become the first in their family to earn a college degree.
"As a first-generation college student, it's very scary to navigate college, not only socially but economically," said Hispanic studies and secondary education double major Yesenia Martinez Calderon '20 (Chicago), who aspires to teach Spanish to children. "I appreciate opportunities like these, because not only do they make me proud of where I come from, but they also humble me to work even harder and provide knowledge to my future students so that they can achieve their dreams."
The Mexican Government's IME Scholarship Program was created in 2005 as an initiative to contribute to the development and educational improvement of Mexican migrants living in the United States. Since its inception, more than 68,000 students have received financial support.
The five Illinois Wesleyan recipients of the IME Scholarship include:
Yesenia Martinez Calderon '20, Hispanic studies and secondary education double major, Chicago
Geoffroi "Gus" Castro '19, philosophy and political science double major, Rockford, Illinois
Veronica Torres Luna '19, political science major, Chicago
Monica Munoz '19, financial services and Hispanic studies double major, Chicago
Victor Arizmendi Yanez '20, accounting major, Chicago
By Rachel McCarthy '21