$25,000 Scholarship Awarded by the Consulado General de México
May 21, 2018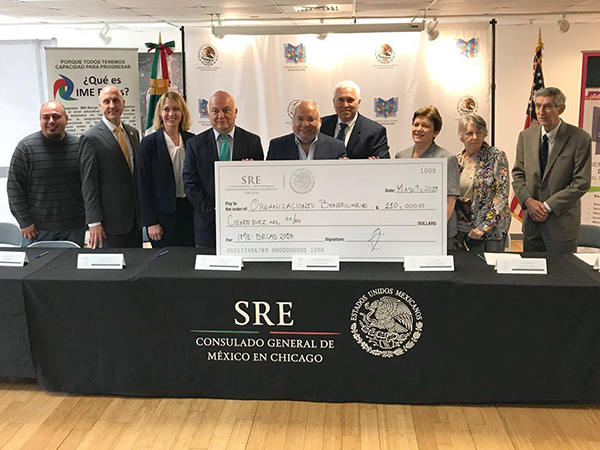 BLOOMINGTON, Ill. — Five students of Mexican heritage will receive financial support to attend Illinois Wesleyan University during the 2018-19 academic year, thanks to a $25,000 scholarship awarded by The Institute of Mexicans Abroad (IME) Scholarship Program and funded by the Consulado General de México en Chicago.
Director of Financial Aid Scott Seibring '85 accepted the award on behalf of Illinois Wesleyan during a signing ceremony Wednesday, May 9 at the Chicago Consulate. The University was awarded IME Scholarship Program funding for the second consecutive academic year, after receiving $15,000 to support three students of Mexican origin or Mexican descent in 2017-18.
Illinois Wesleyan is one of just three institutions of higher education – and the only school outside of Chicagoland – to receive funding from the Chicago Consulate's IME Scholarship Program. Earning financial support for five students of Mexican heritage aligns with Illinois Wesleyan President Eric Jensen's Leadership Initiative on Inclusive Excellence.
The Mexican Government's IME Scholarship Program was created in 2005 as an initiative to contribute to the development and educational improvement of Mexican migrants living in the United States. Since its inception, more than 68,000 students have received financial support.
By John Twork