Students Contribute in Effort to End Neglected Tropical Diseases
April 24, 2018 – Updated April 30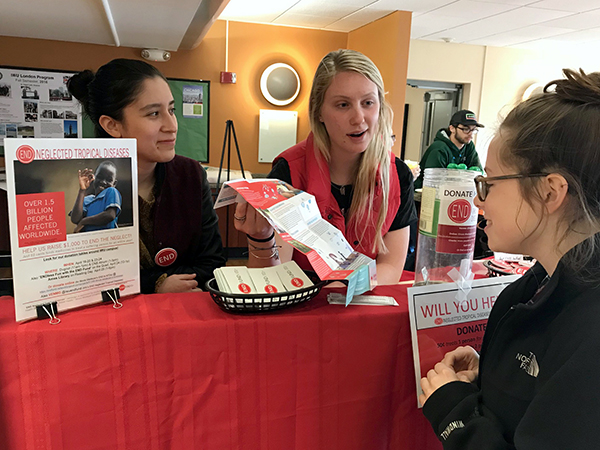 BLOOMINGTON, Ill. — Neglected Tropical Diseases (NTDs) impact 1.5 billion people around the world, and Illinois Wesleyan University students in a global health course are doing their part put an end to NTDs.
As part of "Perspectives in Global Health," a course taught by Associate Professor of Health and Environmental Studies Laurine Brown, students debate various health issues that affect regions across the world and propose possible solutions. Each year, near the end of the semester, students select an organization to support and build an educational and fundraising campaign around it, according to Brown. Now in their 12th year hosting the campaign, students have chosen to partner with the END Fund, a private philanthropic initiative which focuses on delivering (NTD) treatments to those in need.
Kelly Connor '19, a member of the course and co-coordinator of the campaign, said the class chose to support the END fund after being "shocked" when first introduced to NTDs, such as elephantiasis and river blindness, during class discussions.
"I do not personally know anyone who has suffered from a NTD, and I assume very few students on our campus do either," said Connor, a nursing major and health minor. "I think that's one reason why it was so important to raise awareness about these miserable, truly neglected diseases."
Launching their two-week campaign, "END Neglected Tropical Diseases" on April 16, students hoped to raise awareness about NTDs and raise $1,000 for the END Fund. Upon conclusion of the campaign, donations totaled more than $1,200 to support treatments for more than 2,400 individuals – 50 cents per person per year – suffering from the five most common NTDs.
"Over 1.5 billion individuals are suffering around the globe, but they receive so little attention and assistance," Connor said. "With the affordability of treatment, it is so easy to help relieve some of the suffering and really make a profound impact for thousands of affected individuals."
In addition to utilizing a donation table with raffles in various locations around campus, students also hosted a special outdoor event, "ENDless Fun with the END Fund," April 24 on the Eckley Quadrangle. Through their fundraising efforts, Connor said students in the global health course hope to bring awareness to the Illinois Wesleyan community about the presence, prevalence and severity of NTDs.
"The name says it all. These diseases are truly neglected by the general population, especially those in areas that are not at risk," Connor said. "Our campaign may be brief, but we have the opportunity to make a profound contribution to the initiative to eradicate NTDs."
By Vi Kakares '20