Game On: State-of-the-Art IWU Esports Arena Opens
Sept. 6, 2018
BLOOMINGTON, Ill. — Wearing an Illinois Wesleyan University Esports jersey pulled over the top of his dress shirt and tie, President Eric Jensen cut the ribbon to officially open IWU's state-of-the-art Esports Arena during a ceremony Thursday afternoon.
"It is my great pleasure to introduce this program to you," Jensen told the crowd gathered outside of the Esports Arena, located on the second floor of IWU's Hansen Student Center. "This space is a jaw-dropping, technology-driven undertaking."
Jensen's official jersey was presented to him by Illinois Wesleyan Esports Coach Callum Fletcher during the ribbon cutting ceremony. A jersey was also presented to Associate Director of Financial Aid Andrew Reddington, who spearheaded the program and served as interim coach when the IWU Esports program first launched as a registered student organization (RSO) in the spring of 2017.
"We're on the cutting edge, we're on the front end of something that's growing massively throughout the United States and the rest of the world, and we are incredibly excited to be some of the leaders in this program," Fletcher said.
Hired in the fall of 2017 as the program's head coach, Fletcher recruited this year's first-ever Illinois Wesleyan varsity Esports team which consists of 12 players divided into: Varsity, Academy and JV teams. As members of the National Association of Collegiate Esports – which includes 86 programs nationwide – the IWU Esports program competes in "League of Legends," a fast-paced MOBA (Multiplayer Online Battle Arena) game set in a fantasy world. Two teams of "champions" battle head-to-head to demolish their opponent's base.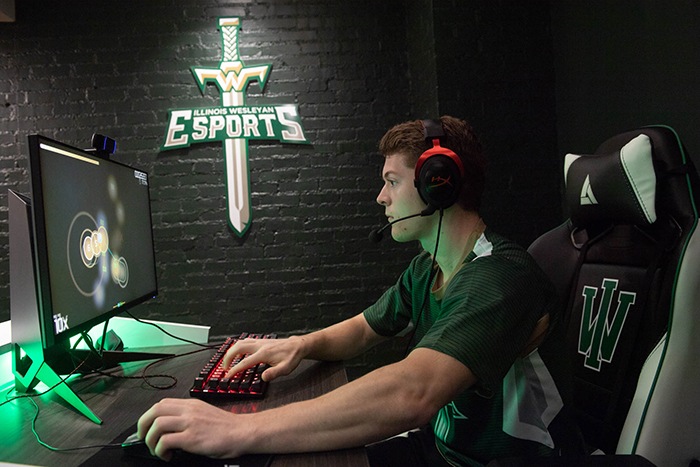 "We're thrilled to be adding this program as a competitive program, as an experience, and as a way that honors the interests of today's students in powerful ways," said Vice President of Student Affairs and Dean of Students Karla Carney-Hall during Thursday's ribbon cutting.
Formerly a conference room, the space was transformed over the course of four months into a high-tech Esports practice and competition space. The Esports Arena features: 17 PCs and monitors, 17 headsets, keyboards and mice; 17 custom chairs; one smart projector for analyzing film in the practice area; and one 55-inch TV located outside of the Esports Arena for the campus community to watch live streaming of game competition via the University's Twitch channel.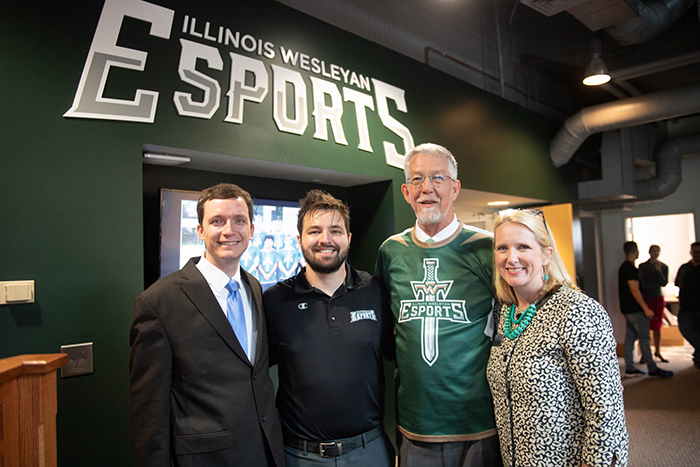 While "The Coliseum" competition space – housed within the Esports Arena – is exclusively for members of the varsity Esports team, the larger practice area is open to all Illinois Wesleyan students when it is not being used by the Esports program.
"Not only are students able to come to Illinois Wesleyan University and get the education that we provide here, but now gamers have a place on campus that they can come. Their interests are not only supported, but encouraged," Fletcher said. "The arena itself has been professionally designed and inspired for our teams to compete, but also for our students to enjoy."
Recently ranked No. 5 in the nation among The Best Colleges for Esports and Gaming, according toValueGamers, the Illinois Wesleyan Esports program will begin competing in January. However, the team is already utilizing its new space to practice and scrimmage against other universities across the country.
"My players will tell you that my goal – our goal – is to be the number one program, the gold standard, in the United States," Fletcher said. "We want a program that will make our campus and community proud."
By John Twork