State Farm Grant Empowers Student Research, University Programs
August 3, 2018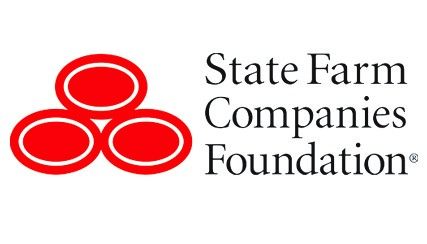 BLOOMINGTON, Ill. — Six Illinois Wesleyan University student research projects and two University programs have been funded using an award from the State Farm Companies Foundation.
In addition to financially supporting The Multicultural Academic Achievement Recognition Ceremony and McLean County Associates scholarships, the State Farm Foundation is enabling IWU students to conduct research focused on innovation in science, business and community engagement.
"It is a bit crazy to think I am doing research as an undergrad, because research always seemed like something a brilliant adult with a Ph.D. did," said anthropology and biology major Lilia Garcia '21 (Addison, Illinois), who is studying the effect of antibiotic compounds on ESKAPE pathogens, a type of antibiotic-resistant bacteria commonly found in hospitals.
From 1,800 combinations of harmless surrogate strains of ESKAPE pathogens and bacteria colonies from soil samples, Garcia has whittled the field down to six different types of bacteria that have inhibited or killed the ESKAPE surrogates by secreting a special compound. Through DNA sequencing, Garcia has already identified these bacteria, and now her challenge is to devise a way for the bacteria to consistently produce this compound that could hold answers to combating pathogens that scientists have worked to eradicate for years.
"Working with Lilia Garcia this summer has a been a wonderful experience," said Assistant Professor of Biology Loralyn Cozy, who has mentored Garcia throughout her research. "This opportunity has been transformative for her."
Business administration major Shelby Moore '19 (Englewood, Colorado) is working with the Illinois Small Business Development Center (SBDC) of McLean County at IWU to create an online business portal for McLean County entrepreneurs, which will serve as a database of information for starting, managing and expanding a small business. Doing so has involved substantial research on Moore's part, both online and in-person with local business owners to understand their needs.
"The experience mentoring Shelby thus far has been very rewarding," said SBDC Director Karen Bussone. "Providing clear expectations, teaching resilience, encouraging collaboration with stakeholders, incorporating routine checks for understanding, and fostering independence have truly enabled Shelby to reach her potential with the business portal project."
Moore will present her research and the website to the SBDC's advisory board at the end of August, and uniquely, she will continue her research throughout her senior year in order to complete the project.
"I am very passionate about small business because most of my family runs their own businesses, so this research fellowship is everything I could have ever imagined and more," Moore said.
Chemistry and mathematics major Zihan "Ice" Nie '19 (Shenzhen, China) is studying different aspects of how objects are constructed in combinatorics, a branch of mathematics. Her research builds off a previous project under the mentorship of Earl and Marian A. Beling Professor of Natural Sciences Tian-Xiao He, in which Nie showed how to construct the famous Girard-Waring identities by using recursive number sequences.
For her current project, Nie has been building combinatorial structures called maximum packings with specific constraints put on them. It was not previously known whether or not these structures existed, but Nie has proved that all possible configurations exist.
"She exhibits a prime example of creativity in mathematics — uncovering connections that were not previously known to exist," said He.
The next phase of Nie's project will involve searching for connections between matrices and the construction of these maximum packings.
"I have been working with Zihan throughout the past year on her research," said Assistant Professor of Mathematics Daniel Roberts, Nie's faculty co-advisor. "She put in a lot of the groundwork during the fall semester — reading articles and getting a grasp on the techniques used in the field. She is wonderful to work with because she has such an active mind."
Political science major Benjamin Nielsen '19 (Normal, Illinois) has taken on multiple projects for the West Bloomington Revitalization Project (WBRP). Chief among them is developing a building and conditions report on Bloomington's west side, which Nielsen will submit to the U.S. Department of Housing and Urban Development in order to secure funding for that area. Nielsen will also oversee the installation of a community work space at the WBRP Tool Library, using his funding as Illinois Wesleyan's 2018 Weir Fellow.
"Conducting research has been a fantastic experience at Illinois Wesleyan this summer," said Nielsen. "As a local, I really am connecting with my work, because it is going to really create a positive impact in the community. Helping bring real money to real people is so satisfying, and I am enjoying every second of it."
Isaac Simmons '20 (Peoria, Illinois) is also collaborating with the WBRP to research, design and implement a MicroLoan program, which will allow aspiring entrepreneurs of low or moderate incomes to start or expand their businesses in the west side of Bloomington. Unlike other loan programs, applicants will not be unduly penalized for low credit scores, and loan recipients will benefit from business management training and peer-to-peer mentorship.
"I cannot begin to explain how lucky I am to be handed this opportunity," said Simmons, a business administration and religion double major. "In fact, if five years ago someone would have told me that I would be creating a MicroLoan Program, I probably would have laughed. Now, however, I can certainly imagine spending the rest of my career-life working in International MicroFinance Operations."
Simmons has met with experts and local executives in economic and community development organizations in the area, including the IWU Action Research Center (ARC).
"Our board of directors is thrilled with both the quality of Isaac's work and how much progress he's made in helping us make this program a reality," said Bevin Choban '10, coordinator of the IWU ARC and Simmons' supervisor. "Overall, Isaac is a rock star."
Sarah Pombar '20 (St. Charles, Illinois) and her faculty mentor Associate Professor of Chemistry Manori Perera are using the summer to construct an octopole, a device which can control the positioning of ions in a vacuum chamber when conducting research. The octopole and its circuitry is being built and tested based on Pombar's designs.
"It has been an incredible experience to conduct research over the summer," Pombar said. "I'm learning so much, and I'm enjoying what I'm doing."
"In astrochemistry, there is a significant lack of female representation," Perera explained. "It is wonderful to have fellowships like this because the amount of work and the set of skills gained by Sarah Pombar will set her apart when she applies for Research Experiences for Undergraduates (REUs) next summer. It also provides her with the confidence she needs to be successful in a field where she is a minority."
Also supported by the State Farm Foundation, the Multicultural Academic Achievement Recognition Ceremony is an annual event hosted by Illinois Wesleyan in collaboration with the Neighbor-to-Neighbor Educational Activity Club. The ceremony recognizes multicultural youth in grades five through 12 who have displayed outstanding academic achievement.
Another recipient of State Farm Foundation funding, the Illinois Wesleyan Associates was formed in 1953 when State Farm officials Adlai H. Rust and Clarence W. Heyl brought together a group of local business and professional leaders interested in supporting private higher education and local McLean County students. In 2018, celebrating more than 65 years of service, the Illinois Wesleyan Associates launched a bold new financial aid initiative, The McLean County Scholarship Fund, which guarantees no less than $27,000 in scholarship support annually for McLean County students attending Illinois Wesleyan.
The State Farm Companies Foundation was established in 1963 to provide support for key initiatives and scholarships, as well as associate-directed programs, including grants supporting volunteerism and matching gifts to charitable organizations, colleges and universities.
By Rachel McCarthy '21