Ostrowski '05 Joins IES Abroad as Program Dean
Oct. 15, 2018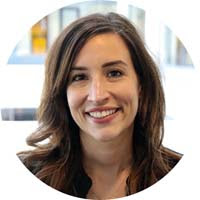 BLOOMINGTON, Ill. — IES Abroad, a non-profit study abroad program which partners with dozens of Illinois Wesleyan University students every year, has welcomed former participant Lauren Ostrowski '05 as the Program Dean for its EU, Freiburg, Granada, and Madrid Centers.
An English and Hispanic Studies double major at IWU, Ostrowski studied abroad in Madrid her junior year through IES Abroad, an experience which led her to work for IES Abroad from 2006-10 as a Program Associate and later as the Academic Project Manager.
As a Fulbright Fellow, Ostrowski returned to Madrid to earn her master's degree in Teaching Spanish as a Foreign Language from the Universidad Alcalá de Henares. She then joined Teach For America in San Diego, where she served as their Managing Director and Chief of Staff, among other roles.
In her role as a Program Dean, Ostrowski directly manages a portfolio of international centers in Spain, Germany and China. She is responsible for overall program and academic quality, including developing and implementing proposals for new areas of curricular focus and leading qualitative and quantitative program reviews. She is also charged with leading overseas staffing, designing and executing strategic plans, and budget management.
Each year, IES Abroad coordinates 140 different study abroad programs for over 6,500 students in over 30 countries. Throughout the process, IES Abroad supports students with personal advisors in their home country as well as on-site staff. Illinois Wesleyan students interested in applying to study abroad through IES or any of IWU's other partner organizations can view hundreds of available programs on the International Office's study abroad webpage.
By Rachel McCarthy '21