O'Carroll '18 Selected for Fulbright Program
April 26, 2018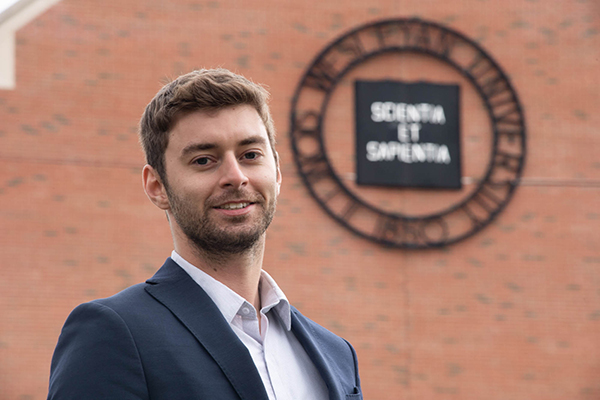 BLOOMINGTON, Ill. — Senior international business major Sean O'Carroll '18 has been chosen to represent Illinois Wesleyan University and the United States as a J. William Fulbright English Teaching Assistant in Malaysia next year.
O'Carroll will leave for Malaysia in January of 2019, and after a three-week orientation program, he will spend ten months teaching English in a rural Malaysian high school. In partnership with a native Malay-speaking teacher, he will conduct in-class activities as well as extracurricular programs, including an English camp.
"They don't normally have visitors in rural Malaysia, so anything that I can do to help the students learn English or learn more about America is part of my job," O'Carroll said. "Because the Fulbright Program is funded through the U.S. Department of State, I'm a representative of the United States government while I'm over there. And, I need to do as much as I can to help out, because that's the whole mission of Fulbright."
As an Illinois Wesleyan student, O'Carroll gained international business experiences through the IWU Freeman Asia Internship Program, which supports student internships in Asia for two months each summer. Shortly after completing a semester-long study abroad program in Milan, Italy, O'Carroll spent the summer of his junior year as a Freeman Asia intern with the Mizuno Corporation, a Japanese sports equipment and sportswear company led by President and CEO Akito Mizuno, a 1974 Illinois Wesleyan alum. During his time with the company, O'Carroll toured factories, shadowed the head planner of Mizuno's global footwear department, and designed a concept shoe and marketing campaign in conjunction with fellow intern Sara Dust '19, which they presented to top executives.
"It really opened my perspective in the business world," said O'Carroll when describing his time at Mizuno. "I never really thought about designing shoes, specifically for production three years in the future. As a consumer, you just think about what's out now. So, working in the global footwear department was absolutely incredible because I was able to see Mizuno shoes way back from when it was starting in 1906 to the shoes that haven't even come out yet."
O'Carroll primarily attributed his Fulbright selection to study abroad opportunities – such as the Mizuno internship – that he experienced as an IWU student. He specifically credited Director of International Studies Scott Sheridan, Associate Professor of Business Administration Fred Hoyt, Associate Provost Lynda Duke, and Professor of Sociology and Director of the Freeman Asia Internship Program Teddy Amoloza for helping him become a Fulbrighter.
"I wouldn't have gotten it if I didn't have an internship in Japan or if I didn't have experience traveling in Europe when I was studying abroad," O'Carroll said. "And, that was all thanks to the International Office and people here at Illinois Wesleyan."
After completing the 10-month Fulbright Program, O'Carroll hopes to continue travelling the world as a freelance videographer, and he suspects that his time in Malaysia will help solidify his international career aspirations.
"I'm definitely excited," O'Carroll said. "I haven't ever lived in a different country for that amount of time before, so it is a little nerve-wracking. But, it's something I've always wanted to do, and I'm excited to see where the journey takes me."
O'Carroll is one of more than 1,900 U.S. citizens who will conduct research, teach English, and provide expertise abroad during the 2018-19 academic year through the Fulbright U.S. Student Program. Recipients of Fulbright awards are selected on the basis of academic and professional achievement along with a record of demonstrated service and leadership potential in their respective fields.
The Fulbright Program is the flagship international educational exchange program sponsored by the U.S. government and is designed to build lasting connections between the people of the United States and the people of other countries.
By Rachel McCarthy '21