Muchnik '16 Earns NSF Graduate Research Fellowship
May 18, 2018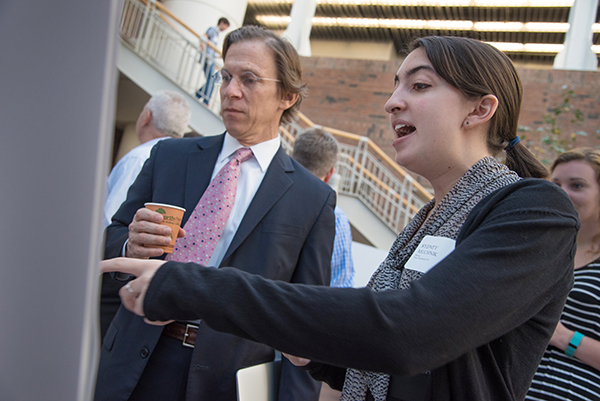 BLOOMINGTON, Ill. — A three-year National Science Foundation (NSF) Graduate Research Fellowship has been awarded to Illinois Wesleyan University biology alum Sydney Muchnik '16, who is now pursuing a Ph.D. at Yale University.
"IWU provided me with my first research experiences which helped me discover my love of science and influenced my decision to study genetics in graduate school," Muchnik said while reflecting on the fellowship.
The highly selective NSF Graduate Research Fellowship Program accepts 2,000 applicants from a nationwide pool of undergraduates in STEM fields. Since 1952, NSF has funded over 50,000 graduate research fellowships out of more than 500,000 applicants.
Fellows – such as Muchnik – receive a three-year annual stipend of $34,000, as well as an additional $12,000 to cover education costs to conduct research at any U.S. graduate institution of their choice. Fellows also benefit from the international reputation of the program, which includes numerous Nobel Prize winners, Google co-founder Sergey Brin and former U.S. Secretary of Energy Steven Chu as former Fellows.
As an Illinois Wesleyan undergraduate student, Muchnik was active in the campus community where she served as President of the Math Honors Society and Vice President of Colleges Against Cancer. She also worked as a Resident Assistant and a Residential Community Advisor. In addition, Muchnik gained experience as an intern for Advocate BroMenn Volunteer Services, where she completed an extensive research project on the history of the Brokaw School of Nursing at IWU.
During her senior year, Muchnik joined Miner Linnaeus Sherff Endowed Professor of Botany David Bollivar in his laboratory, where she worked on a project involving bacteriochlorophyll biosynthesis. When describing Muchnik's work, Bollivar said, "She had a talent for seeing the greater picture while still focusing on the details needed for success in the laboratory."
"One of my most important experiences at IWU was doing research in Dr. Bollivar's lab," Muchnik said. "I loved working in the lab, and those experiences played a large role in my decision to apply to grad school."
Through her fellowship, Muchnik will continue her passion for laboratory research in the Genetics Department at Yale. Her current thesis project explores how changes in regulatory regions of DNA can shed light on how genetics have driven the evolution of distinctly human aspects of brain function and development. To do so, she will study gene transcription and modification at different stages of a human brain's development and compare her findings to the gene sequences found in non-human primates.
Muchnik has already conducted research in the Biomedical Engineering department at Yale, where she worked alongside a professor to develop a technique for single-cell cytokine secretion in real time, a process used to activate latent HIV cells for study in the lab.
"At IWU, I gained basic scientific knowledge that prepared me for my graduate courses," Muchnik said. "But, more importantly, I gained writing, presentation, and critical reading skills that have been exceptionally important for my success in grad school."
By Rachel McCarthy '21