Kaplan '18 Touts Economic Impact of IWU Athletics
June 20, 2018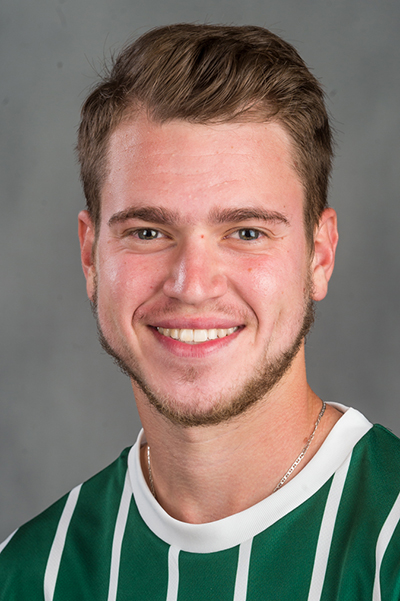 BLOOMINGTON, Ill. — Through his capstone research project, recent Illinois Wesleyan University graduate Ryan Kaplan '18 combined his knowledge of finance – as an economics major – with his experience as a student-athlete to reveal the multi-million dollar economic impact of IWU's Department of Athletics on the Bloomington-Normal community.
While examining the various expenditures and sources of revenue generated by IWU's NCAA Division III Athletics Department, Kaplan calculated that food and gas consumption from five IWU teams alone – football, men's and women's soccer, and men's and women's basketball – generated three jobs and $250,000 for the local economy over the course of his four-year study.
Additionally, ticket sales from football, men's basketball and women's basketball created an estimated economic impact of $750,000 and six jobs over the course of four years. Kaplan generated these figures by running data through The Regional Input-Output Modeling System (RIMS II), which – according to the Bureau of Economic Analysis – is a tool used by investors, planners and elected officials to objectively assess the potential economic impacts of various projects.
Kaplan compiled attendance records from ticketed IWU sporting events from 2013 through 2017 and used Google Maps to calculate team transportation fuel consumption. Along with collecting data, Kaplan spent much of his time manipulating Microsoft Excel functions to generate the economic impact statistics before presenting his findings upon conclusion of the fall semester.
"It seems like a lot of work to get a few numbers, but I learned a lot about economic impact," Kaplan said. "I didn't realize when you buy something how far that money really goes, how the company takes that, spends it elsewhere, and it creates a snowball effect."
Kaplan considered his 16-week research project to be just the tip of the iceberg. He hoped his results would prompt IWU Athletics to conduct a full-scale economic impact survey based on expenditure and revenue data from all 22 teams, in order to better grasp the extent to which the department is contributing to Bloomington-Normal's economy.
Assistant Athletic Director Tony Bankston '91, along with other IWU Athletics administrators, took interest in Kaplan's work.
"If you stop and you think about how many athletes we have and how many events we host over the course of the year, then it occurs to you that there has to be some kind of economic impact," Bankston said.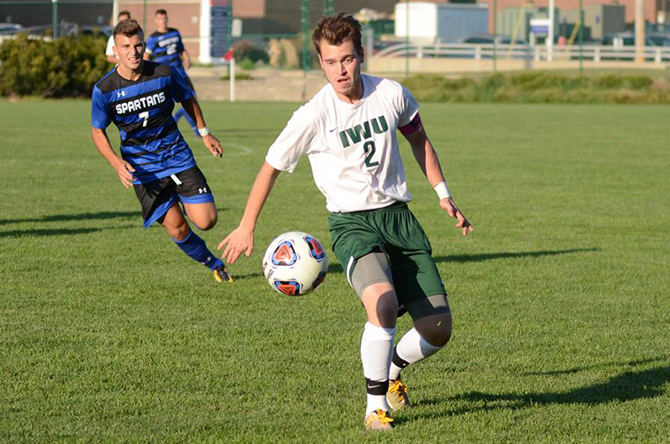 Kaplan, a three-year letterwinner on the Illinois Wesleyan men's soccer team, observed the relevancy of his research firsthand. As the wheels of a bus shuttled the team to its next game, the wheels in Kaplan's head would be turning too.
"I'd be on the bus and my coach would give us a Clif Bar and Gatorade, and I would start getting more ideas about where this economic impact comes in," Kaplan said. "You start to see the impact."
Kaplan's experience as a student-athlete played a pivotal role in his personal story. The opportunity to play soccer in college motivated Kaplan to choose IWU, and once he arrived, he found his professors acting not only as teachers, but also as mentors invested in his success.
As a freshman, Kaplan was still uncertain about what he wanted to study at IWU. When he entered the office of Professor of Economics Diego Mendez-Carbajo, Kaplan remembered essentially telling him, "I'm interested in sports." From that point on, Mendez-Carbajo helped Kaplan formulate his research project, and Kaplan chose to run with it. Kaplan gave Mendez-Carbajo a lot of credit for his guidance that allowed the research project to succeed.
Bankston, who attended Kaplan's research presentation, was impressed by his ability to merge a passion for sports from the field to the classroom.
"I think we always talk about how our mission in the Athletics Department is to mesh the academic and the athletic experience, to make it as seamless as possible, to provide the student the opportunity to be as successful as possible on both ends of the spectrum," Bankston said. "It's neat when you see a project like this, that literally brings those two worlds together."
By Rachel McCarthy '21