International Office Launches New Study Abroad Website
Sept. 14, 2018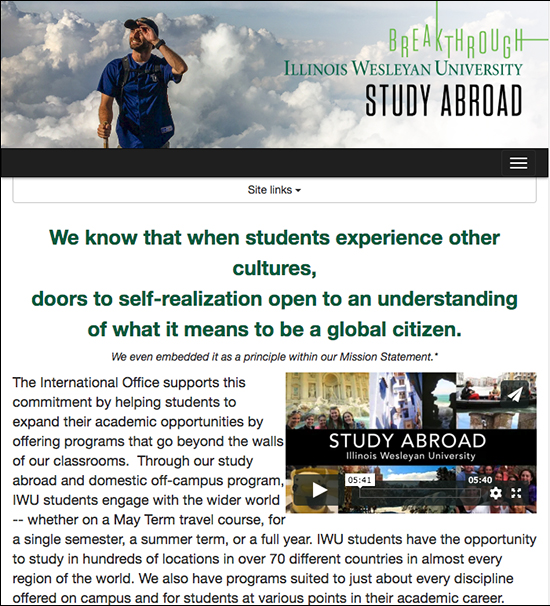 BLOOMINGTON, Ill. — With over half of Illinois Wesleyan University students travelling abroad to study, work or conduct research, the International Office has streamlined the process of finding and applying for opportunities with a new website.
"I am thrilled to have the new abroad.iwu.edu site, and I hope students and faculty will be too," said International Office Director Stacey Shimizu. "Studying abroad is an important part of what IWU offers students, and now students – and their advisors – have more and easier access to information."
Now, students have the ability to search more than 700 listed programs in over 70 countries worldwide, and all the application documents are available online for students to submit electronically.
"With over 700 study abroad options, finding a program can seem daunting – but with the new system, students can search based on location, semester, language, and even coursework offered," Shimizu said.
The website utilizes Terra Dotta, a web-based software used by more than 500 colleges and universities nationwide, with a growing directory of up-to-date study abroad opportunities.
"Terra Dotta has many benefits for both students and faculty," said Kevin Sullivan, Associate Dean of Curricular and Faculty Development. "Specifically, Terra Dotta will allow us to greatly improve the experience of students applying for May Term travel courses by digitizing the entire application process. The May Term offerings will appear side-by-side with the large number of Study Abroad options that IWU offers, allowing them to make an informed choice and the best choice for them for studying abroad."
With a simplified application process and more available programs than ever, the International Office sees this new website as a chance for more Illinois Wesleyan students to find opportunities that match their unique interests.
By Rachel McCarthy '21