Illinois Wesleyan New-Student Enrollment Up 30 Percent
Sept. 21, 2018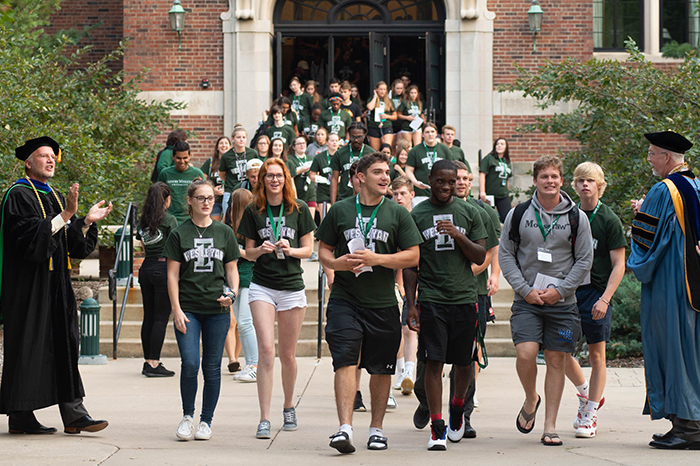 BLOOMINGTON, Ill. — Illinois Wesleyan University welcomed to campus its largest incoming class in five years and its most diverse class in University history for the 2018-19 academic year. Official enrollment figures were computed after the 15th day of classes.
The incoming class includes 540 new students, a 30 percent increase in new-student enrollment from 2017. This growth was achieved while holding new-student GPA and test scores steady.
"With each new crop of students comes a burst of energy to campus. This year, it's a big class, and a correspondingly big burst of energy," said President Eric Jensen. "While test scores and GPAs remain at typical high levels, we are excited and proud to welcome what is by far the most diverse class in University history. We believe that diversity of all kinds – whether racial, demographic, geographic, or socioeconomic – provides the richest learning environment, and are pleased that this year's incoming class reflects our commitment to fostering a diverse and inclusive campus community."
Domestic new-student diversity – students who self-identify as multiracial, African-American, Latino or Asian-American – increased to 29 percent in 2018, from 22 percent in 2017, to mark the most diverse class in Illinois Wesleyan's history. Of IWU's 540 new students, 479 are domestic first-year, 41 are transfer students and 20 are international students. Total University enrollment increased to 1,693, from 1,649 in 2017.
"We make our acceptance decisions with a goal of finding best-fit students who will thrive at Illinois Wesleyan," said Vice President of Enrollment and Marketing LeAnn Hughes. "This year, an increased percentage of admitted students chose to enroll, which I believe speaks to the value of our holistic, liberal arts education and the ability of our world-class faculty to transform Illinois Wesleyan students into future professional and social leaders."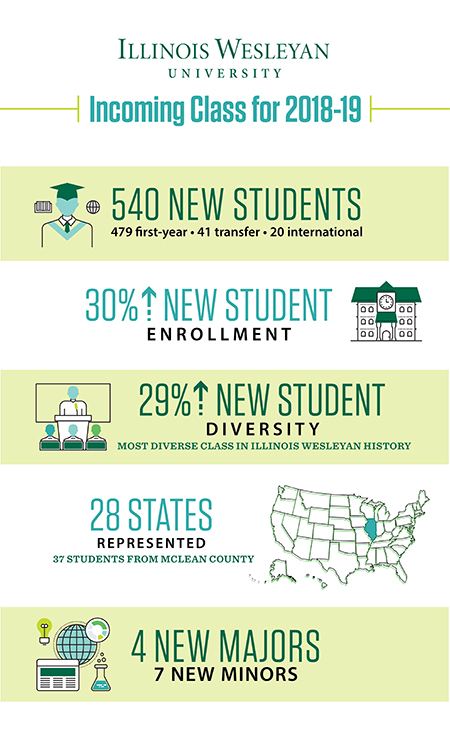 The incoming class consists of 37 students from McLean County – a 37 percent increase from 27 students in 2017 – with a boost from the McLean County Scholarship, which guarantees no less than $27,000 in annual scholarships and grants to students who graduate from a McLean County High School and are admitted to attend Illinois Wesleyan. Students from 28 states make up the incoming class.
"Our reputation for individualized, experiential-learning opportunities, which consistently lead to financially and personally rewarding careers after graduation, is clearly paying dividends," Jensen said. "We are enjoying these enrollment successes in spite of the challenging climate, in Illinois and nationally, faced by higher education. Our Admissions team will continued to collaborate with talented, dedicated colleagues across the University to make Illinois Wesleyan accessible and appealing on a national stage."
Illinois Wesleyan continues to attract a talented, diverse student body by holding a retention rate of 89 percent – 31 percent above the national median of 68 percent, according to data from the College Scorecard, and 92 percent of IWU graduates earn their degree in four years.
IWU students earn an average salary of $55,600 10 years after graduating, compared to the national median of $34,300, also according to the College Scorecard. Personalized attention remains a top priority, with an average class size of 15 students and a student/faculty ratio of 10.
In keeping with the increasingly diverse academic interests of incoming students, Illinois Wesleyan is offering four new majors and seven new minors beginning in 2018-19, in addition to more than 80 existing majors, minors and programs. The new majors include biochemistry, health promotion and fitness management (HPFM), marketing, and neuroscience. Also new for the 2018-19 academic year is Illinois Wesleyan's varsity Esports program which will compete as members of the 86-team National Association of Collegiate Esports.
By John Twork