Illinois Wesleyan Earns Silver Bicycle Friendly Designation
Nov. 14, 2018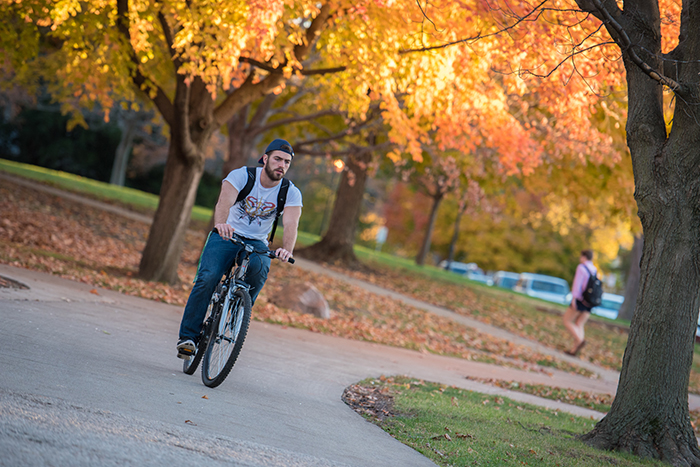 BLOOMINGTON, Ill. — The League of American Bicyclists has honored Illinois Wesleyan University with a Silver Bicycle Friendly University (BFU) designation in recognition of the University's achievements in promoting safe, accessible bicycling on campus.
The Silver designation, which Illinois Wesleyan will hold for four years, represents a move up from the University's Bronze BFU designation earned in 2014.
"Congratulations to Illinois Wesleyan for its inclusion in a select class of 45 new and renewing Bicycle Friendly Universities nationwide," said League Executive Director Bill Nesper. "The standards for attaining any of the four levels of awards—Bronze, Silver, Gold and Platinum—are very high and require deliberate, determined efforts to earn them. Universities and colleges are in a unique leadership position to help encourage and enable people of all ages—especially young adults—to adopt healthy, sustainable habits that can benefit them throughout their lives."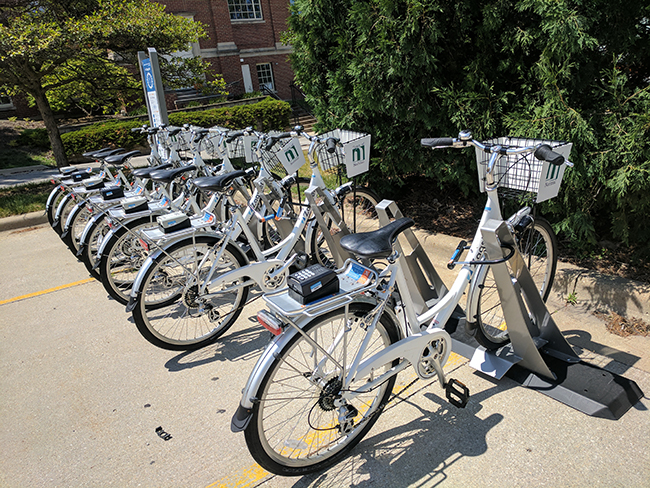 The program, which now includes 193 Bicycle Friendly Universities, is part of the League's larger program and mission to create a Bicycle Friendly America for everyone.
"More than 3.8 million students now attend Bicycle Friendly Universities in 46 states and Washington, D.C.," said BFU Director Amelia Neptune. "From large to small, urban to rural, these educational institutions are creating a powerful community of college campuses that model and support the use of bicycles for improving health, sustainability, and transportation options."
Since its inception in 2013, Illinois Wesleyan's Bike Committee has worked to make riding bikes a safe, convenient, cost-effective and eco-friendly choice for IWU students. Some of the committee's projects have included implementing Illinois Wesleyan's free bike share program, providing convenient indoor and outdoor bike racks across campus, and working with the City of Bloomington to create an on-street bike route that connects IWU to Downtown Bloomington.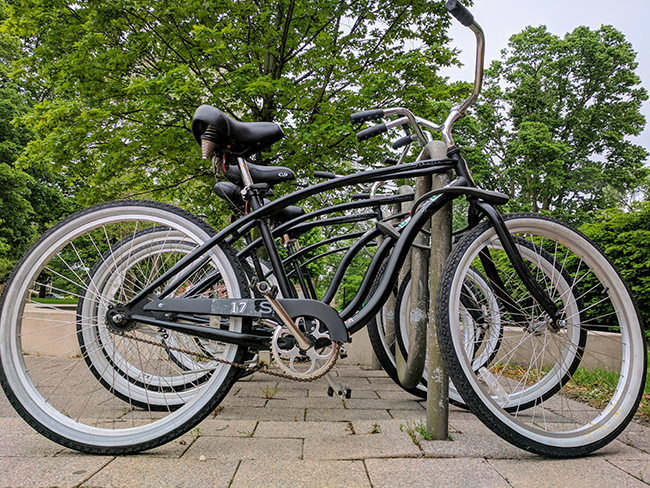 "Receiving Silver-level Bicycle Friendly University status is a powerful validation of all of the efforts we've undertaken over the past five years to make bicycling more appealing for our campus community," said Michael Gorman '10, Illinois Wesleyan's Bike Committee Chair and Senior Web Developer. "Through our campus bike share and our partnerships with the Town of Normal's Bike Share 309 and Connect Transit, Illinois Wesleyan recorded more than 6,500 sustainable trips in 2017. Our campus community really values programs like the campus bike co-op, free bike repair tools outside the Hansen Student Center, and the many bike racks around campus, including the indoor bike rack at Harriett Fuller Rust House."
In 2014, Illinois Wesleyan was recognized with a four-year Bronze BFU designation for the committee's work, and this year's rise to Silver status reinforces IWU's continued commitment to improving campus life for students in ways that also promote healthy living and environmental stability for years to come.
For 138 years, the League of American Bicyclists has been leading the movement to create a Bicycle Friendly America for everyone. Its commitment is to listen and learn, define standards and share best practices to engage diverse communities and build a powerful, unified voice for change. More information can be found at BikeLeague.org/University.
By Rachel McCarthy '21