Illinois Wesleyan Awards $20,000 Getz Scholarship
Dec. 12, 2018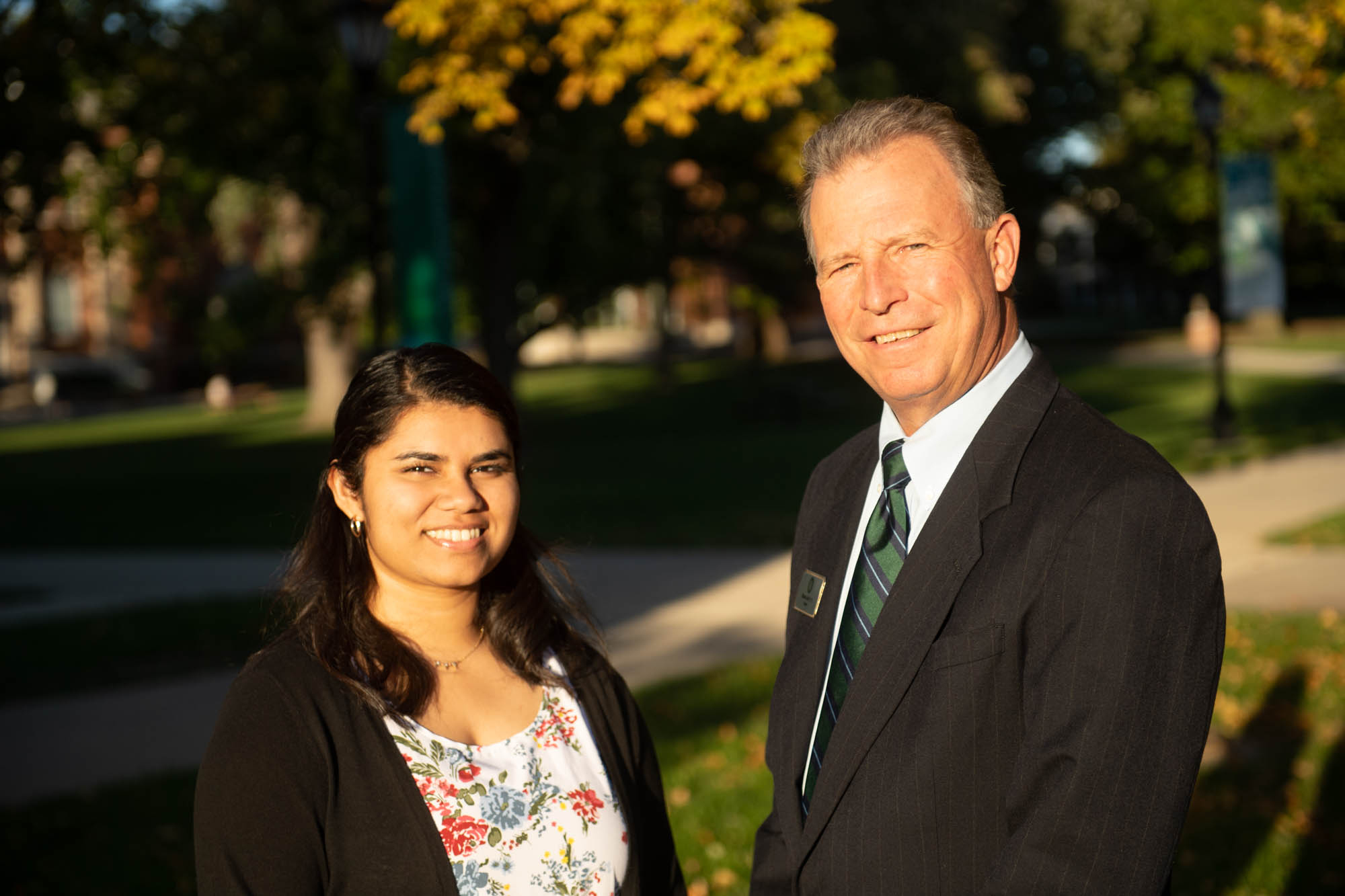 BLOOMINGTON, Ill. — An aspiring doctor from a family of ministers, Rock Falls, Illinois native Salomi "Nima" Arunima '22 is pursuing her unique passion for medicine at Illinois Wesleyan University thanks to support from the Herb and Susan Getz '77 Scholarship.
The daughter of Rev. Solomon Sudhakar and Rev. Satya Sudhakar, Arunima – a Rock Falls High School graduate – holds an unwavering vision of herself as a doctor. During a campus visit last August, Arunima discovered that Illinois Wesleyan could help make her dream career a reality.
"I couldn't pass up IWU, and all my expectations are fulfilled here," Arunima said. "I'm very happy with the decision."
Arumina's college choice took into account several important aspects of an Illinois Wesleyan education, including small class sizes, a wide range of programs, and close connections with faculty. IWU's affordability ultimately sealed the deal.
When Arunima and her family met with Director of Financial Aid Scott Seibring '85 during an Admitted Student Day, Seibring put them at ease by exploring the number of grant and scholarship opportunities available in a way that no other institution had.
During that meeting, Seibring encouraged Arunima to apply for the Getz Scholarship, created by Illinois Wesleyan class of 1977 alumni Herb and Susan Getz. The Getz Scholarship provides $5,000 in annual support for four years to an Illinois Wesleyan student who performs well in the classroom, shows demonstrated need, and lives in northwestern Illinois, preferably from Jo Daviess, Carroll, Whiteside or Stephenson counties.
"The counselors at IWU went out of their way to do help me find a way to come here." Arunima said. "The Getz Scholarship was a big help, and I'm still very thankful for that."
Now a first-year student at Illinois Wesleyan, Arunima has adjusted well to college life. Over the summer, she participated in IWU's SPLICE (Science Program for Leadership, Inquiry, and Campus Engagement) Program, which helped prepare her to excel as a pre-medicine biology major. Arunima is also honoring her family's legacy by pursuing a minor in religious studies.
Herb and Susan Getz know first-hand the places and career paths that an Illinois Wesleyan education can take students.
"I'm a firm believer that education transforms lives," said Herb Getz, a Mt. Carroll High School graduate. "Wesleyan certainly gives everyone the chance, literally, to transform their life. My Illinois Wesleyan education helped me realize dreams that I never dreamed of as a kid growing up on a dairy farm in northwest Illinois.
After graduating from Illinois Wesleyan, Herb Getz went on to earn a law degree from Harvard Law School, and Susan Getz received a master's in music therapy from Florida State University.
After a 20-year career in corporate law, in 2001, Herb Getz founded Aspen Creek Partners, a successful residential design-build firm in Naperville, Illinois. He currently serves as Vice Chair of the IWU Board of Trustees. Both he and Susan Getz feel obliged to pay forward the financial generosity from alumni who helped make their Illinois Wesleyan education possible.
"This scholarship is there for students like Susan and myself, for whom Wesleyan was really out of reach," Herb Getz explained. "There were people who helped us at a time when we really needed help. We're just delighted to have the opportunity to do that for a new generation of Wesleyan students."
Students are invited to apply now for the Getz Scholarship. For award consideration, students must have applied for admission to Illinois Wesleyan and received their financial aid proposal. Students should indicate their interest in the Getz Scholarship by no later than Feb. 1. Past recipients of the Getz Scholarship include Freeport, Illinois native Heather (Prasse) Calkins '16 and Lena, Illinois native Tristan Fox '18.
"It's amazing that after graduating they decided to give back. I respect that, and of course it means a lot to me," Arunima said. "It shows the impact that Wesleyan made on them. Hopefully one day I can do the same and give back, because it means a lot. It made a huge difference for me."
For more information and to apply for the Getz Scholarship, students are encouraged to contact Illinois Wesleyan Director of Financial Aid Scott Seibring by emailing: seibring@iwu.edu or by calling: (309) 556-3393.
By Rachel McCarthy '21