Filbert '19 Selected for Economics Research Fellowship
May 24, 2018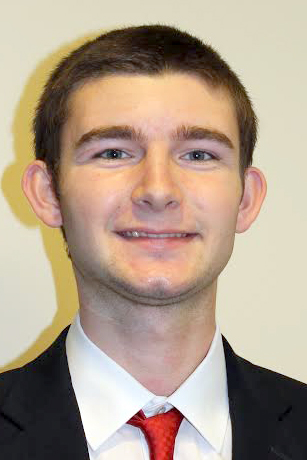 BLOOMINGTON, Ill. — Pre-medicine economics major Rowland Filbert '19 has been selected for the Mark A. Israel '91 Endowed Summer Research Fund in Economics, which enables an Illinois Wesleyan University student to conduct independent research under the guidance of a faculty member each year.
Thanks to a $4,000 stipend through Israel's endowed gift, Filbert will spend the summer working alongside Associate Professor and Chair of Economics Amit Ghosh to examine the relationship between the banking industry and local job creation by analyzing data on a county, state and national level. His project is titled: Implications of regional banking industry health on regional business dynamics.
Filbert attributes his passion for this research topic to the course "Money and Banking," taught by Ghosh.
"After taking the course, I was interested in the role of the banking industry in everyday life," Filbert said. "I hope to learn how its dynamics affect other facets of society."
A pattern observed in economics shows that a period of financial stability in the banking industry typically leads to an increase in businesses, which in turn creates job opportunities, all because banks are more willing to give out loans. However, if the industry is in crisis, then banks are less equipped to recuperate from losses when businesses fold, thus reducing the number of loans that banks are willing to provide for start-up businesses. By examining this principle in detail, Filbert hopes to gain a better understanding of the positive or negative effects banks have on business formation.
Filbert is also involved in affecting the campus community outside the classroom. He currently serves as vice president of Tau Kappa Epsilon, and in the past, has served as a Titan Orientation Leader (TOL) and an ambassador for IWU during Technos International Week in Tokyo, Japan. He is also a trombonist in IWU's concert ensemble Symphonic Winds.
Looking ahead at the next step in his education, Filbert intends to pursue his interest in ophthalmology at med school while also applying the skills of an economics student.
"Being able to analyze data and come to conclusions is essential in medicine," Filbert said. "Economics has provided me opportunities to practice and improve on these techniques."
The ability to identify and interpret patterns, whether found in the spikes of an unemployment graph or the spikes of a patient's cardiograph, is a skill that Filbert looks forward to developing over the course of his summer-long research.
Rachel McCarthy '21