Senior and Juried Art Exhibition to Celebrate Student Artwork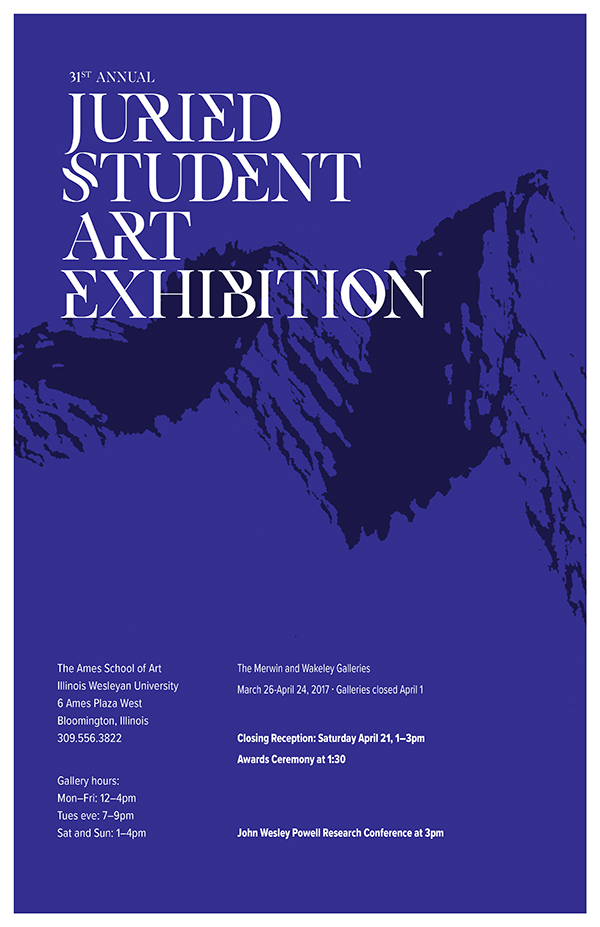 BLOOMINGTON, Ill. — The Illinois Wesleyan University Merwin and Wakeley Galleries will host the 31st annual BFA/BA Senior Art Exhibit and the Juried Student Art Exhibition, from March 26 through April 24, at the Joyce Eichhorn Ames School of Art Building (6 Ames Plaza West, Bloomington).
A closing reception will be held on Saturday, April 21 from 1-3 p.m., including an awards ceremony at 1:30 p.m. for both exhibitions. All events are free and open to the public.
Graduating art majors and minors will showcase their finest works produced during their senior year in the Senior Art Exhibit. The works of seniors Linh Chi (Ania) Bui (Warsaw, Poland), Joi Stack (Chicago) and Nghi Nguyen (Bao Loc, Vietnam) will be featured in the Merwin Gallery. Three special awards will be presented to seniors at the awards ceremony. The Ames Library Purchase Award, The CLA Social Sciences Art Purchase Award, and The Admissions Art Purchase Prize are annual honors in which pieces of student artwork are selected from the exhibit to be displayed in campus buildings.
Concurrently exhibiting in the galleries will be the Juried Student Art Exhibition. This exhibit showcases the works of art majors and minors from all areas of the art program including painting, drawing, printmaking, photography, graphic design, 3D design, ceramics, sculpture and glass. The Sipich and Mayo Alumni Awards, the President's Award, and the Ames School of Art Purchase Award, along with other awards, will be presented at the April 21 ceremony.
Following the ceremony, senior art students who have participated in the critique program will discuss their works on display in the galleries at 3 p.m., as part of the University-wide John Wesley Powell Student Research Conference. This annual event recognizes the research projects and creative endeavors of Illinois Wesleyan University students. Refreshments will be served at the event.
The art exhibits remain on display through April 24, except for April 1, when the galleries will be closed. Gallery hours are Monday through Friday 12 p.m. to 4 p.m., Tuesdays from 7 p.m. to 9 p.m., and Saturday and Sunday from 1 p.m. to 4 p.m. Admission is free and open to the public.
By Vi Kakares '20