Lab Theatre to Present "monoliths" Oct. 26-28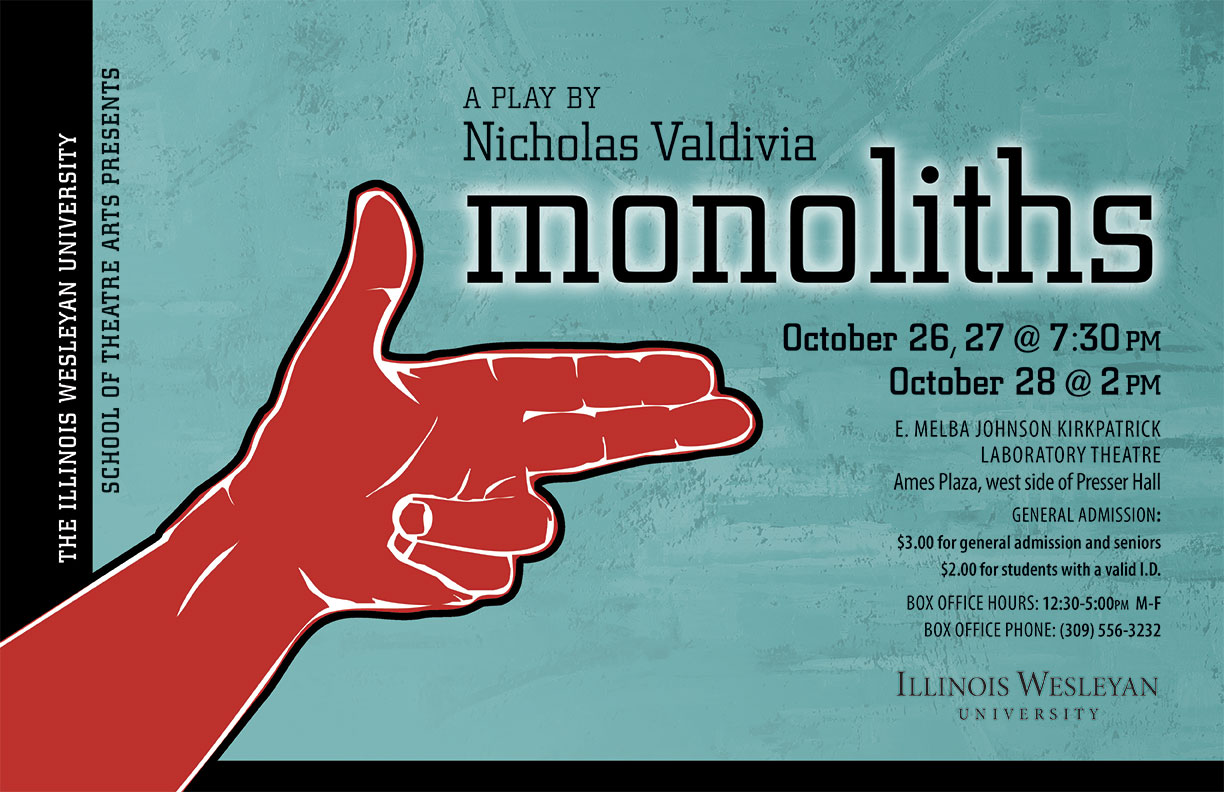 BLOOMINGTON, Ill. — Written by Illinois Wesleyan University theatre design and technology major Nicholas Valdivia '19 (Indian Head Park, Illinois), the IWU School of Theatre Arts will present a lab production of Valdivia's "monoliths" Oct. 26-28.
Set in the runup to the midterm elections, the new comedy focuses on Whitney (Kira Rangel '20), a young playwright, who is tasked by an admiring fan from the NSA with thwarting an evil, mind-controlling menace.
Directed by Valdivia who is also the sound designer, Katie Bidart '20 is the stage manager and Jackson Bettis '21, the assistant stage manager of the production. Additional crew members include: Olivia Sarkis '19 (scenic designer), Anne Warnke '19 (costume designer) and guest light designer Julie Ballard. Cast members include: Sloane Polisner '21 (Waitress, Mary, Shadow, Woman), Kara Ryan '19 (Annie), Hannah Thomas '21 (Hester) and Cal Ussery '21 (Detective, Lou, Man).
Performances will take place Friday, Oct. 26 and Saturday, Oct 27 at 7:30 p.m., and Sunday, Oct. 28 at 2 p.m. at the E. Melba Johnson Kirkpatrick Laboratory Theatre (1312 Park St., Bloomington) which can be accessed from Ames Plaza on the west side of Presser Hall.
Tickets, which are on sale at the McPherson Hall box office (open 12:30 p.m. - 5 p.m. Monday through Friday), are $3 each for general admission and $2 with a valid student ID. For more information, please contact the box office at (309) 556-3232.