Art Exhibits Feature Works by Alum and School of Art Faculty
BLOOMINGTON, Ill. — Illinois Wesleyan University's Merwin and Wakeley Galleries are featuring the work of internationally celebrated painter and lithographer Dorothea Bilder '62 and art faculty Grace Sheese throughout September and October.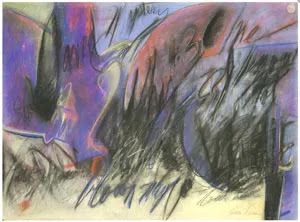 On Oct. 22, Dorothea Bilder will present an artist talk at 11 a.m. in the Merwin Gallery. Focusing on the relationship between changing aspects of human civilization and the changing environment, much of Bilder's work depicts abstract, fragmented and pastel landscapes. Bilder's attention to space is shown in her exhibit "Brazilian Experience," which also reflects her inspiration from the landscapes of Sao Paolo, Brazil, where she produced a series of lithographs at Ymagos Atelier de Gravuras de Arta Ltda as an artist-in-residence.
A Professor Emeritus from the School of Art at Northern Illinois University, Bilder's work has been displayed in exhibits around the world and has been added to permanent collections at institutions such as the Art Institute of Chicago and the Central University of Queensland, Australia. Major invitational exhibits such as the Illinois Arts Council's Congressional Exhibition in Washington, D.C. have also featured her art. Bilder received her bachelor's degree in painting from IWU and continued her studies at La Romita School of Art in Terni, Italy; the Art Institute of Chicago; and Southern Illinois University, where she received a master's degree in painting.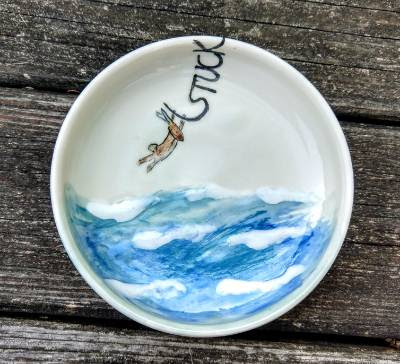 An Adjunct Instructor in the Ames School of Art, Grace Sheese will present an artist talk of her work in ceramics on Saturday, Oct. 6 at 2:15 p.m. in the Wakeley Gallery as part of a reception during Homecoming Week that will take place from 2 p.m. to 4 p.m. Using emotion and narrative to connect with her audience, Sheese's surface treatments range from her son's drawings and her own sketches, to applied designs and text. Her ceramic vessels aim to tell a story about everyday life, inviting the viewer to explore and imagine the story. In her exhibit, "Red Thread," Sheese investigates the thin lines of relationships that interconnect and define our lives.
Born in Taipei, Taiwan with original aspirations to become a pediatrician, Sheese received her bachelor's degree in studio art from the College of William and Mary in Williamsburg, Virginia. She worked as an elementary school teacher for seven years in three different states before working as a full-time studio potter in Oregon. After moving back to Illinois at the age of 34, Sheese attended Illinois State University in 2012 and received a master's degree in ceramics before re-establishing her studio practice.
Both exhibits will be on display from Sept. 4 through Oct. 25 in the Joyce G. Eichhorn Ames School of Art Building (6 Ames Plaza West, Bloomington). Gallery hours are Monday through Friday noon to 4 p.m., Tuesday evenings 7 p.m. to 9 p.m., and Saturday and Sunday 1 p.m. to 4 p.m. The galleries will be closed on Oct. 19 for Fall Break.
By Vi Kakares '20