Alum Fights Fracking in Documentary Set for Tuesday Screening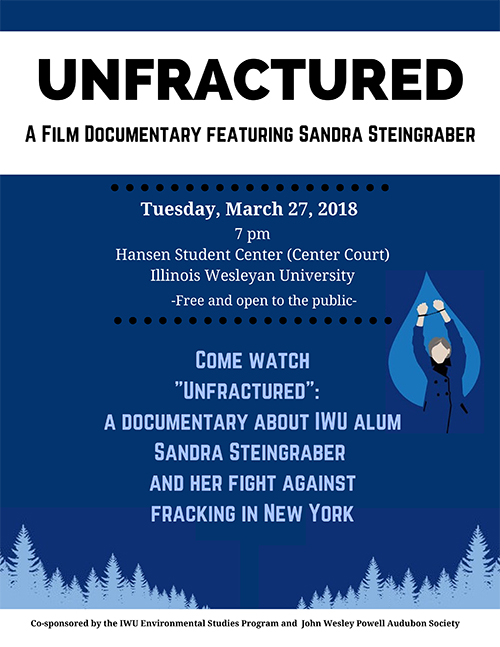 BLOOMINGTON, Ill. — Illinois Wesleyan University alum Sandra Steingraber '81, a leading activist against fracking in New York state, is the subject of the documentary film "Unfractured" which will be screened on Tuesday, March 27 at 7 p.m. in IWU's Hansen Student Center.
This screening is co-sponsored by the IWU Environmental Studies Program and the John Wesley Powell Audubon, and is free and open to the public.
After majoring in biology at IWU, Steingraber devoted the past 35 years of her career to advocating for environmental protection. "Unfractured" follows her dedicated efforts to oppose the oil and gas industry and secure a statewide ban on hydraulic fracturing – or fracking – despite the voices of doubters who believed she was championing a lost cause. At times, her work even placed her in harm's way, whether at the hands of Romanian police who pepper sprayed her after visiting anti-fracking activists, or New York police who arrested her for blockading a gas storage site during a campaign of civil disobedience.
All the while, Steingraber overcame hardship in her personal life as well, after her husband endured a series of strokes that sent the family into crisis. However, in a passionate rally speech, Steingraber asserted her commitment to continue the fight against fracking, a practice that threatens the health of the planet and all those who rely on it.
"The work we must do to ban fracking is bigger than any one of our individual tragedies," she declared. "Because we are fighting for everyone's sons and daughters and husbands and families. Because we are fighting for life itself."
By Rachel McCarthy '21