Entrepreneurial Fellowship Winner Targets Mobile Meme Market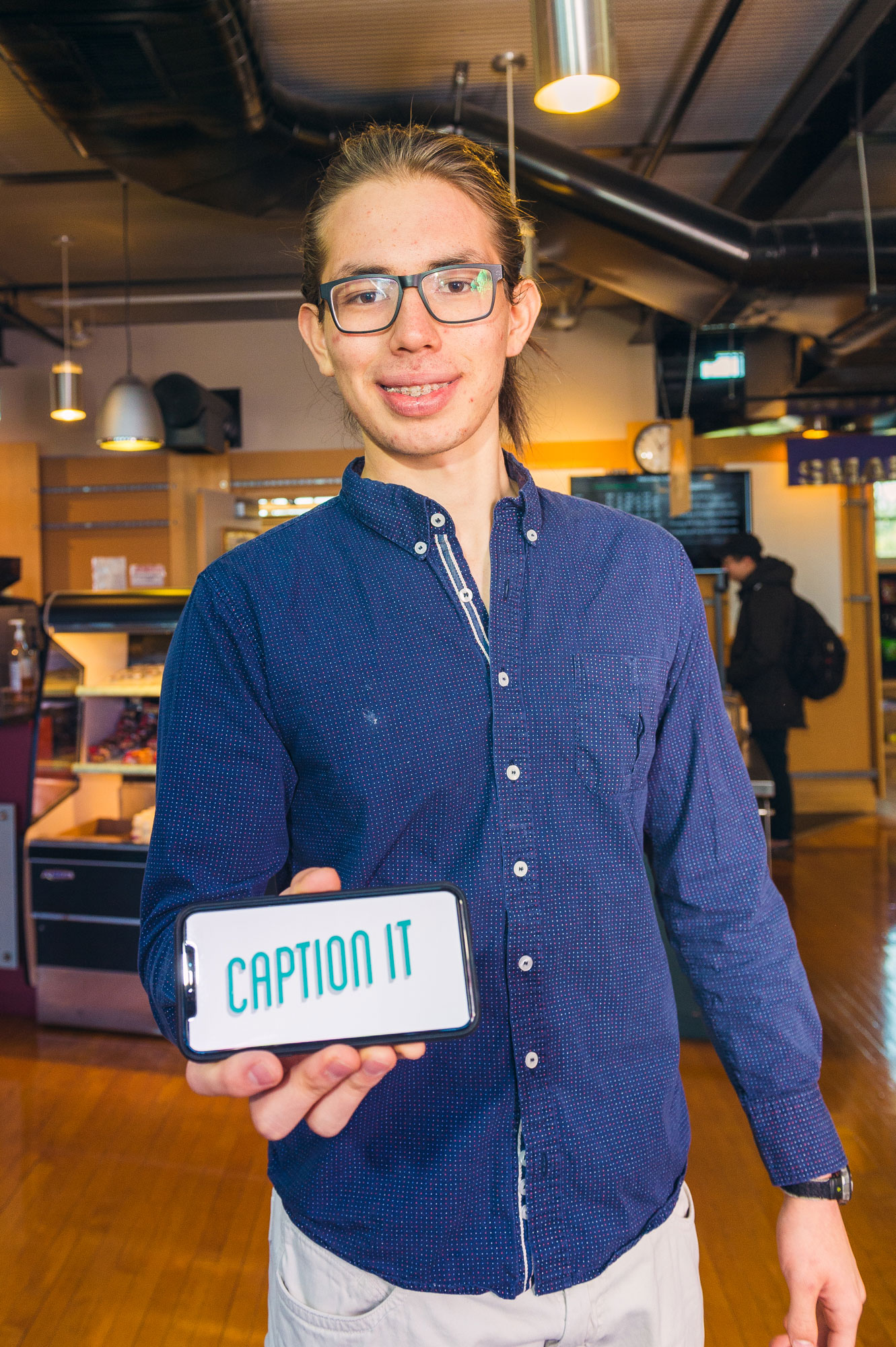 Jan. 29, 2018
BLOOMINGTON, Ill.— Nearly every weeknight at 10 p.m., David "Nico" Lopez '21 and his team of five fellow-Illinois Wesleyan University students take a break from their class studies to work on developing what they hope will become a functional, marketable – and ultimately profitable – mobile app called "CaptionIt."
The winner of Illinois Wesleyan's $5,000 bi-annual Entrepreneurial Fellowship grant, Lopez is utilizing the money – along with as many student and faculty resources as possible – to grow his idea into a downloadable product for smartphones and mobile devices.
"Illinois Wesleyan is our team's main resource," said Lopez, who is a freshman computer science and physics double major. "The fellowship is a huge opportunity that they've given us."
A native of Ecuador, Lopez found inspiration for the "CaptionIt" app from his long-distance relationship.
"My girlfriend is still in Ecuador, and we share these memes that we make of each other or of friends," Lopez said. Memes are digital photographs typically captioned with humorous text and shared on the Internet or via social media.
"My girlfriend and I pair images that we take or screenshots, and we add funny text, and then we have a website where we submit all of the memes we create," Lopez continued. "It's a fun thing to do, and I asked myself, 'Is there a mobile platform to do this?'"
Lopez could not find an existing game-like platform dedicated to creating and sharing memes online. He then surveyed Illinois Wesleyan students to determine if a market for such a product exists.
"Out of 200 students surveyed, 100 percent have seen a meme made about someone they know," Lopez said. "And, 70 percent of students are actually creating them."
However, in most cases, users currently create personalized memes using a website or a social media platform, such as Snapchat.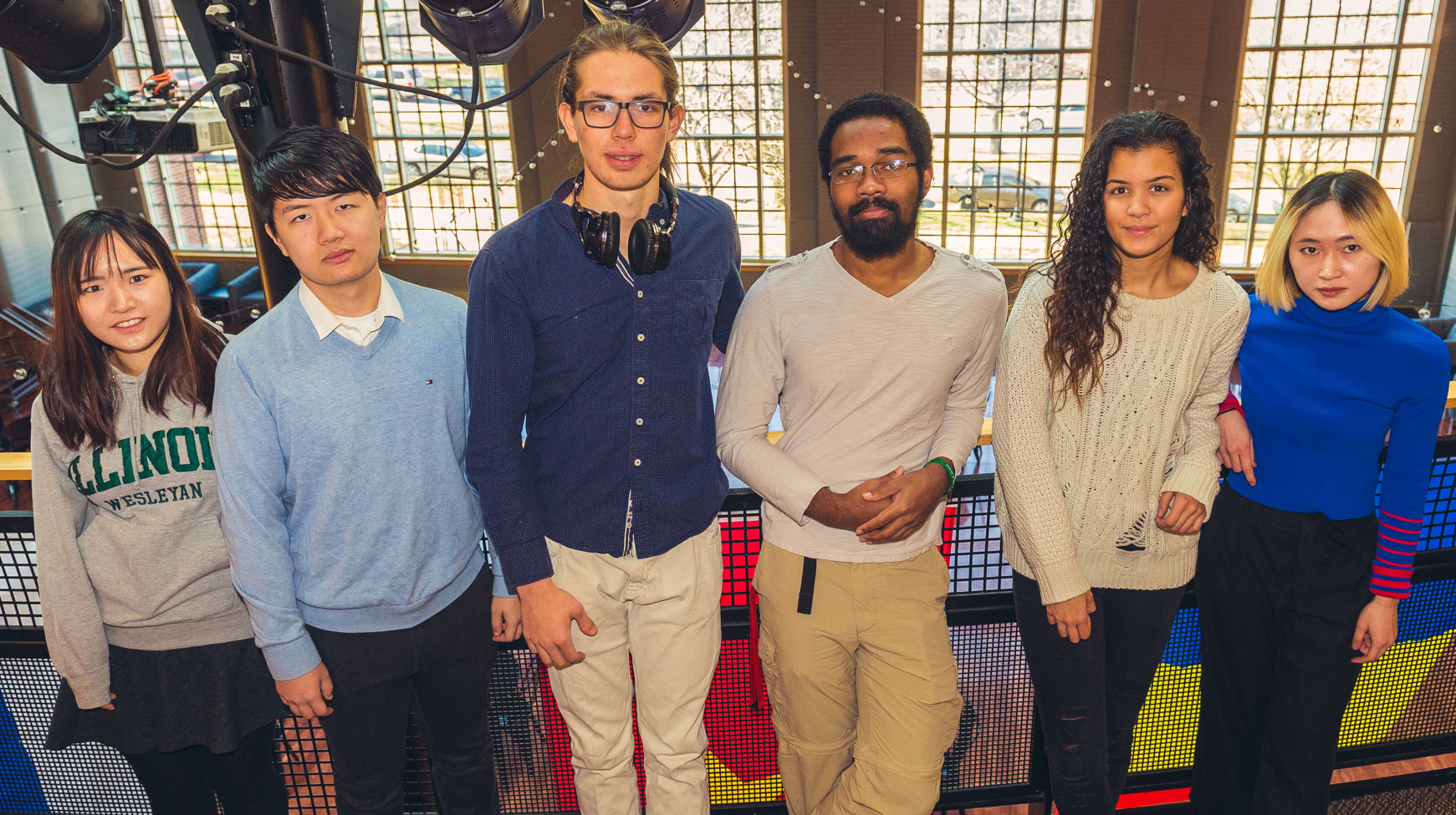 After identifying the opportunity, Lopez recruited a group of Illinois Wesleyan student computer programmers and graphic designers to help with the startup project. Team members include: Ania Bui '18, Liuting Chen '18, Ziyan Liu '19, Michael Modaff '19 and Joi Stack '18.
"CaptionIt" – which will be a free app with potential in-app purchases – will not only provide a meme-creation and sharing platform, but it will also function as a mobile, social game similar in concept to the card games Apples to Apples and Cards Against Humanity.
Since receiving the Entrepreneurship Fellowship during the fall of 2017, Lopez and his team have been working more than 10 hours per week to develop "CaptionIt." Along with their nightly work sessions during the week, they also meet in Ames Library each Sunday afternoon to communicate progress and strategize for the week ahead.
The programmers are developing "CaptionIt" with Google's database software, Firebase, and Apple's mobile platform, Swift. The graphic designers have created a beta logo and are working on the overall look of the app.
"We have an incredible team," Lopez said. "They're really smart, dedicated students who are all very resourceful. If they don't know something, they have the initiative to contact teachers. I think that's our main asset."
Money from the $5,000 Entrepreneurship Fellowship is being allocated to fund developer license fees and server expenses. Once "CaptionIt" is available for download, Lopez said he and his team will also invest in marketing and updating the app.
"I've learned a lot so far," Lopez said. "I feel like I've grown. This is one of the most interesting things I've ever done, because it's something that puts into practice everything I know. Obviously, it's testing my coding skills and learning skills, but I'm also trying to be the best leader possible.
"I really want this project to be successful."
Lopez is the fourth student to earn the Entrepreneurial Fellowship, which was established with funding support from alumnus Marc Talluto '94. Previous winners include Claudia Richman '19 for her lacrosse-themed apparel, Cameron Loyet '18 for his company Honey Moon Chocolates, and Tim Leiser '16 for developing an app to help nonprofits track volunteer hours.
Applications for the next round of funding for the Entrepreneurial Fellowship are due Feb. 26, 2018 and are available online: www.iwu.edu/business/entrepreneurial-fellowship.html.
By John Twork