Eckley Economics Speaker Puts a Digital Spin on Learning
March 21, 2018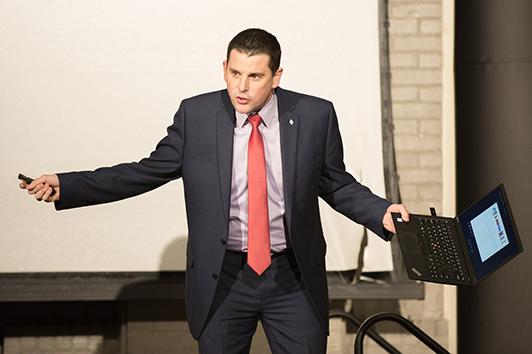 BLOOMINGTON, Ill. — Associate Professor of Economics and Director of the Center for Economic Education and Entrepreneurship (CEEE) at the University of Delaware Carlos Asarta, said that because of an increase in technology, times are changing, and "we need to change" in the classroom.
Asarta shared a "digital-first" approach to learning in his talk, "Teaching Digitally-Minded Students" on March 7 at the Hansen Student Center as part of the Robert S. Eckley Lecture Series in Economics.
Having served as a professor of economics for 22 years, Asarta has taught thousands of students, many of whom, he said, do not read their textbooks. But this is not unique to Asarta's classroom. According to a survey he conducted that included students from over 50 universities, 82 percent of students admitted to never reading their textbooks.
"That is not how we function," said Asarta, who received his master's and doctorate degrees in economics from the University of Nebraska-Lincoln. He added that students in the survey said that Google and YouTube are the most valuable tools for learning, and textbooks are the least valuable.
Claiming that "we don't leverage technology in the right way," Asarta proposed a solution at Wednesday's talk to fit the needs of this digitally-minded generation. This solution includes a blended – or "hybrid" – style of learning that combines lectures with independent learning online.
Similar to a flipped classroom, Flip-Flex is a model for blended learning that combines face-to-face learning with online learning by reducing the time students spend in the classroom by 50 percent. Asarta said that with the Flip-Flex model, students who normally have class on Mondays and Wednesdays would learn the material on their own through a series of pre-recorded videos and practice assignments on Monday, before attending class on Wednesday. After working on a variety of practice assignments, students have the option of coming to Monday's "extended office hours" if they need further help.
"So what do we do on Wednesdays?"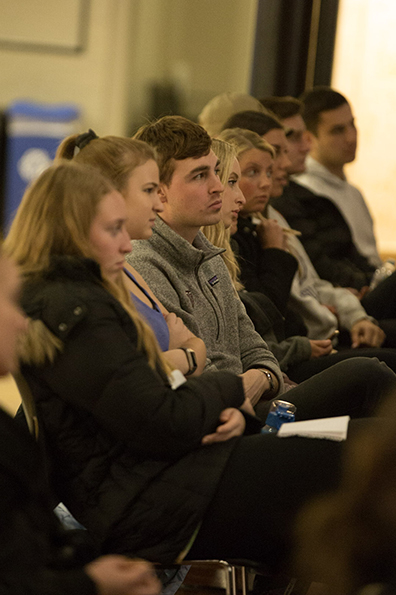 Because students have already been exposed to the material, Asarta said Wednesdays will be used to answer students' questions and practice real-world applications of the concept.
"I've told you the main theory, but now I have to help you apply it," Asarta said.
According to Asarta, this style of learning is highly beneficial to students of all abilities, as they are able to learn independently through practice assessments without receiving a grade, ask questions in lecture, and apply concepts to real world scenarios. But Asarta said this hybrid approach has raised concerns from some faculty members across the country who worry that they will eventually be replaced by technology.
"We're not going to be replaced by technology," Asarta said, noting that the teachable environments in which students and faculty members grew up are very different. "The reality is, technology is a complement to what we do."
The most important thing that faculty members do, according to Asarta, is change lives. Asarta, who originally entered college as a pre-medical student, said that he switched his major to economics because of his professor in microeconomics.
"He's the reason I'm here today," Asarta said.
Asarta said it is their ability to positively impact students that is most important for faculty members to keep in mind, especially when changes are being made in the classroom.
"We change lives. You have to be willing to let us change your life, and faculty has to be willing to try new teaching methods."
By Vi Kakares '20