Collaboration with Habitat for Humanity Enters 25th Year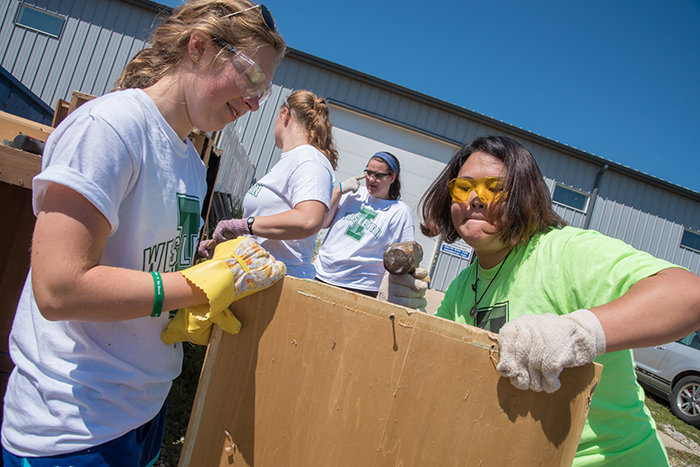 BLOOMINGTON, Ill. — Illinois Wesleyan University's annual Mission Day on Friday, Aug. 24 marked the 25th anniversary of the campus chapter of Habitat for Humanity, a volunteer organization that works to build houses for local families in need.
"I am always amazed by the testimonies of new homeowners who are so proud of what they've accomplished and who are so grateful for their friends and families, as well as the communities of volunteers who have worked alongside them for many months," said University Chaplain Elyse Nelson Winger, who serves as faculty advisor for Habitat for Humanity. "Students love working on the sites because they know that they are a part of making this kind of transformative change in other people's lives."
On Mission Day, a one-day event during Turning Titan: New Student Orientation for students to participate in events that encourage commitment to the IWU mission, approximately 40 first-year students began framing the walls of this year's house. Chapters from Illinois Wesleyan and Illinois State University will then collaborate to complete construction on the 25th Collegiate House build by building on Saturdays throughout the upcoming academic year.
For 25 years, a wide range of students, faculty and staff have chosen to get involved with Habitat for Humanity.
"The process of building each house brings together people from different backgrounds and experiences toward a common goal of providing affordable, safe housing for families," said Miner Linnaeus Sherff Endowed Professor of Botany David Bollivar, a long-time volunteer. "The connections I make with our students at the work site allows the students and I to form closer connections and see that the commitment of all of us goes beyond the classroom in making a difference in the community."
In addition to building on Saturdays, students also have the option of participating in an Alternative Spring Break (ABS), where a team of volunteers travels to varying locations in the United States and collaborates on various assignments for Habitat for Humanity. Past locations have included Alabama, Florida, Georgia, Texas and West Virginia.
"I decided after participating in the Alternative Spring Break with Habitat for Humanity in Birmingham this past spring that I wanted to get more involved," said Ryan Ozelie '19 (Sayner, Wis.), the incoming president for the IWU chapter. "The trip allowed me to witness generous, selfless volunteers make a huge impact for communities. After seeing this work and how grateful the new homeowners are with the huge difference it makes in their lives, I knew I wanted to continue my involvement with Habitat."
Ozelie encourages all members of the Illinois Wesleyan community to find a way to contribute to Habitat for Humanity's mission.
"By being involved in our campus chapter, you can make an immediate difference in our community and be part of a very fun and wholesome group that strives to make the world a better place."
By Rachel McCarthy '21