Students Spring Into Action With Habitat for Humanity
April 23, 2018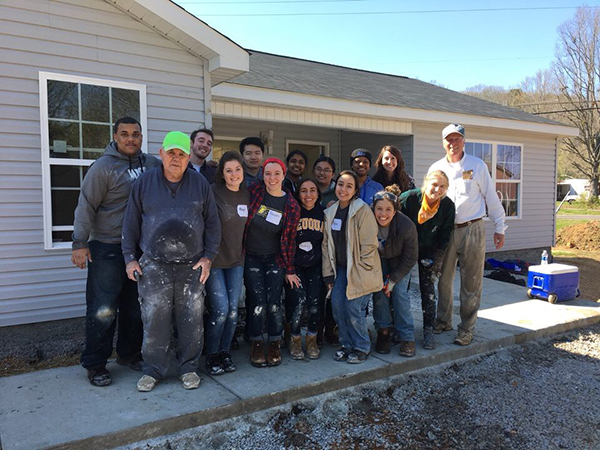 BLOOMINGTON, Ill. — While Spring Break might conjure up images of sunny beaches and afternoon naps, 18 Illinois Wesleyan University students envisioned picking up their power tools and paint brushes as volunteers for the Habitat for Humanity Collegiate Build in Birmingham, Alabama.
Accompanied by University Chaplain Elyse Nelson Winger and Director of Student Activities and Leadership Programs Liz Vales, the students spent a week working on multiple construction sites and rehabilitation projects. Whether creating a wheelchair accessible home and garage for a disabled veteran or renovating parts of a local Habitat for Humanity ReStore, the group was hard at work tiling floor, painting walls and installing baseboards.
"The highlight of the day was getting to see the man whose home we were building and being able to visualize the gratitude and sincere happiness he had for the college students who were helping out," said nursing major Andrew Coop '19 after the first full day of construction.
During their time in Birmingham, the students took advantage of the opportunity to explore the historic city. The group visited the Civil Rights Institute and the 16th Street Baptist Church, known for a bombing during the civil rights movement that took the lives of four young girls.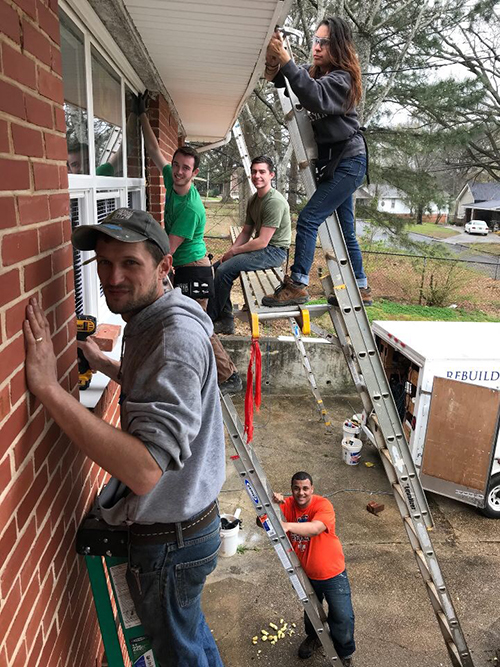 "Seeing these items made history come alive," said Teagan Potter '19, who wrote a blog about her experiences on the trip, when describing the display of artifacts that had belonged to the girls. "It was no longer something we just read about in history books or see in pictures, but it was real, and it happened to actual innocent people."
Later on during their tour of Birmingham, the group visited the Birmingham Botanical Gardens where they volunteered with a conservation project by mulching around the pathways of the fern garden to preserve the plants.
Throughout their projects, the students formed a strong camaraderie with one another. When recalling how her team needed to collaborate on a difficult assignment, Potter said "I don't know if I have ever felt so satisfied in a project. To spend an hour on a project that seems impossible only to find out that you can do it is one of the best feelings during construction."
This connection persisted outside their work, as the group spent downtime hiking, rock climbing and ziplining together at Red Mountain Park.
The students concluded their trip by exchanging hand-crafted mementos built from excess materials at the work sites so that each person could return home with a reminder of the people they had met and collaborated with over the week-long experience.
"I think one of my favorite things about these trips is that they bring together students of different majors and backgrounds in general that you wouldn't normally get to meet in your classes," explained international studies major Crystal Ocampo-Fernandez '18. "You're able to develop strong and close friendships that continue after the trip is over."
For further insight and details on the trip, see the first-person student blog, written by Teagan Potter '19.
By Rachel McCarthy '21