Class of 2022 Welcomed at Convocation
Aug. 22, 2018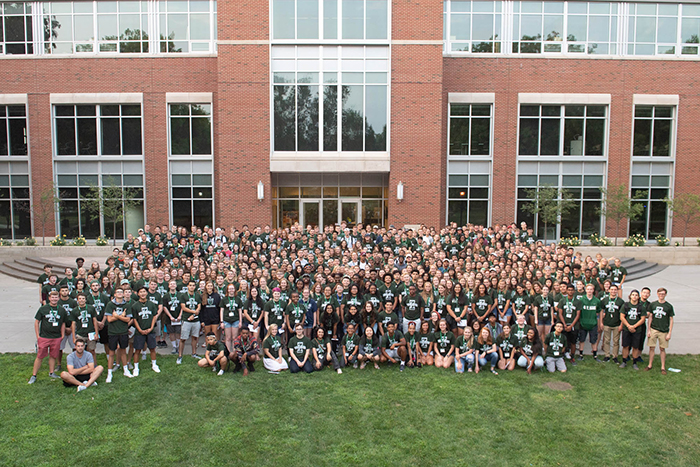 BLOOMINGTON, Ill. — Illinois Wesleyan University's Class of 2022 – the largest incoming class in at least five years and one of the most diverse in University history – received an official welcome to campus during New Student Convocation on Tuesday, Aug. 21.
The first-year Titans arrived on campus from 38 states and 13 countries, and more than 33 percent of the class self-identifies as MALANA (Multiracial, African-American, Latino-Hispanic, Asian-American, and Native American) or international students, according to Vice President for Student Affairs and Dean of Students Karla Carney-Hall.
She told the students that their new classmates include: 116 students who have had a close family member or relative attend Illinois Wesleyan; 73 first-generation college students; three National Merit Scholarship finalists; a world championship winner for Irish dancing; a trumpeter who performed at Carnegie Hall; the president of a high school group that teaches how to be respectful toward the LGBTQ+ student body; a Girl Scout Gold Award recipient for building a native plant garden at her Buddhist temple; an entrepreneur who holds a patent on a tool used to cut vegetables; and the list goes on.
Though members of the Class of 2022 begin their collegiate careers with an already impressive resume of accolades, President Eric Jensen told the first-year students that Illinois Wesleyan is a place for them to continue developing.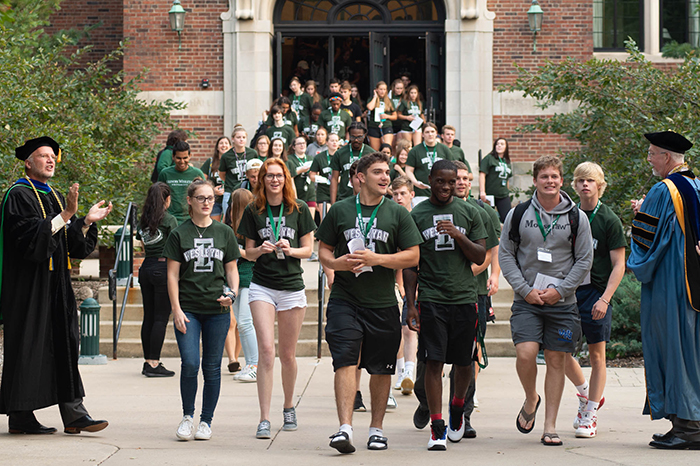 "You'll grow over your time here, and you'll leave here a different person than you are today," Jensen said. "You'll likely experience academic, performing, athletic, and other successes. You'll make lifetime friends, and perhaps find life partners. You will be intellectually challenged, by the faculty, by staff, and by each other."
"Yes, you will work," he continued, "But today, you are embarking not just on a period of challenge, but on a period of your life that is just plain fun. You're starting on a wonderful interlude in each of your lives, a truly special time. Make new friends and do new things. Learn, and grow wise."
Jensen also led the Titan tradition of acquainting the new students in the pronunciation of the University's motto, "Scientia et Sapientia" (roughly translated as "knowledge and wisdom.")
Student Senate president Bob Ladd '19 reflected upon his New Student Convocation as a first-year student three years ago and noted that the culture of mutual respect in the face of intellectual disagreement – which drew him to Illinois Wesleyan – remains vibrant and forever evolving with each new class.
Addressing the University's annual theme "Changing Climates," Ladd told the Class of 2022 that they will experience significant change over their next four years.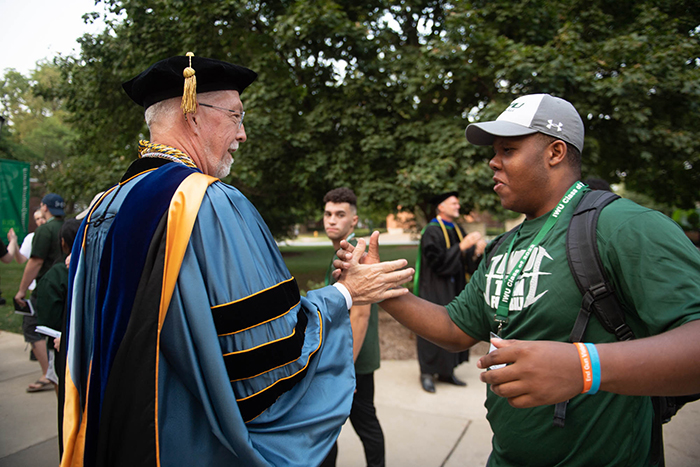 "I think that change is beneficial, and it's going to come as you enter this time and engage in conversations respectfully and calmly," Ladd said.
Provost and Dean of the Faculty Mark Brodl described Illinois Wesleyan as "a bit of a paradox" in relation to the University's nationally acclaimed learning environment.
"While we sustain our academic excellence, that reputation relies on ensuring that as our students change, as our faculty and staff change, as the U.S. and the world change our local climate for learning changes appropriately as well," Brodl said.
He then asked the crowd of first-year students to consider: "How will you participate in changing the climate for excellence at IWU? What can you contribute? What will you be working on in your IWU years?"
Brodl also announced the winners of the Summer Reading Essay contest. Members of the Class of 2022 were invited to write an essay based on their reading of Becoming Nicole: The Transformation of an American Family by Amy Ellis Nutt. Jared Schneider '22 (Lombard, Illinois) earned first prize for his essay The Power of Transformation, with Katie Vogler '22 (Quincy, Illinois) and Amanda Smith '22 (Chaska, Minnesota) receiving honorable mentions.
Professor of Hispanic Studies Carmela Ferradáns, the keynote speaker and recipient of the 2018 Kemp Foundation Award for Teaching Excellence, the University's highest teaching honor, welcomed the Class of 2022 to the Illinois Wesleyan Community.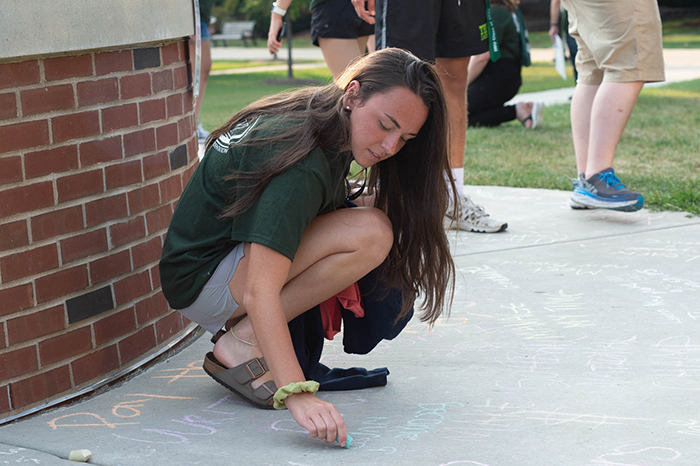 "Bienvenidos," Ferradáns said. "You will probably hear 'welcome' many times during this week, I hope in many different languages. But most of all, I hope that you feel welcomed and that you will find a way to make Illinois Wesleyan your home as I did more than 20 years ago."
Ferradáns continued by sharing a personal story drawn from her experience as a "lifelong learner, a true lover of all things beautiful, and an agent of change."
Originally from Vigo, Spain, an 18-year-old Ferradáns moved 80 miles away from home to attend the Universidad de Santiago de Compostela. Although she aspired to be an architect, Ferradáns enrolled in law school because the Universidad de Santiago did not have an architectural program.
Ferradáns described her first semester as an "academic disaster." She found studying the law to be too prescriptive and rigid. Ferradáns did, however, enjoy a course in "The Philosophy of Law." Therefore, she decided to pursue a philosophy and educational sciences degree, much to the surprise of her parents.
After earning her bachelor's degree, Ferradáns flew to the U.S. to visit her sister in Las Vegas. During her trip, Ferradáns fell in love with the American university system. To pursue her newfound dream of teaching in the U.S., she learned English, earned a master's degree from the University of Nevada, Las Vegas and a doctorate from the University of California, Irvine.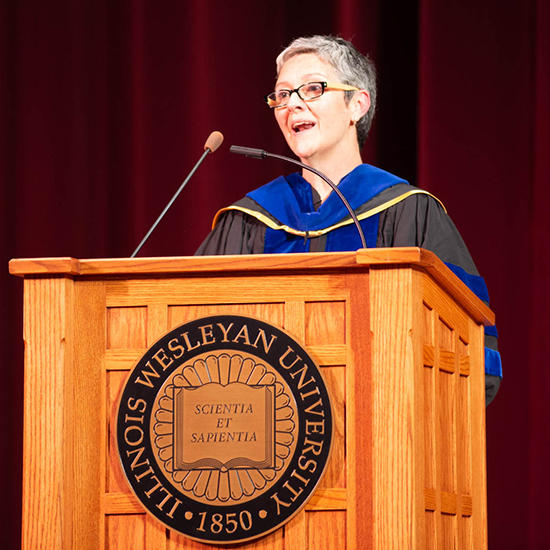 As a Ph.D. candidate, Ferradáns studied postmodernity and became particularly interested in the connections between "high" art found in museums and "low" art like graffiti, movies and music, and how they can cannibalize each other to produce new and fluid forms of expression.
"It is here, in between disciplines, in between cultures, in between languages, that I found my 'home,' my intellectual 'home,'" Ferradáns said. "It's that comfortable, familiar space where I could combine all my interests of critical thinking, the love of all things beautiful, agent of change, and architecture."
For the past two decades, Ferradáns has called the Illinois Wesleyan community 'home.' Based on her extensive experience as both a student and educator of the liberal arts, Ferradáns told the Class of 2022 that a holistic education will prepare them for a wide variety of careers in an ever-changing workplace.
"(A liberal arts education) will also nourish your soul, it will provide that intellectual space for exploring the world of ideas, for being inquisitive, it will give you the foundation to be lifelong learners," Ferradáns said.
"So, my fellow learners, you have done the most difficult thing in your liberal arts education, which is getting here," Ferradáns concluded. "Let's work together now on getting you out of Illinois Wesleyan with a set of skills that will last you a lifetime."
By John Twork