Homecoming to Celebrate Titans Around the World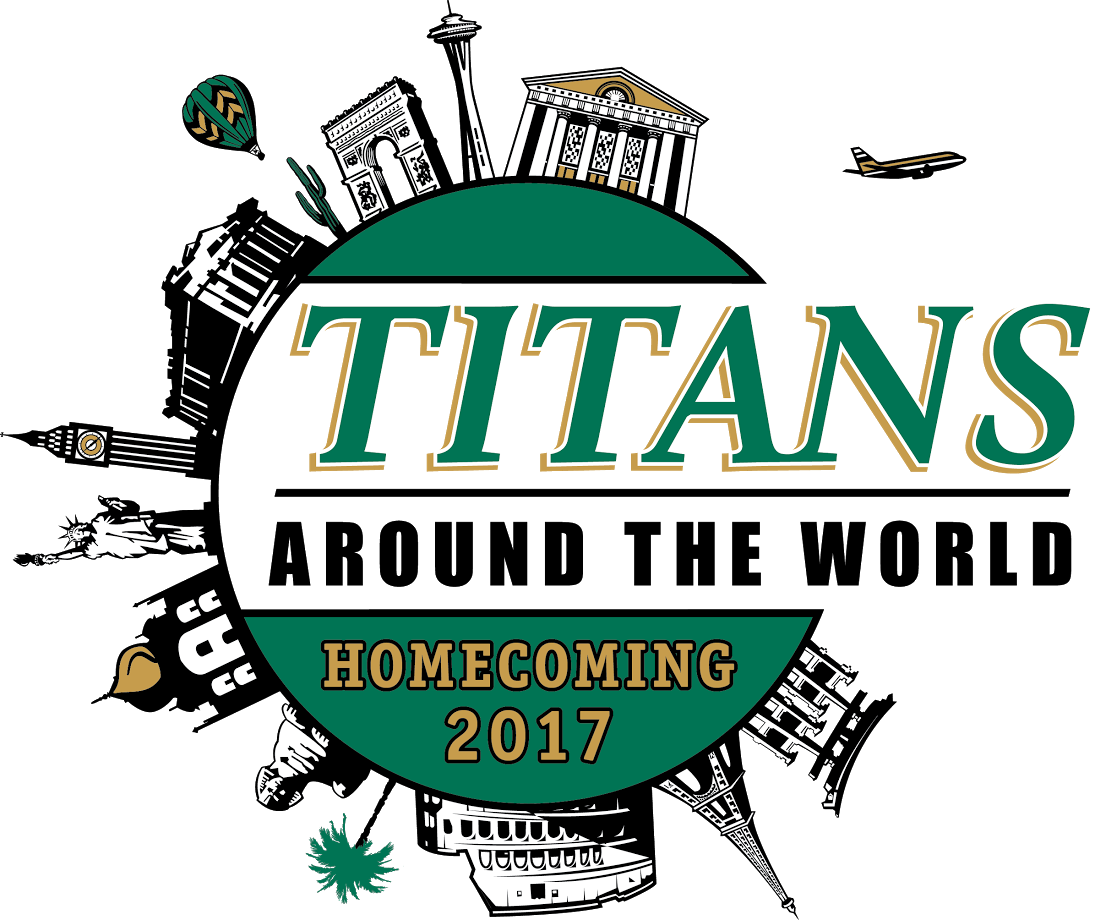 Sept. 13, 2017
BLOOMINGTON, Ill.—Illinois Wesleyan University will celebrate Homecoming Oct. 13-15 with the theme Titans Around the World, celebrating alumni living and working abroad, international studies majors, study abroad experiences, and Titans' impact internationally.
Kicking off this year's theme, alumni from around the globe will return to their alma mater to discuss how an Illinois Wesleyan education prepared them to work abroad. A panel of alumni – including Jill Jackson '04, Anton Samrai '07, Junaid Ahmed '96, Sijia Song '13, and Coco Bassey '10 – will speak on Friday, Oct. 13, at 4 p.m. in the Welcome Center Alumni Auditorium.
Special events tied to the theme also include Back to College Classes on Friday afternoon and Saturday morning. Speakers will include distinguished alumnus Wayne Messmer '72, who will present "From Wesleyan to the World Series"; Junaid Ahmed '96, senior broadcast journalist at the British Broadcasting Corporation (BBC), on "Reporting World News Through Storytelling"; Coco Bassey '10, founder and editor-in-chief of digital lifestyle publication Millennielle, on "The Importance of a Powerful Digital Brand"; and Lavanga Wijekoon '04, attorney at an international law firm in Chicago, on "From the Saga Dishroom to International Law Firm: A Former International Student's Reflections."
Student participants will also join Professor of Sociology Teddy Amoloza in her presentation on the Freeman Asia Internship Program, sharing their personal experiences as 2017 Freeman Asia Interns.
On Friday evening, President Eric Jensen will honor 2017 Alumni Award winners Wayne P. Messmer '72, Charlene A. Carruthers '07 and Betty Stoutenborough Ritchie-Birrer '47 at an Alumni Awards Dinner at 6 p.m. in the Young Main Lounge, Memorial Center. The conference champion football teams from 1996 and 2001 and the new Golden Titans from the class of 1967 will also be recognized at the event.
Cheryl Reinking '87, recipient of the 2017 Distinguished Alumna Award for Excellence in Nursing, will be recognized and give remarks during a School of Nursing Social and Awards Ceremony on Saturday, Oct. 14, from 9 to 11 a.m. in the Center for Natural Sciences Atrium, followed by tours of the recently renovated School of Nursing in Stevenson Hall.
On Saturday, the Hansen Student Center will host an international fair featuring multicultural registered student organizations, with activities, musical performances and a light lunch from 11 a.m.-1p.m., and a celebration dinner recognizing alumni leaders of color at the 25th Anniversary of Minority Alumni Network (MAN) from 8-10 p.m.
Other Saturday events include the sixth annual "Club Tommy" All Titan Homecoming Celebration, the annual pancake and sausage breakfast, tailgating in the Shirk Center parking lot with local food trucks, a football game with Wayne Messmer '72 singing the national anthem, and family fun activities on the Eckley Quadrangle.
See a full schedule or register for events at www.iwu.edu/homecoming.
By Vi Kakares '20