Spring 2018 issue highlights
Much has changed since, but Richard '69 and Sharon Jenkins '69 are the same people who went on a first date as Illinois Wesleyan students 50 years ago.
---
More issue highlights
Building the Future of Medicine

William Murphy '98 leads a team researching regenerative medicine and bioinspired meterials tasked with solving challenging biomedical problems.
Amanda Toney-Logan '74 benefitted from assistance when she attended IWU. Now she's returning the favor.
---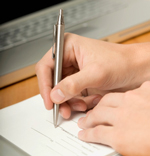 Choose from several forms to provide information and feedback to IWU Magazine.

---
Previous issues


---
IWU Magazine staff: Matt Wing, Editor; Gary Schwartz, Graphics Editor
Illinois Wesleyan University Magazine is published
by the Office of University Communications.
Content on this website copyright
of Illinois Wesleyan University.