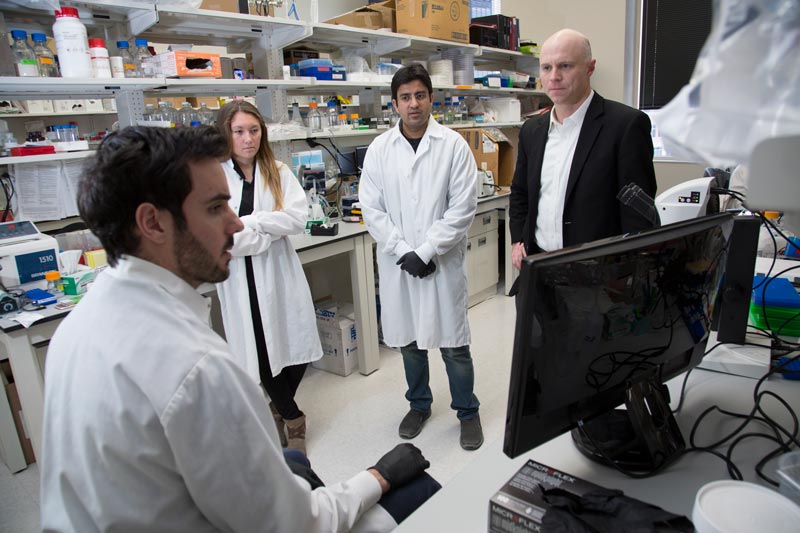 Building the Future of Medicine
By Steven Barcus
Could a sprig of parsley repair your organs, heal your bones and rebuild muscle?
William Murphy '98 thinks so.
In fact, he is finding that the keys to unlocking the future of regenerative medicine might be all around us. Murphy, director of the Stem Cell and Regenerative Medicine Center (www.stemcells.wisc.edu) at the University of Wisconsin–Madison, is drawing inspiration from plants, minerals and other materials to solve some of the most challenging biomedical problems.
The root of Murphy's work is in creating bioinspired materials – regenerative medicine technologies based on materials already present in nature. These technologies are opening the door to new ways to administer cell therapies and create models to better understand the effects of drugs on patients – ideas he first began to explore as a physics and math double major at Illinois Wesleyan University.
"The most interesting materials on earth are present in nature," says Murphy, who is also the Harvey D. Spangler Professor of Biomedical Engineering, professor of orthopedics and rehabilitation, and director of the Human MAPs Center (https://hmap.wisc.edu) at UW–Madison. "Much of what we do starts with watching how materials are formed and used in nature, and then mimicking that to create new strategies in regenerative medicine."
Drawing Inspiration from Plants
While stem cells are highly capable of regenerating damaged tissues and organs, it is necessary for a structure to be present to facilitate the generation and delivery of stem cells. This structure also needs to be highly porous to ensure the constant movement of nutrients and oxygen to the cells, while also allowing for waste to be removed.
Many researchers have been using advanced manufacturing strategies in the attempt to create materials that have complex features ideal for cell cultivation. However, Murphy believes that rather than build completely new structures, scientists should work on adapting already existing structures such as plants, which have been evolving for 700 million years.
With this idea in mind, Murphy is utilizing plants as 3-D scaffolds to generate and deliver cells.
"Plants can be useful in human cell manufacturing," Murphy says. "Plants can create a scaffold that has a high surface area, giving cells lots of space to grow. Plus, they are very porous, which enables them to easily move nutrients and waste in and out."
Murphy said these and many other characteristics allow scaffolds derived from plants to generate large numbers of human cells, which can be used in therapies. He also noted that the wide variety of plants available can be readily engineered to create even more variations – making plants an obvious choice as a material to be used for biomedical applications.
In time, Murphy and his team hope that these scaffolds might one day be used to rebuild tissue for organs, muscle, and even bone.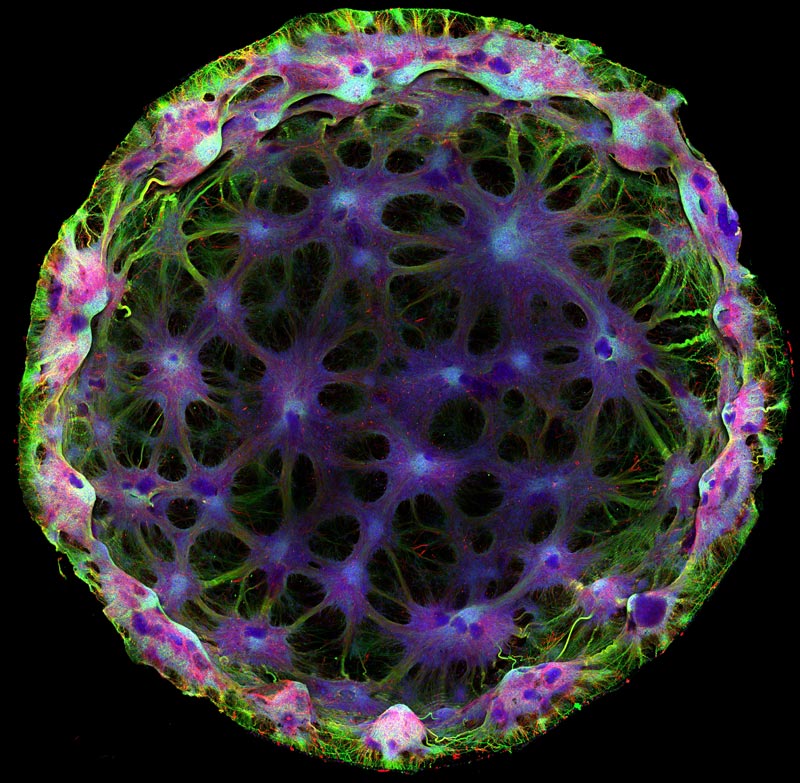 Human Tissue on a Chip
Alongside his work with plants, Murphy is creating environments where human brain tissue can be grown outside the human body.
The Tissue Chip for Drug Screening Program, an initiative of the National Institutes of Health, is challenging researchers at 11 universities to develop microscale human tissue on a chip that can serve as mimics for human organs and tissues.
Murphy explains that there are many benefits for using actual human tissues to identify new drug candidates and understand the effects of environmental toxins. Animal tissues, which would normally be used in such tests, are often ineffective for testing given differences from human tissues in terms of development, immune systems and other factors.
The differences between animal and human tissues are especially problematic considering the time and financial resources that might go into developing a drug, only for researchers to find it ineffective or harmful when finally approved for human testing. Being able to test on human tissues sooner provides greater insight into whether a drug will ultimately succeed or fail.
Murphy's human tissue on a chip, developed in collaboration with UW–Madison colleagues David Page and James Thomson, allows real tissues to be cultivated in a 3-D hydrogel environment. The tissues Murphy and his colleagues created simulate the structure and functions of the developing brain and can then be exposed to various compounds for a more accurate understanding of how the brain might be affected.
Along with the tissue on a chip, Murphy and his colleagues have developed computer models that can quickly and accurately analyze the tissues and collect data on any changes that might have occurred. So far, the computer model has had a high success rate in detecting whether substances were toxic or nontoxic to the tissues.
The implications of being able to test research drugs via human tissue on a chip are especially significant for conditions such as autism spectrum disorders (ASD).
"Autism spectrum disorders are very difficult to understand or develop treatments for because there aren't good animal models for these behavioral disorders," Murphy said. "That makes it difficult to come up with effective therapies to prevent, treat or cure ASD. Brain tissue on a chip allows us to take tissue from individual brains and then research and test therapies."
Bioinspiration at Illinois Wesleyan
Murphy first delved into the world of bioinspired materials at Illinois Wesleyan.
Murphy was drawn to IWU by a newly built Center for Natural Science and the chance to play college baseball. However, he soon discovered the greatest benefit to attending IWU was a culture that empowered students to grow their interests through one-on-one interactions with faculty and hands-on learning opportunities.
"The physics department at Illinois Wesleyan is one of the best educational environments I've observed at any academic institution I've attended or visited," Murphy said. "Even as an undergraduate I was treated as a graduate researcher from moment one. That was an invaluable experience and resulted in exponential growth in my capabilities and interest in science."
Murphy found a mentor in Gabe Spalding, now the B. Charles and Joyce Eichhorn Ames Professor of Physics. Murphy, who was already a junior at IWU when Spalding joined the faculty, vividly remembers the "energy and passion for fundamental scientific research" Spalding brought to IWU.
Spalding remembers challenging Murphy and his peers from day one, setting them to task assembling and installing an atomic force microscope. Spalding gave them their goal and then left the students to their task. By the time their professor checked in later, the students already made progress well beyond his expectations.
"Bill stepped forward in a way that was striking," Spalding recalls. "At that age students don't always have the confidence to demonstrate so much initiative in the way that he did. IWU, with its strong emphasis upon student engagement, was a good match for Bill."
Murphy continued to work alongside Spalding in his lab until graduation, studying the fundamentals of materials. According to Murphy, the responsibilities that Spalding entrusted him with ensured that by the time he graduated from IWU in 1998, he had already engaged in projects that many seasoned graduate students had yet to encounter.
Spalding said that instilling students with the confidence and initiative to pursue their interests is a primary goal of the physics department, and one of the most rewarding aspects of serving as a teacher and mentor.
"When you're giving students permission and expecting them to engage with their interests without constraining them too much, you're guaranteed good things are going to happen," Spalding says. "It was thrilling to see Bill launch and take off."
Murphy continued to play baseball as a senior, along with fellow physics majors James Rinne '99 and Dylan Morgan '98, giving IWU baseball an outfield comprised solely of physics majors. "It's the sort of thing that could only happen at Illinois Wesleyan," Murphy says. "Coach (Dennis) Martel always ensured that we were truly student-athletes, and we were able to pursue our goals both on and off the field."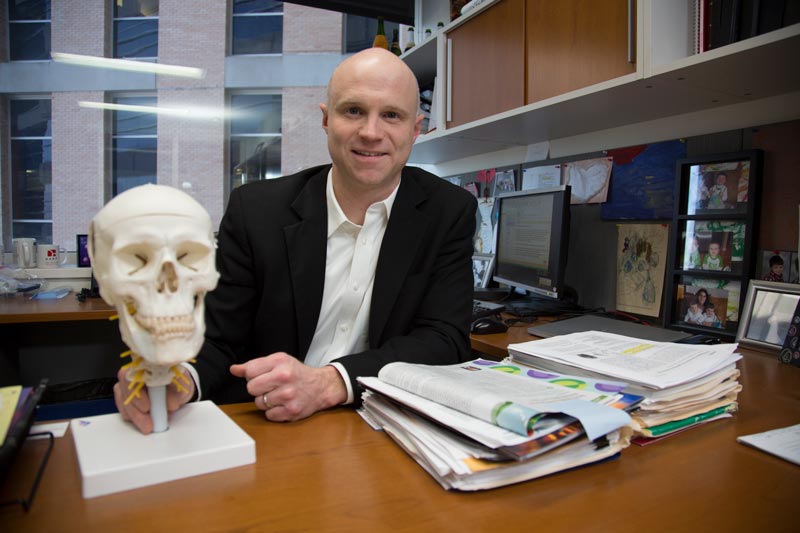 Beyond IWU
Following graduation from IWU, Murphy enrolled at the University of Michigan–Ann Arbor to work on his M.S. and Ph.D. in biomedical engineering. While at the University of Michigan, Murphy continued his research under the mentorship of David Mooney, who is lauded as one of the fathers of tissue engineering. Working in Mooney's lab gave Murphy the opportunity to explore the science and applications of tissue engineering.
"Being a part of David Mooney's lab gave me the chance to apply a lot of what I learned in material science to this rapidly emerging field," Murphy says. "Once again I was fortunate to have an incredible mentor."
Murphy received his M.S. in 2000 and his Ph.D. in 2002, after which he joined the University of Chicago as a post-doctoral fellow in chemistry.
Since his arrival at University of Wisconsin–Madison in 2004, Murphy has been making a name for himself as a prolific researcher. To date, Murphy has filed more than 40 patents and has founded four companies. He continues to innovate in the field of bioinspired materials and regenerative medicine, exploring ideas such as using mineral-based materials that can deliver proteins, DNA and RNA to potentially combat a range of human diseases.
His lab, the Bioinspired Materials Lab, is comprised of more than 20 individuals – students, researchers, and scientists with academic backgrounds ranging from biomedical engineering and medicine to biotechnology and toxicology. The cross-disciplinary perspectives of the members of his lab, as well as collaborations with colleagues from departments across the UW–Madison campus, help him continue his search for some of the most challenging problems in regenerative medicine.
In addition, he is furthering the tradition of inspiration and mentorship that started at IWU by sharing his passions with the next generation through teaching and offering opportunities in his lab. He has even established a legacy at Illinois Wesleyan by creating the Bill and Katie Murphy Research Fellowship. He hopes that through these actions he can ignite the passions of future scientists and scholars.
"Sometimes the tendency is to dip your toes into multiple areas and see how it feels, but I think you should find what you are most passionate about and completely immerse yourself in it," Murphy says. "My career path has been driven by what I was passionate about and tangible goals for discovering new ways to treat patients and understand nature and the world. That has brought me to some exciting places."