IWU Celebrates a Decade of Business, Economics, Finance Education at State Farm Hall
Oct. 24, 2023
BLOOMINGTON, Ill. — Ten years ago, the skyline of Illinois Wesleyan University was transformed when State Farm Hall was constructed on campus, where it serves as home to the IWU School of Business and Economics. Members of the Illinois Wesleyan community were recently joined by representatives of State Farm® for a celebration marking the milestone anniversary.
Attendees browsed memorabilia from the 2013 dedication of State Farm Hall, which was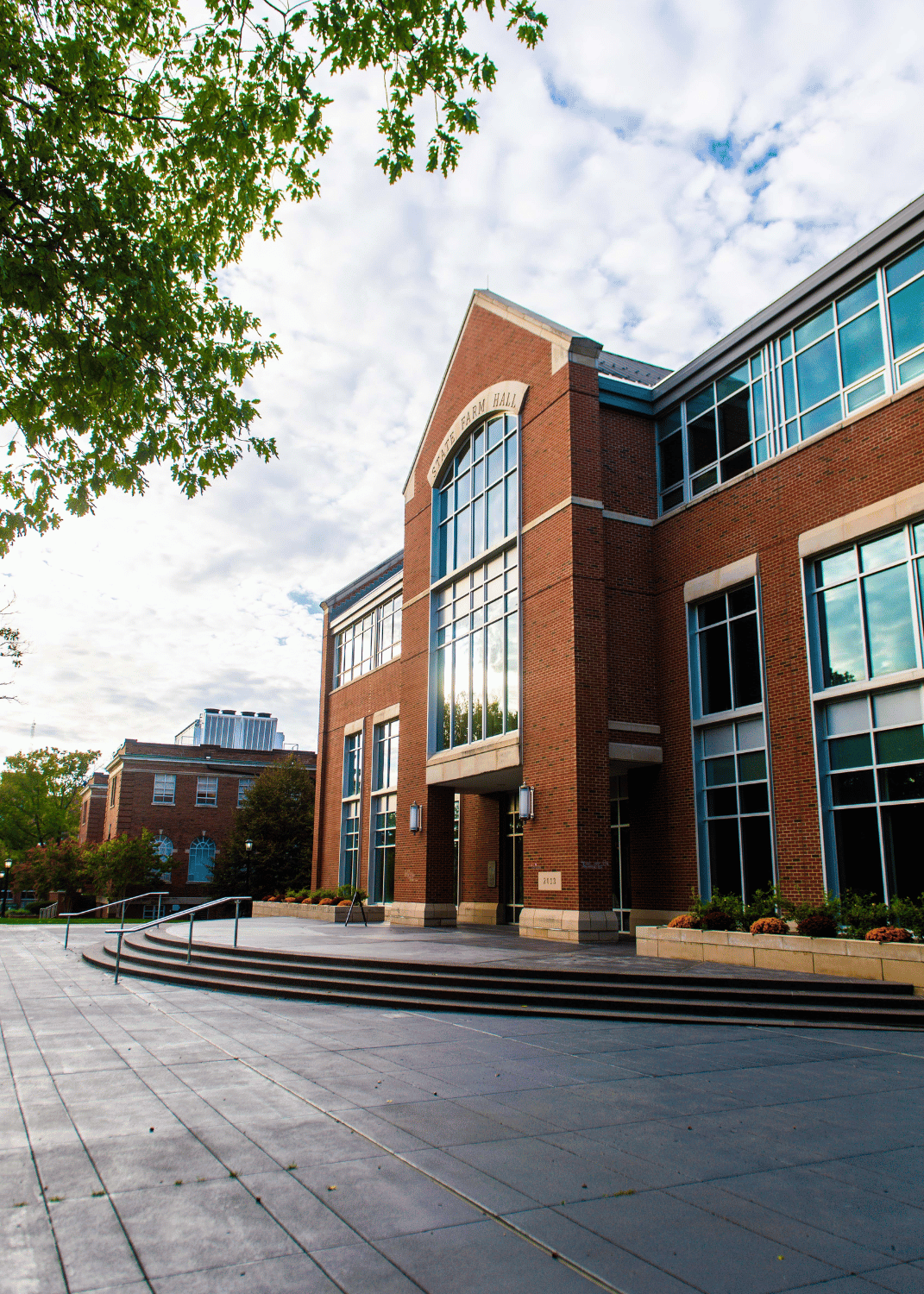 made possible by a $10 million gift from the State Farm Companies Foundation® as part of the University's Transforming Lives Campaign. Encompassing 47,800 square feet of space on four floors, the building serves as an academic and collaborative space. It caters to students studying accounting, business administration, economics, entrepreneurship, finance, marketing, professional sales and quantitative finance.
Leaders from State Farm and Illinois Wesleyan gave remarks highlighting the impact the facility has made on campus over the last decade, and the value of the partnership between the two institutions.
IWU Board of Trustees member Kimberly Sterling said she understands the quality of an Illinois Wesleyan education, both as a 1992 alumna and as an employee at State Farm.
"Illinois Wesleyan's focus on liberal arts thinking with practical application, experiential learning, and interdisciplinary curriculums, while enjoying the arts and sports — all creates a very well-rounded student who then becomes our future employee," said Sterling, who works as an operations vice president at State Farm. "Our partnership with IWU has been important and special. This hall is not only a beautiful building, but it represents the number of successful students who have gone through these doors and the generations to come."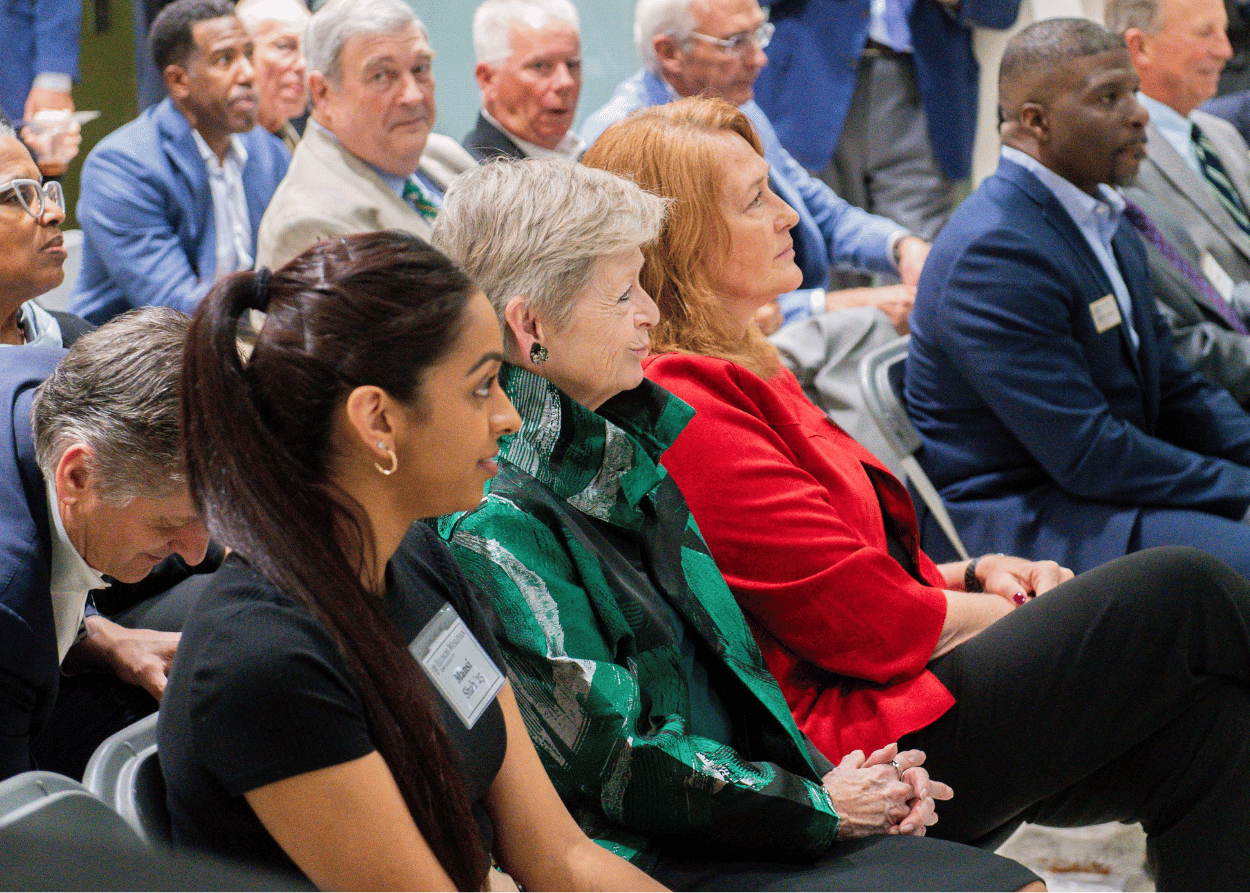 President Nugent said the University is fortunate to have a modern facility that collocates several programs in one space. She noted that the study spaces on each floor of State Farm Hall are often occupied by students from a wide variety of majors.
"We're moving more and more to experiential learning where it's not just sitting in a lecture hall, it's students working together. The spaces here are perfect for that," said Nugent. "It has only been 10 years, but State Farm Hall has made an amazing impact on campus. It's a relationship we hope will last a long time."
Guests also heard from neuroscience major Mansi Shah '25, who is the inaugural co-leader of the IWU MakerGirl Academy, vice president of chapter wellness of Alpha Gamma Delta, a member of the executive board of South Asian Student Association, member of Students of Color in STEM, and mentor for the Office of Diversity and Inclusion.
Shah spoke about her experience as the daughter of hard-working Indian immigrants, and how financial aid offered by Illinois Wesleyan such as the State Farm Scholars Program Scholarship will help create more opportunities as she plans to pursue a doctorate in neuroscience.
"Being a recipient of the State Farm Scholars Program Scholarship has let me do things as a student that I'm so grateful for, such as serving as a leader in different student organizations, mentoring first-year students through the Office of Diversity and Inclusion and conducting research," said Shah.
While most of her major-specific classes take place in the Center for Natural Science building, Shah said many of her general education courses were held in State Farm Hall, which she said provides "great collaborative space."
"It also serves as a great asset to the business department, like the Bloomberg Finance Lab, and for many faculty, staff and alumni as well," said Shah. "I have some of the best memories with my friends in this building, especially with late-night studying sessions.
State Farm Hall accommodates the latest trends in learning technology, with the 2022 addition of the Greg Yess '82 Bloomberg Finance Lab located on the first floor. Students have full access to 12 Bloomberg Terminals, the leading industry tools used by top financial institutions for investing, trading, risk management and research. The building also serves as a backdrop for key University events, including commencement.

By Julia Perez