Escape Room Activity Pushes Boundaries of Nursing Education at IWU
Oct. 2, 2023
BLOOMINGTON, Ill. — Escape rooms are a popular form of entertainment, with friends working together to solve puzzles and unlock clues to break out of the scenario. Faculty and students with Illinois Wesleyan University's School of Nursing and Health Sciences have found a way to apply the entertaining and collaborative components of escape rooms to mental health education for nursing students.
In an effort to broaden psychiatric lab experiences for nursing majors, Simulation Coordinator Amanda Kemp and Associate Nursing Professor Wendy Kooken turned to a group of clinical nursing students with an unusual idea.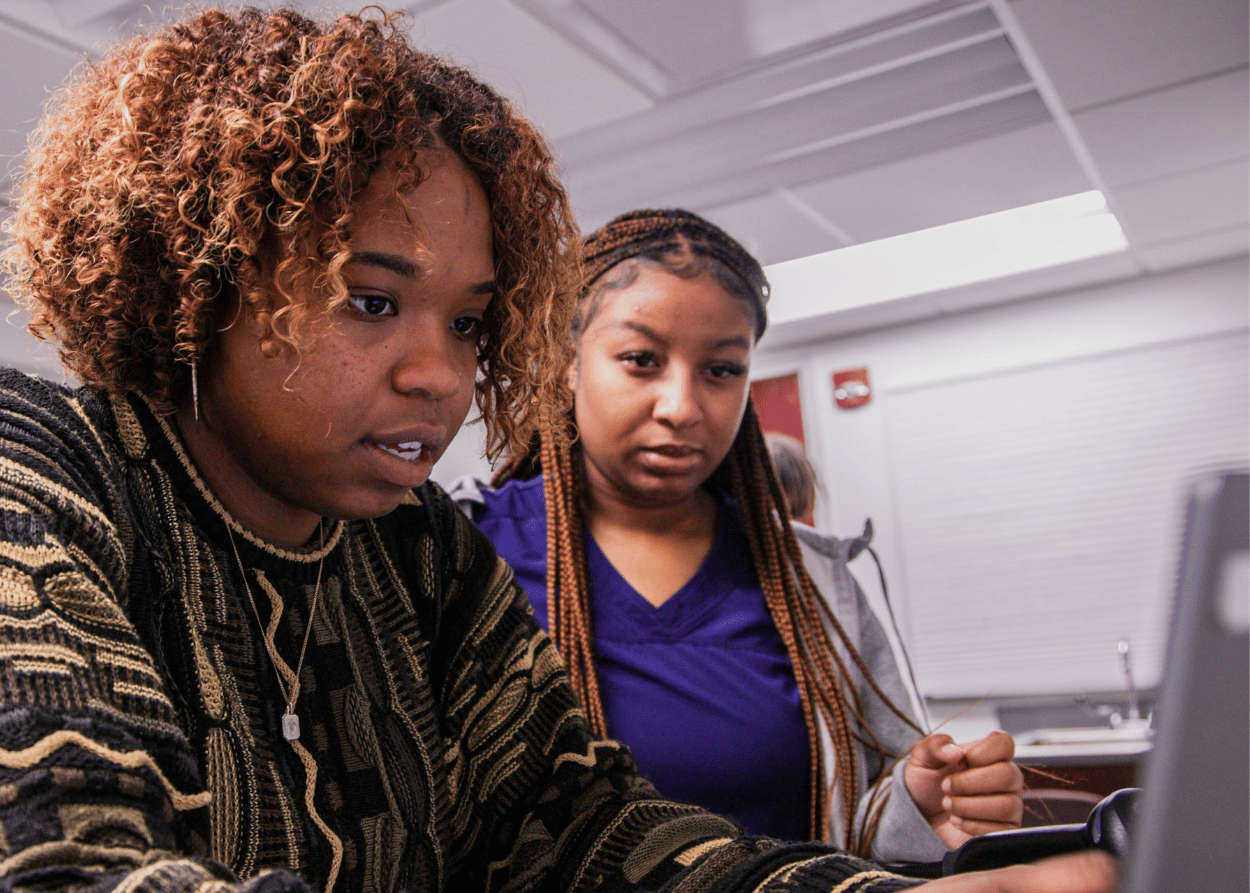 "The clinical group helped form our ideas into an escape room activity with the emerging theme of patient safety. The students were really creative, designing the concept on a computer first and then putting it into action and running some trial simulations," said Kemp.
One clinical student, Lily Summers '24, took charge of the project and now works closely with Kemp and Kooken to make adjustments to the exercise.
"This allows students to make mistakes in a controlled environment," said Summers. "Not only do you get to make mistakes and learn from them, but you also get to have fun while doing it."
During a typical escape room, participants slowly uncover clues throughout the space, ultimately revealing the key for the group to "escape" from the room. In this case, the clues and keys are hidden on a lifelike mannequin patient and stashed on medical equipment throughout a simulated hospital room in Stevenson Hall. Small groups of nursing students
enter the room and the 30-minute clock starts, with a goal to use their nursing knowledge to solve puzzles and locate a hospital badge which signals successful completion of the activity.
To raise the stakes, groups are timed on how long it takes to finish the puzzle, leading to congenial competition between students.
"We know nursing is rigorous and hard, but we can also make it fun," said Kemp. "We've found that there are a lot more visual learners who prefer hands-on activities. We're watching students make all of these connections by working together without a single faculty member in the room."
Nursing students Olivia Galloway '25 and Grace Spader '26 recently paired up to try the activity. As they read through medical charts and examined items in the room, like the patient's restraints and labels on the medication, the clues started to come together. Kemp watched from a nearby observation room, occasionally sharing hints and encouragement through an intercom.
Kemp reminded the students to refer to skills learned in the classroom, such as the six rights of medication administration, which require nurses to confirm they have the right patient, right time, right medication, right route, right order and right dose — with each "right" leading to a new clue.
After successfully completing the activity, Galloway said the exercise served as good practice for the experience at a real clinical site, including the communication skills required to administer the best possible care.
"Being a nurse isn't just about providing care; it's learning how to talk to people and familiarizing yourself with different environments and scenarios. In nursing, there are sometimes multiple ways to do one thing, so finding the most efficient and safe way for a patient to receive care is important," she said.
Spader agreed, adding that she appreciated the innovative style of learning.
"It's a more modern way of doing nursing school. I think the more modern we make our nursing education, that will apply in the real world and will benefit new nurses — and even experienced nurses — going forward. As technology grows and society grows, we have to keep growing with it," said Spader.
Not all students will go specifically into psychiatric health, said Kemp, however she said the lessons learned through this mental health activity apply to nurses in every field.
"I tell them, 'You will all be mental health nurses. These are things that will apply no matter what unit you're on,'" said Kemp.
Escape rooms aren't as common in the academic world, but the practice is growing, according to Kemp and Kooken. Both have encouraged other departments at Illinois Wesleyan to consider creating their own academic escape room.
"We believe this could work for any kind of major," said Kooken. "[Escape rooms] often have literary or historical themes, some are based on art or science. Anyone could use this to help students think about broad lessons and help them think in novel ways about specific connections the professor wants them to make."
Kemp, Kooken and Summers will share the escape room activity beyond IWU by presenting at the American Psychiatric Nurses Association conference in Florida this fall to explain how hospitals can create their own educational escape rooms.
For Kooken, her hope is to see this exercise inject some fun into the nursing field.
"Nursing is a very serious major, but there has to be some time for levity. It is a positive way for nurses to cope with the difficult aspects of our job," she said. "IWU, as a liberal arts school, is very focused on holistic thinking and students being well-rounded. Doing out-of-the box things is part of that, and giving students opportunities they might not have elsewhere is also part of what we strive to do."
By Julia Perez