Walsh '24 Shapes College Experience Around Growing Esports Industry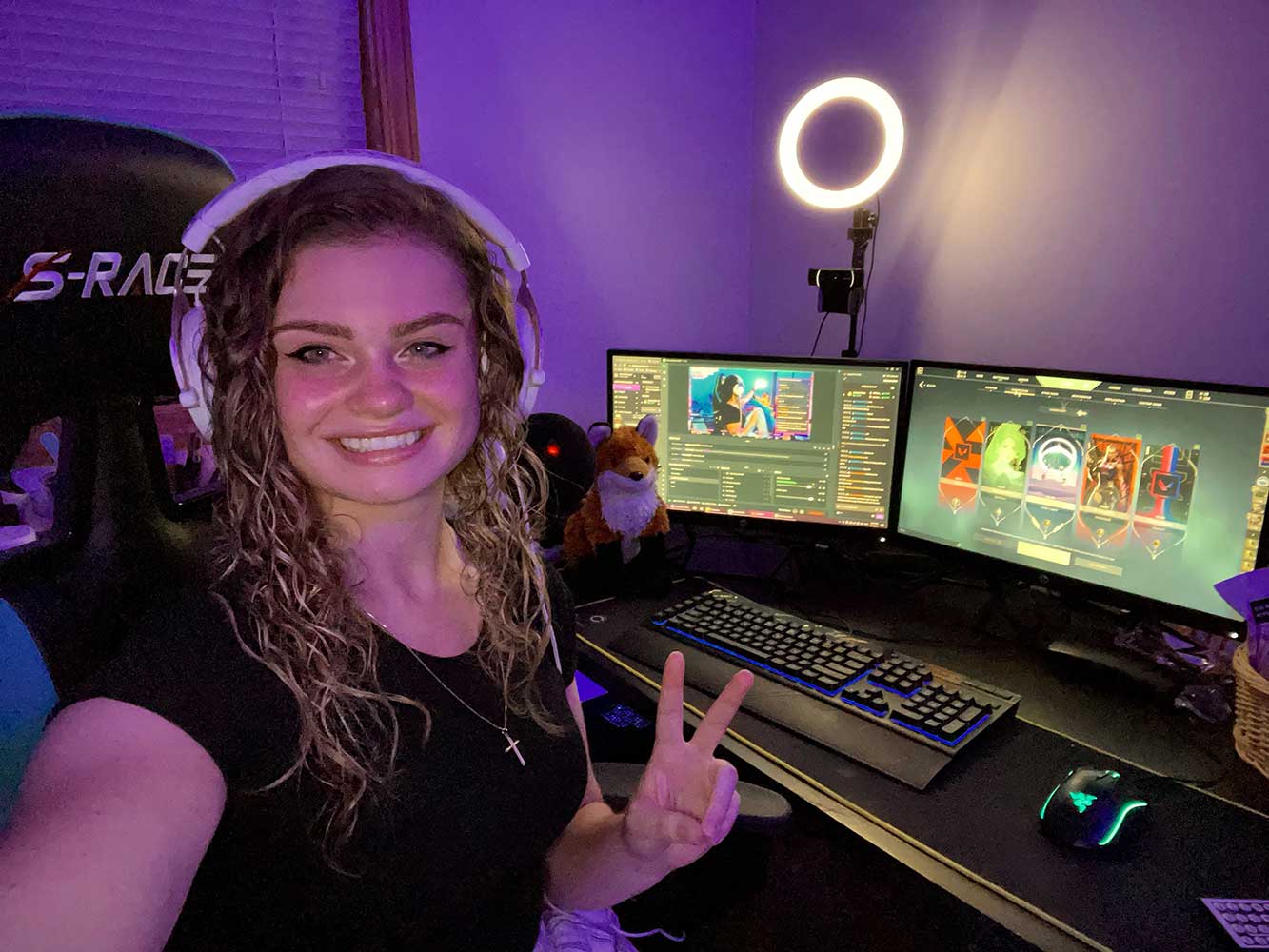 Sept. 16, 2021
BLOOMINGTON, Ill. — Sophomore computer science major Nicole Walsh '24 arrived on campus with a passion for gaming. Originally slated to join Illinois Wesleyan University's Overwatch team, Walsh instead works as one of the esports program's student broadcasting directors, a decision that has inspired her career aspirations.
As a broadcasting director, Walsh works behind the scenes to produce live streams of Illinois Wesleyan esports matches through the IWU Esports Twitch channel. In preparation for a broadcast, Walsh collaborates with designers who make graphics for the stream, with casters who commentate throughout the match, and with players and coaches participating in the match. During the match, Walsh handles the technical aspects of producing a professional-looking broadcast.
"What I enjoy most about my job as a broadcasting director is communicating with everyone and seeing the final stream come together," said Walsh, who is also an all-conference javelin and discus thrower for the Illinois Wesleyan track and field team.
In recognition of her work as a college student in the esports and gaming industry, the 1,000 Dreams Fund, in partnership with Allied Esports and HyperX, a prominent gaming equipment company, recently awarded Walsh one of 24 BroadcastHER Academy scholarships. Selected from a nationwide pool of candidates, Walsh was awarded a $1,000 grant and an invitation to join the BroadcastHER Recipient stream team on Twitch.
"I felt so honored, and it was also a confidence boost that my Twitch channel is looking good and worth receiving a scholarship like this," said Walsh. "I'll use the scholarship money to buy a new camera and to finally attend TwitchCon, since going there as a streamer is huge for networking."
TwitchCon is a biannual convention organized by Twitch, focused on streaming and gaming.
"It's been a dream to attend TwitchCon, so I can't wait to finally check it out," Walsh said.
Along with streaming through the IWU Esports Twitch channel, Walsh also represents BroadcastHER and Lionheart Esports through her personal Twitch channel, which has nearly 4,000 followers.
Walsh hopes that her experience at Illinois Wesleyan will lead to a career in the rapidly growing esports field after college.
"Working behind the scenes on the big name gaming tournaments or being someone who develops video games would be a dream come true," Walsh said.
"My goal with being a computer science major is to develop video games, and give back to the gaming industry."
By John Twork