NexSTEM Scholars Present Research Virtually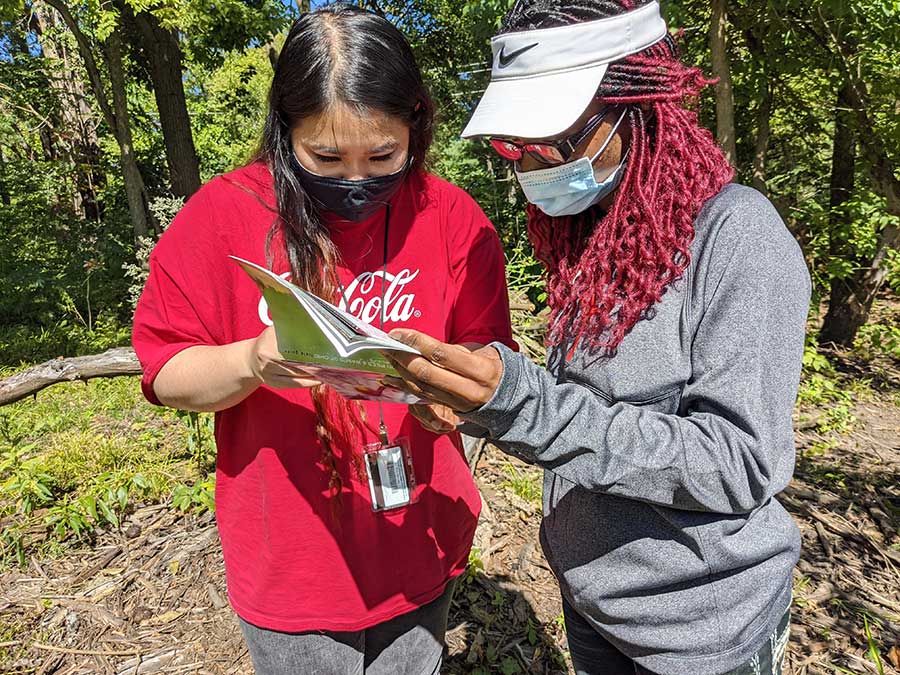 Feb. 5, 2021
BLOOMINGTON, Ill. — STEM research continues amid the ongoing pandemic, as student researchers recently presented findings from their semester-long projects at the virtual 2020-21 Fall NexSTEM Research Symposium.
Funded by the National Science Foundation (NSF), the NexSTEM Program offers undergraduate scholars their first foray into developing and presenting an independent research project, through the guidance of faculty mentors across a number of STEM-related disciplines. In addition to student-faculty collaboration, the program's three participating campuses — Illinois Wesleyan, Illinois State University and Heartland Community College — encourage students to engage with their peers at neighboring institutions.
An Illinois State University Sugar Creek Savanna Restoration Project was a collaborative project between students Kathleen Nguyen '23 (IWU) and Benedicte Kazigwa (Heartland Community College) mentored by Instructional Assistant Professor Ben Wodika of Illinois State University. Through their collaborative efforts, the project focused on the rehabilitation of natural areas within the Bloomington-Normal community near the Illinois State campus. Their goal was to restore this area to its natural beauty since it has been overgrown by invasive honeysuckle plants. In order to begin the process of restoration, the pair considered the site layout, functional success, and how to maintain the project in the future. With this processing aside, they began to remove honeysuckle from the area, clearing one plot entirely and leaving three with only saplings to be removed next semester.
This semester, their team plans to continue to remove honeysuckle saplings, plant savannah and prairie seeds, and utilize a controlled fire to help clear the area for proper growth. From here, the pair states that, "Our savanna restoration project is a part of a larger ISU effort in conjunction with Dr. Ben Wodika and ISU graduate student, Jesse Smith, that is in progress." In order to continue to maintain and utilize the area, the project's next step is to create an outdoor classroom in place of the one that had been previously abandoned, resulting in the overgrowth.
Also working to address the needs of the community, mathematics major Kade Murray '24 used his NexSTEM project as an opportunity to remedy the food deserts of West Bloomington, where access to quality foods at reasonable prices is scarce. Branching off a class project, Murray had the goal of developing a comprehensive plan that would help a new non-profit grocery store stock healthy and affordable foods while also maintaining financial stability. With the aid of Professor and Chair of Mathematics Zahia Drici and Associate Professor of Mathematics Dan Roberts, Murray researched foods that were cheap, non-perishable and SNAP-eligible, as well as recipes to help customers maximize their pantries. He looks forward to expanding on his project this semester by looking at the financial side of his hypothetical grocery store, as well as its long-term sustainability.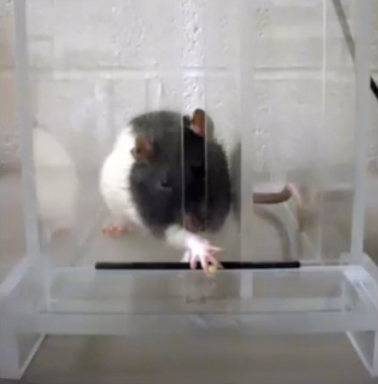 Also looking at the needs of humans, Shivam Patel '23, Sarah Baron '24, and Jake Harrison '24 studied how physical therapy might address a loss of motor function during stroke recovery. These students built their project off the work of neuroscience major Kelsey Wyman '21, who tested the motor ability of mice before and after a stroke by having them pull off pieces of uncooked pasta from a grid. The researchers are in the process of reviewing Wyman's video recordings of the mice to determine not only if the mice regained some functioning by training with the pasta grid, but also the quality of their recovery, such as the strength of their grip and how many digits they used to grasp the pasta. Given lab mice's genomic similarity to humans, the researchers see their work having significant implications for human patients recovering from a stroke.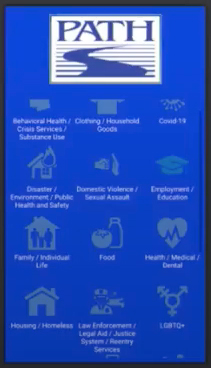 Increased reliance on technology for this year's NexSTEM program also shaped the nature of the projects themselves. For Isaiah Crews '23, David Sheelam '24, and Joseph Sterns '24, the age of COVID-19 prompted them to develop a mobile app that could serve people in search of local resources to help with rent payments, job loss, and other pressing needs. The students partnered with PATH, a 24/7 crisis hotline and referral center in downtown Bloomington, to design an app that would give users quick access to PATH's database of resources, as well as connect with younger users who might shy away from calling on the phone. The students hope to roll out a pilot of their app before the end of this spring semester.
From mobile apps to video games, computer science research continued to prove fascinating as researcher Noah Cox '23 presented his exploration on the use of neural networks –– a computer system modeled on the human brain and nervous system –– in video games. With the guidance of Professor of Psychology Brad Sheese, Cox trained his system to play the classic arcade game Space Invaders, predicting where to move and when to shoot the aliens descending from above. Continuing his research, Cox will take on the game Old School RuneScape, a personal favorite of his, to observe neural networks via a more complex system. Cox states, "I wanted to combine something that I really love with something I'm learning to love, which is neural networks."
Whether through videos of laboratory experiments or Zoom conferences with fellow researchers, the COVID-19 pandemic demanded flexibility and new ways of conducting research. Though it was not a traditional research experience by any means, participants still came away from the program with newfound skills and confidence as aspiring researchers.
On behalf of his research partners, Harrison concluded their presentation by saying, "We wanted to thank the NexSTEM Program, the National Science Foundation, and all of our peers who, despite the ongoing circumstances, have still made this year and research experience as memorable and wonderful as it could possibly be."
A full list of Illinois Wesleyan's 2020-21 Fall NexSTEM Research Symposium presentations follows:
Students: Shivam Patel '23 (Biochemistry), Sarah Baron '24 (Neuroscience), & Jake Harrison '24 (Biology)
Project: "It's All in the Reach: An Analysis of Post-Stroke Reach Quality in C57BL/6 Mice"
Advisor: Abigail Kerr, Associate Professor of Psychology
Student: Joseph Kiper '22 (Biochemistry)
Project: "Stimulating Membrane Repair in Neuroblastoma Cells That Are Compromised by APP Overexpression"
Advisor: Thomas Kwiatkowski, Visiting Assistant Professor of Chemistry and Biochemistry
Student: Audrey Armstrong '23 (Biology)
Project: "Possible Effect of Thyroid Conditions on Recovery of Lasik Surgery"
Advisor: Tyler Schwend, Assistant Professor of Biology
Student: Mahsa Kiani '24 (Chemistry)
Project: "Peptide Therapeutics"
Advisor: Brian Brennan, Associate Professor and Chair of Chemistry and Biochemistry
Student: Kade Murray '24 (Mathematics)
Project:"Stocking the Shelves to End a Food Desert" by Kade Murray '24 (Mathematics)
Advisors: Zahia Drici, Professor and Chair of Mathematics & Dan Roberts, Associate Professor of Mathematics
Student: Kai Miller '24 (Biology)
Project: "Discovering Bacteriophages in Local Water Samples that Infect Rhodobacter capsulatus"
Advisor: David Bollivar, Miner Linnaeus Sherff Endowed Professor of Botany
Student: Emilie King '24 (Physics)
Project: "Comparison of a Programmable Circuit and a Non Programmable Electric Circuit"
Advisor: Gabe Spalding, B. Charles and Joyce Eichhorn Ames Professor of Physics
Student: Kathleen Nguyen '23 (Biology)
Collaborator: Benedicte Kazigwa (Heartland Community College)
Project: ISU Sugar Creek Savanna Restoration Project
Advisor: Ben Wodika, Instructional Assistant Professor (Illinois State University)
Students: Isaiah Crews '23 (Instrumental Performance), David Sheelam '24 (Computer Science) & Joe Stearns '24 (Computer Science)
Project: "Mobile App Development for Our Community"
Advisor: Mark Liffiton, Associate Professor and Chair of Computer Science
Student: Noah Cox '24 (Computer Science)
Project: "Exploration on the Uses of Neural Networks in Video Games"
Advisor: Brad Sheese, Professor of Psychology

By Kailee Galloway '23and Rachel McCarthy '21