Illinois Wesleyan Unveils Plans for The Petrick Idea Center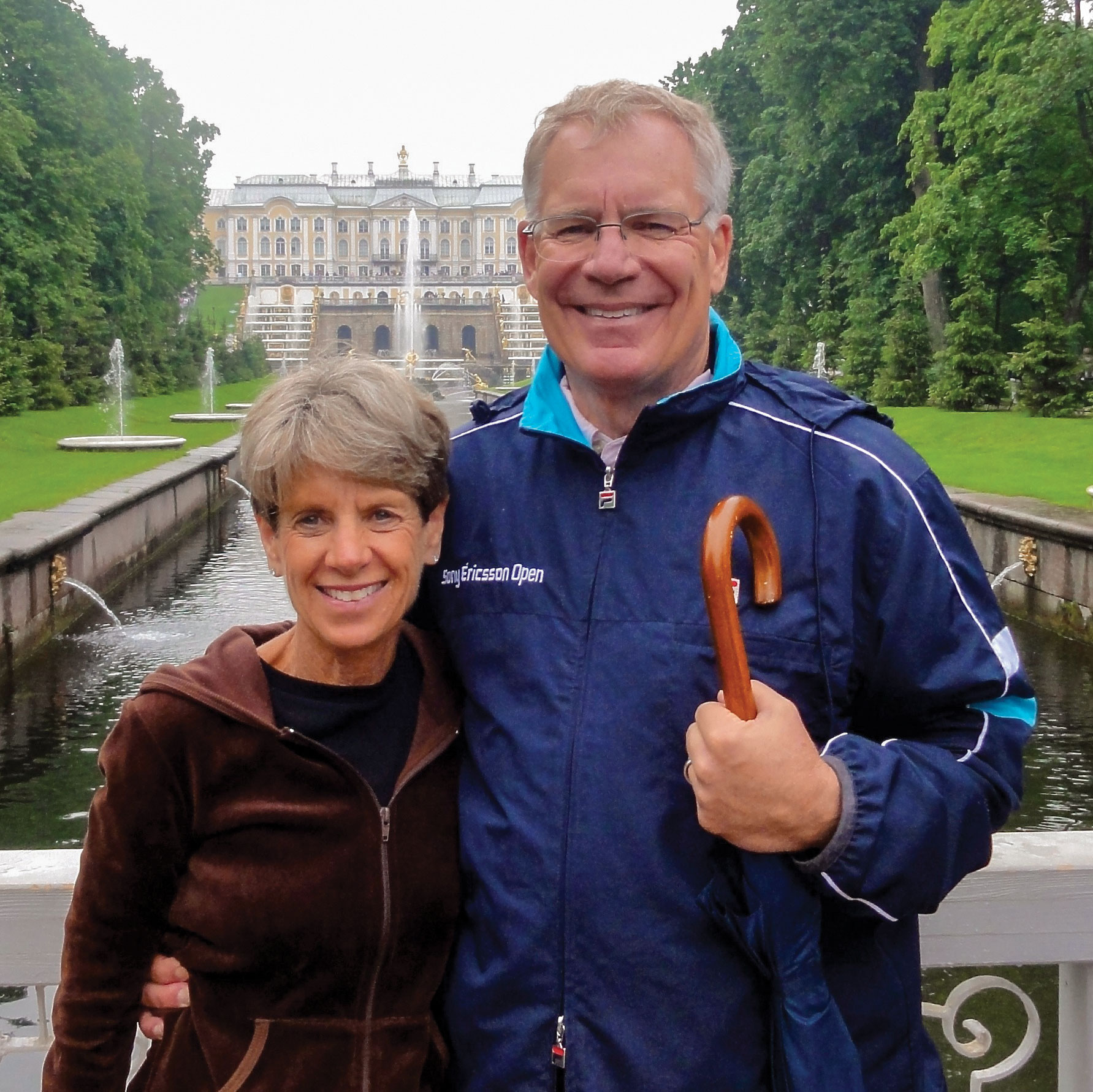 Oct. 4, 2021
BLOOMINGTON, Ill. — President S. Georgia Nugent has announced plans for The Petrick Idea Center, a new 50,000 square-foot facility on Illinois Wesleyan University's campus that will serve as a nerve center for interdisciplinary innovation, collaboration and creativity, grounded in the liberal arts.
Announced at the President's Homecoming Reception Friday evening, the project will be funded entirely through donor support, with a significant lead gift from the building's namesakes, Dave '67 and Ellen (Reid) Petrick '68. The Petricks are engaged and generous donors who have been instrumental in supporting the development of the University's initiatives centered on innovative thinking in product design.
"Ellen and I are thrilled to be lead donors for The Petrick Idea Center, a project that represents a culmination of our passions and dreams," said Dave Petrick. "It's our hope that this space will positively impact students whose majors span the academic spectrum. We believe that everyone has a bit of an entrepreneurial spirit, and through the development of The Petrick Idea Center, students from across campus will have access to the resources and support needed to advance new products, services and initiatives in the 'do well, do good' spirit of former President Minor Myers jr. Ellen and I loved attending Illinois Wesleyan as students, and we love what Wesleyan has grown to become for current students. It's our vision that this project will give Illinois Wesleyan a competitive edge as the University recruits and educates the leaders and problem solvers of tomorrow."
A lifelong entrepreneur and former member of the Board of Trustees, Petrick currently serves as chairman of Bretford Manufacturing of Franklin Park, Illinois. Founded by Petrick's father and uncle in 1948, Bretford produces technology furniture products for schools and businesses. In addition to the Petricks' lead gift, Marc '94 and Noel Talluto are also providing a significant investment in the project.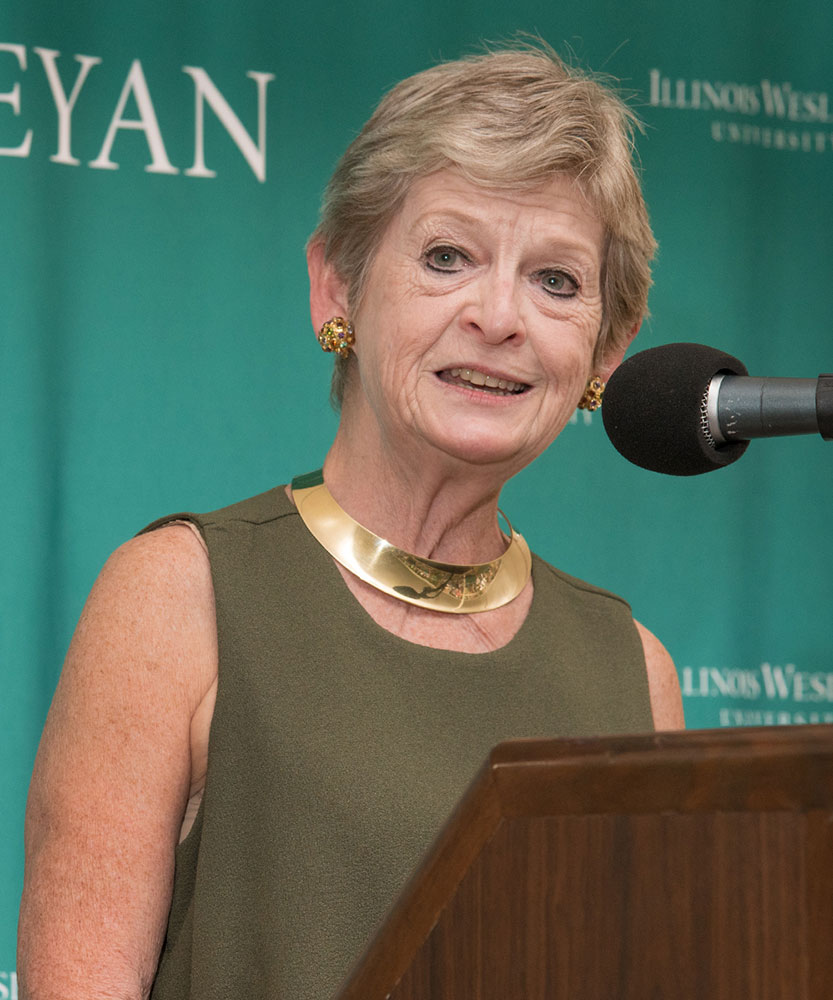 "I'm extremely excited," Marc Talluto said. "I'm hopeful that The Petrick Idea Center will help merge the passions that students have with the capability to succeed in pursuit of those passions. It's going to be great for students, for the community, and for the alumni who come back to support it."
Currently projected to be approximately the size of State Farm Hall on Illinois Wesleyan's campus, The Petrick Idea Center will serve as a living, learning and creating community by uniquely integrating a state-of-the-art innovation space open to the entire campus with a residential space for approximately 75 to 100 students. The innovation space will include flexible meeting spaces for collaborating, conceptualizing and vetting new ventures. It will also include a state-of-the-art maker space equipped with tools for fabrication and creative projects.
"Today's students prefer to learn by doing," Nugent said. "Possibilities for new kinds of learning through doing, making and creating are reasons why I'm especially excited to announce The Petrick Idea Center. The possibilities for liberal arts plus professional learning, and for experiential learning, will advance even further at Illinois Wesleyan in a visionary way enabled by an extraordinary, generous and visionary gift from Dave and Ellen Petrick."
Programming held within The Petrick Idea Center will purposefully bring together students from across the University's disciplines to think broadly about people's needs and creative, ethical ways to fulfill them. Mentoring programs will allow students to leverage one another's expertise, and the expertise of faculty, alumni and community members, to innovate boldly and with the greatest chances of success.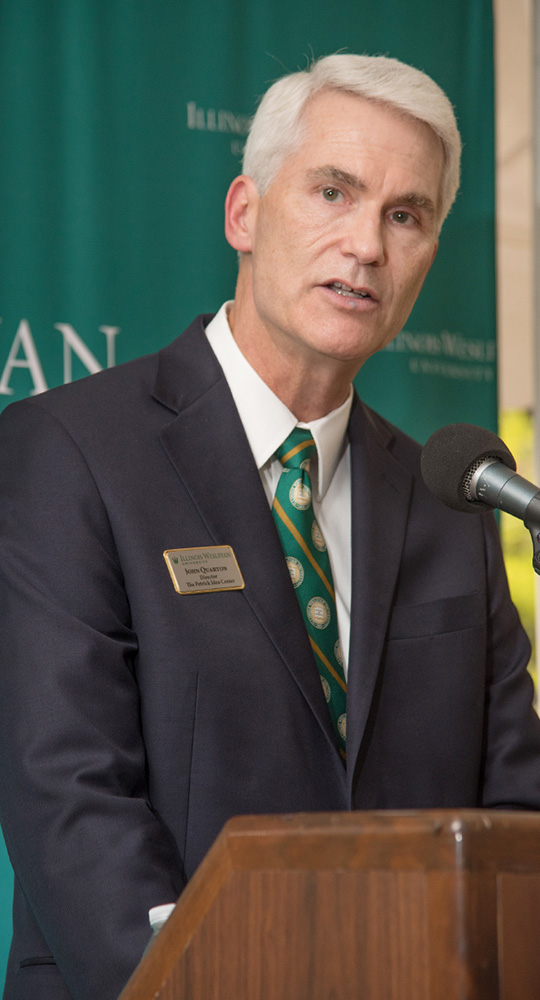 John Quarton has been appointed the inaugural director of The Petrick Idea Center and will provide leadership for the project while overseeing innovation and entrepreneurship across the University in partnership with companies, alumni and the community.
"Students, faculty and staff from all disciplines who want to use their entrepreneurial spirit to innovate and make a difference in the world will have access to the makerspace and all of its amenities and services," Quarton said. "Enthusiastic alumni and community partners who want to support the University and support students in their entrepreneurial endeavors will also have access. The facility will also include live and learn residential opportunities that will allow students to take their innovation, design, creativity and entrepreneurial passions to levels they never would have previously imagined, 24 hours a day, seven days a week. This is a real differentiator. This will create a distinctive and relevant experience not offered at many universities across the country, and it will be one of the first facilities of its kind at this scale at a university, grounded in the liberal arts."
Illinois Wesleyan University has partnered with Yazdani Studio of CannonDesign, a Los Angeles-based architectural firm, to conceptualize The Petrick Idea Center. Construction could begin as early as 2022, with sites near the northeast and southwest corners of the quad under consideration for the new facility.
By John Twork
To learn more about how you can invest in The Petrick Idea Center project, please contact Director of The Petrick Idea Center John Quarton (jquarton@iwu.edu) or Vice President for Advancement Steve Seibring (sseibrin@iwu.edu).