Gateway Students Discuss the Meaning of 'Home' with Bloomington Mayor Mboka Mwilambwe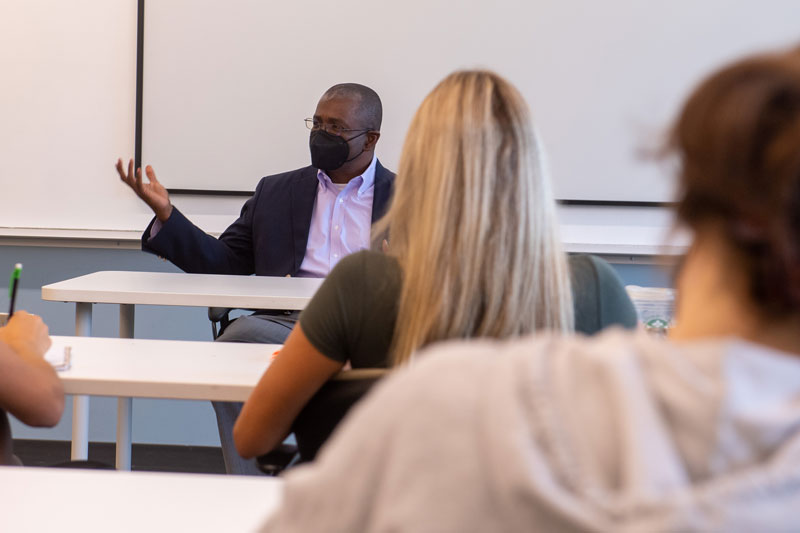 November 10, 2021
BLOOMINGTON, Ill. — A sense of community and belonging can be both comforting and challenging to find as a first-year student on a college campus. City of Bloomington Mayor Mboka Mwilambwe can relate based on personal experiences. Mwilambwe recently visited Action Research Center Director Deborah Halperin's Gateway Course, "Welcome Home," to discuss his unlikely journey to mayorship and how he found a sense of 'home' in Bloomington.
Mwilambwe was born in Kinshasa, the capital of the Democratic Republic of Congo. Ever since he was a child, Mwilambwe has been accustomed to moving around due to his father's job with the United Nations through UNICEF (United Nations Children's Fund). Mwilambwe lived in Ivory Coast, Senegal, Brazzaville (the capital of the Republic of Congo), and eventually, the United States.
Mwilambwe said, "From a very young age I got used to leaving. Every place I go, generally, the first year is the hardest."
For some of the first-year students in Halperin's class, this semester is the first time they have moved or been away from their hometown. Mwilambwe said he understands that challenge.
"This is home for me. I've been here for 30 years. My kids were born here. I have been part of this community for forever and I have so many connections — a lot more connections than I do in any other countries I have lived in," Mwilambwe said.
Living in several countries throughout his life, Mwilambwe called himself a "UN kid" because he would learn about a wide variety of cultures with each move. Through this experience, Mwilambwe became appreciative of understanding and connecting with local residents to gain a sense of belonging and community. He stated, "The best advice that I would give you is to try to connect with people who are here locally."
First-year nursing major Tessa Preheim '25 said, "The biggest takeaway from Mayor Mwilambwe's talk was the fact that he prioritized not only connecting with the Bloomington community, but also incoming students who are now residing in Bloomington-Normal."
Mwilambwe encouraged students to seek leadership opportunities throughout the community.
Political science major Carrigan Minch '25 was one of the students who appreciated hearing about these opportunities.
"Home is what you make it," Minch said. "I am going to do everything in my power to get involved in this community so I can make it my home for the next four years."
By Kailee Galloway