Romantic Poet John Keats Remembered on 200th Anniversary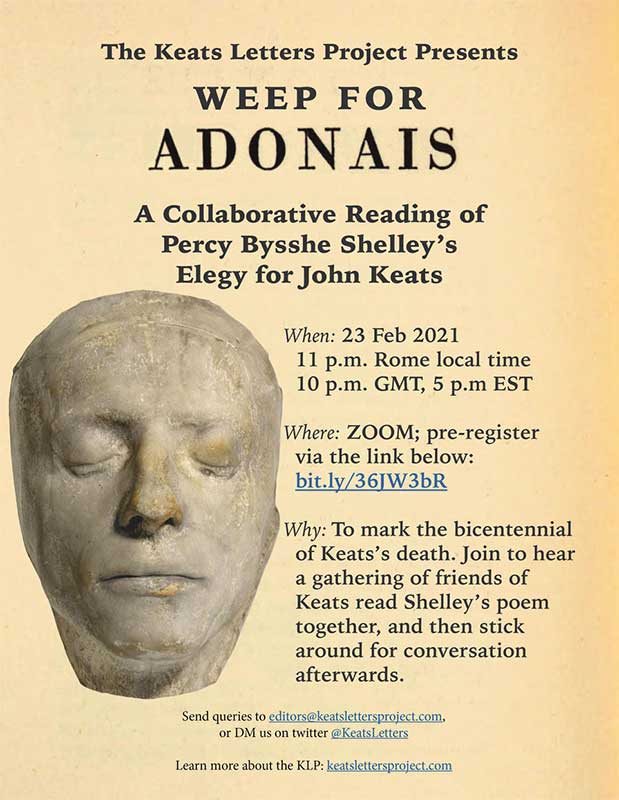 Feb. 17, 2021
BLOOMINGTON, Ill. — The 200th anniversary of the death of John Keats, one of the most beloved British poets of the Romantic period, will be commemorated at Illinois Wesleyan through two virtual events. Both Zoom events are free and open to the public.
"Weep for Adonais: A Collaborative Reading of Percy Bysshe Shelley's Elegy for John Keats" will take place on Feb. 23, 2021 at 4 p.m. CST. The event will feature a reading of Shelley's elegy, as well as a discussion of the broader impact of Keats' life.
"Why Keats Now?", featuring guest speaker Eric G. Wilson, will be held on Feb. 23 at 7 p.m. CST. Professor of English at Wake Forest University, Wilson is the author of How To Make a Soul: The Wisdom of John Keats, in which he writes about the life of Keats and the impact that Keats' poetry has had on his own life. The discussion will focus on Keats' relevance in today's world, 200 years after his passing.
Both events are organized in part by Robert Harrington Professor of English Michael Theune. A Keats scholar, Theune is co-editor of Keats's Negative Capability: New Origins and Afterlives and a co-founding editor of the Keats Letters Project.
"Keats left us a great gift," Theune reflects. "An enduring body of work that offers resonance, vibrancy, perhaps even a shimmer of solace."

By Rachel McCarthy '21