Class of 2025 and Transfer Students Welcomed to Campus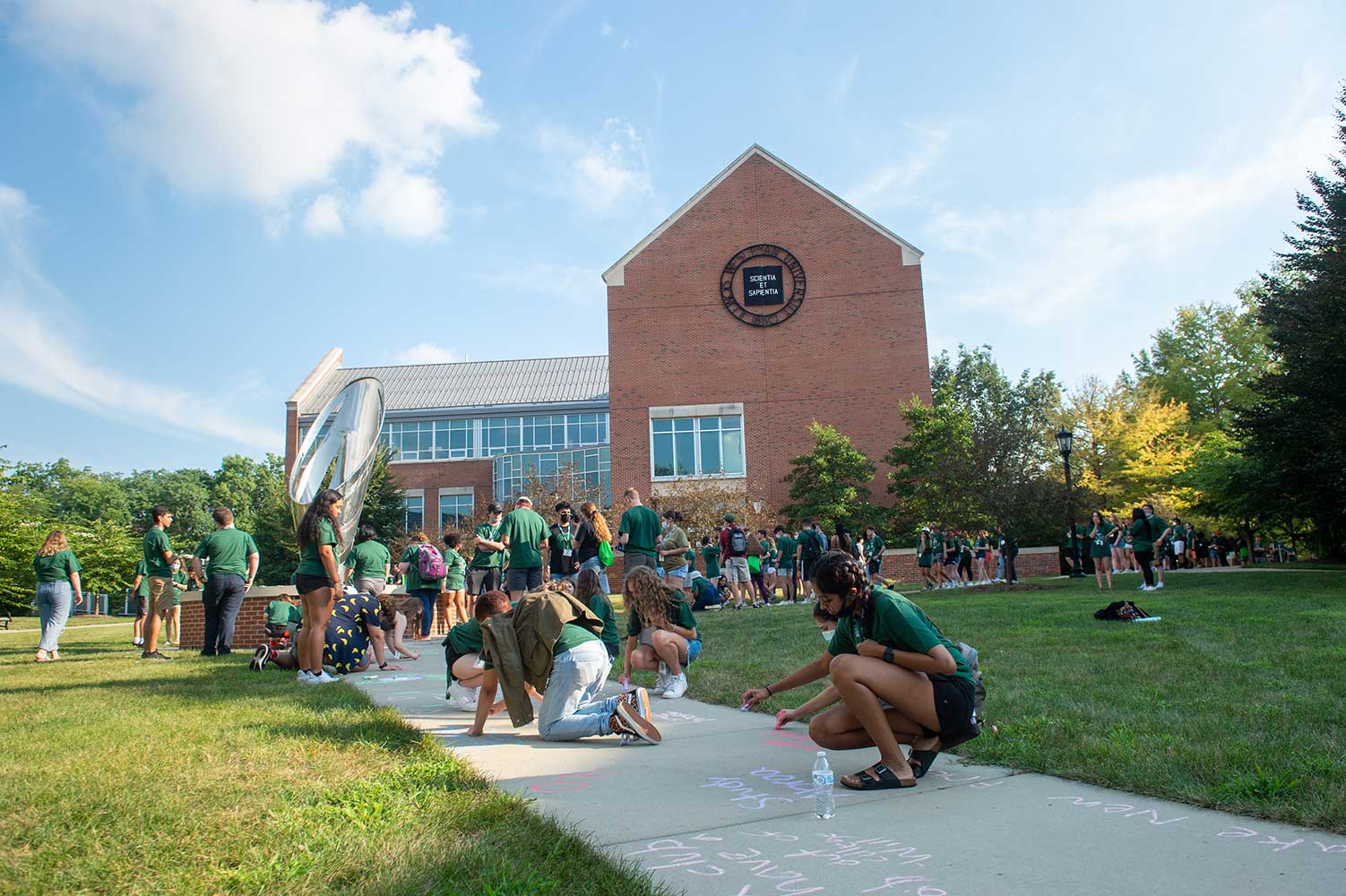 Aug. 20, 2021
BLOOMINGTON, Ill. — Members of Illinois Wesleyan University's Class of 2025 and transfer students were welcomed to campus during New Student Convocation on Wednesday, Aug. 18.
Entering her third year as Illinois Wesleyan's president, S. Georgia Nugent told the new students, "We expect your years here to be transformative ones, and we also expect that you — through the many talents and interests and gifts that you bring — will transform Illinois Wesleyan during your time here."
During her address, Nugent introduced the incoming class to the University's motto: Scientia et Sapientia, a Latin phrase which means knowledge and wisdom. She concluded, "I offer you an official welcome to this community, grounded in the search for knowledge and wisdom."
Provost and Dean of Faculty Mark Brodl said, "The time ahead — the world that awaits you in 2025 — absolutely demands new things, different things, better things. It is our job here at Illinois Wesleyan to work with you so that you can go forward to make important contributions for the challenges and opportunities ahead."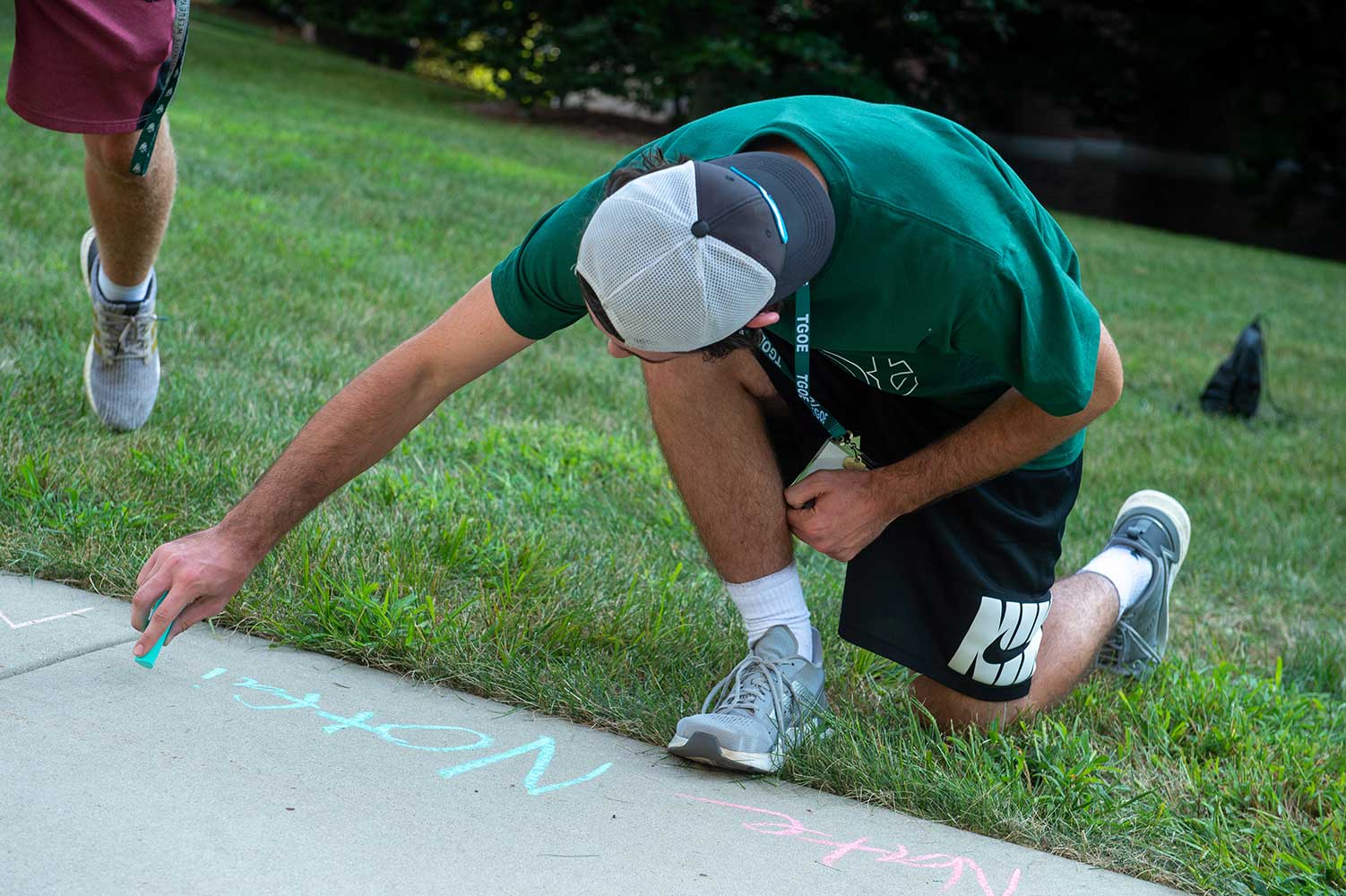 As part of the 2021-22 annual theme — Health, Healing and Humanity — new students were invited to read and submit an essay response to Dr. Mona Hanna-Attisha's book What the Eyes Don't See: A Story of Crisis, Resistance, and Hope in an American City. Brodl announced that Abbie Graue '25 won first prize in the Summer Reading Essay Contest for an essay titled Health and Hope. Melinda Burgin '25 earned honorable mention for Lead Poisoning and a Deadly Virus: Two Wakeup Calls for a Nation.
Student Senate President Daniel Maisch '22 offered the audience of new students words of advice: never stop challenging yourself and lean into discomfort. He added, "My third piece of advice is to remember that being a member of the IWU community is not like your community in high school or even at other universities. When you all arrived on campus, you joined a community full of staff, faculty, alumni and students who are all here to guide and support you and help guarantee you succeed in whatever it is you desire."
Maisch concluded, "I want to thank you for making the decision to join this amazing community and welcome you to the best four years of your life."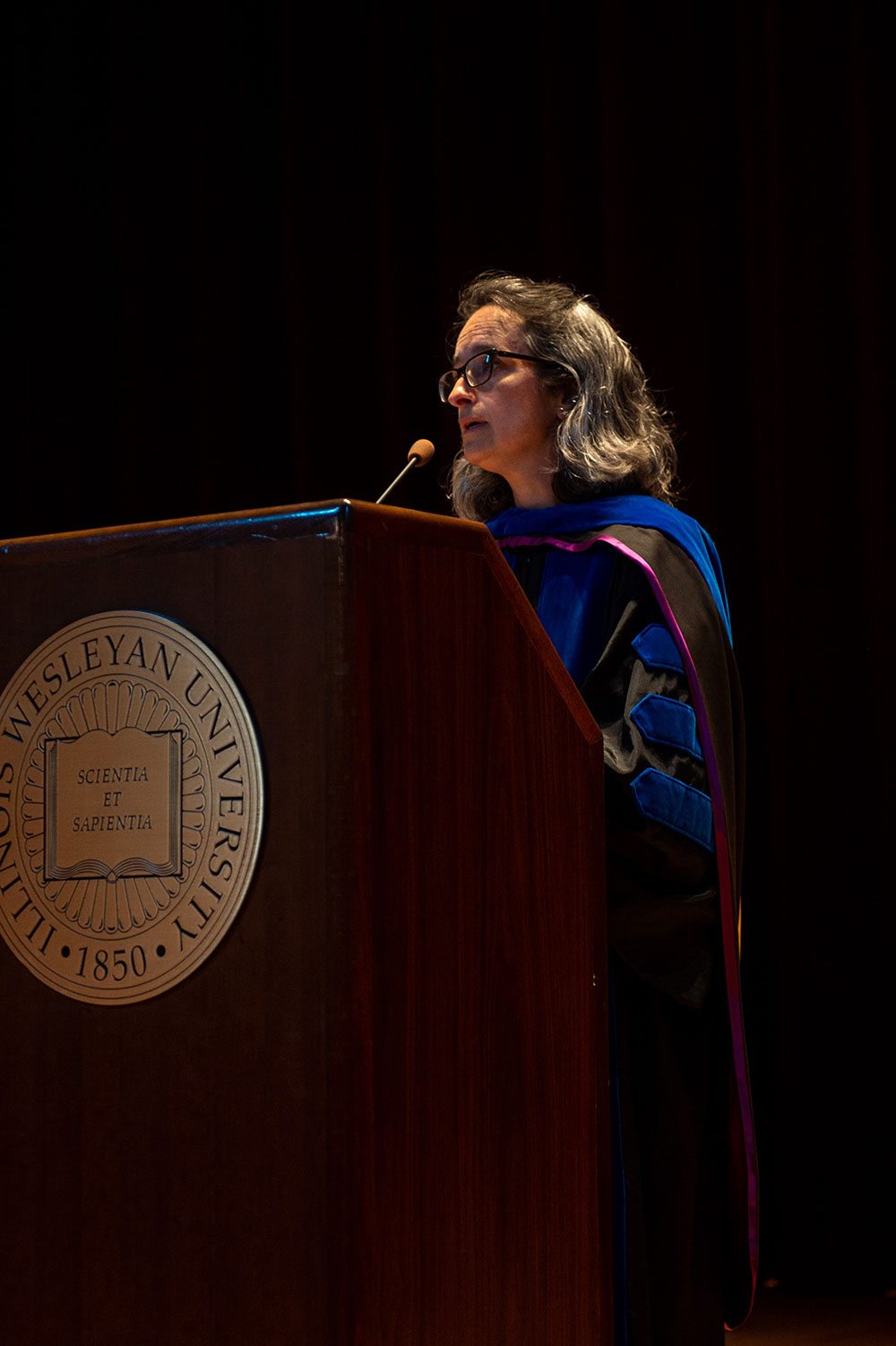 Professor of English Joanne Diaz, the 2022 recipient of the Kemp Foundation Award for Teaching Excellence, acknowledged that it's easy to feel despair amid the ongoing pandemic, nationwide systemic racial inequity, and global threats to democracy. "But hopelessness is not an option," she said. "In fact, now is the time for 'radical hope.'"
Diaz said the term 'radical hope' is borrowed from University of Chicago Professor of Philosophy Jonathan Lear. "Professor Lear says that 'what makes this hope 'radical' is that it is directed toward a future goodness that transcends the current ability to understand it.'"
Over the summer, Diaz said she experienced 'radical hope' as she facilitated orientation sessions with incoming Illinois Wesleyan students who exhibited courage and eloquence. For students who are still cultivating their sense of purpose, Diaz encouraged them to be open and curious, to think critically and listen carefully, and to be tolerant of multiple points of view. "Those are the hallmarks of a liberal arts education," she said.
Diaz continued, "If we do these things — in the arts, in the sciences, in the humanities — if we pursue those activities which bring us a sense of joy and flow and focus, and watch others do the same — then we can and will arrive at what gives us a sense of purpose."
Vice President of Student Affairs and Dean of Students Karla Carney-Hall offered her welcome and told the convocation audience that:
New Titans traveled to Bloomington from 26 states, plus Washington, D.C., and 13 different countries.

Individuals who self-identify as students of color make up 34% of the incoming class.

The class includes 113 first-generation students along with 40 who had a close family member or relative attend Illinois Wesleyan.

Members of the class are interested in pursuing 35 different academic programs, while 10% are undeclared.
Carney-Hall added that, among many notable student accomplishments, the incoming class consists of:
An artist who loves art so she can speak her mind without words

A spoken word poet

A cross country traveler who drove from Alaska to New Orleans

A captain of three varsity athletic teams

A trained first responder as part of Fire Explorers

Someone whose goal is to be a motivational speaker
Carney-Hall noted that new students gathered before the convocation at Aspiration Fountain where, as is tradition, they proclaimed their goals and aspirations.
"In our current era of uncertainty, goals can feel a little elusive, and yet, goals keep us grounded," Carney-Hall said. "Goals reflect priorities, priorities reflect values, values reflect purpose, purpose inspires dreams, dreams inspire our calling and our life's mission."
She continued, "You will be changed by your goals, your priorities, your values, your dreams, and your passions. Take stock in who you are so you can celebrate who you are becoming."
By John Twork