Boundaries and the Faculty Biennial Exhibit on Display in the Merwin and Wakeley Galleries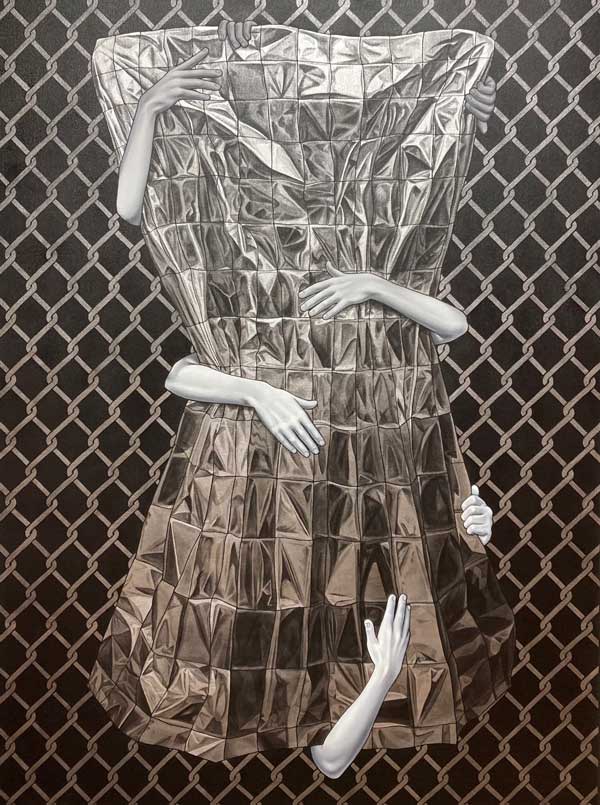 October 28, 2021
BLOOMINGTON, Ill. — The Ames School of Art is showcasing Boundaries, a collaborative exhibit by local artists, in the Merwin Gallery, and the Ames School of Art Faculty Biennial exhibit in the Wakeley Gallery, Oct. 11 through Dec. 3, 2021.
Located in the Ames School of Art, the Merwin and Wakeley galleries are free and open to the public Monday through Friday, 12-4 p.m., Tuesday evenings, 7-9 p.m., and Saturdays and Sundays, 1-4 p.m. The galleries will be closed for Thanksgiving recess from Nov. 23-28.
Concurrent receptions were held for both exhibitions on Oct. 21, 2021.The events included opportunities to visit the galleries alongside the artists. The Boundaries reception also featured a gallery talk led by Illinois Wesleyan Emeritus Professor of English Kathleen O'Gorman.
The Faculty Biennial exhibition showcases the work of faculty in the Ames School of Art. Representing all areas of the studio art program, there are pieces from painting, drawing, printmaking, graphic design, ceramics, sculpture and glass. The Biennial gives students the opportunity to see the work the faculty has recently created.
Boundaries is an exhibition featuring 16 local artists who were asked to respond to interviews of children who were held at U.S. immigration facilities. The exhibit intends to give artists in Central Illinois the opportunity to respond to what is happening at the U.S./Mexico border.
The local 16 artists include: Megan Kathol Bersett, Herb Eaton, Associate Professor of Art Connie Estep, Erin Furimsky, Adjunct Assistant Professor Claire Hedden, Mel Hunter & Nicolas Africano, Interim Director of the School of Art and Associate Professor of Art Julie Johnson, Lisa Lofgren, Assistant Professor of Art Joshua Lowe, Morgan Price, Kari Sandhaas, Spencer Sauter '70, Archana Shekara, Dustin Springer '13, and Emeritus Professor of Art Kevin Strandberg.
The exhibition is organized by Carmen Lozar, Instructional Professor and Gallery Director, and Kathleen O'Gorman, Emeritus Professor of English. O'Gorman and her daughter have visited numerous detention centers, on behalf of the Center for Human Rights and Constitutional Law, where they interviewed young detained individuals in order to document their treatment and work to improve their situations.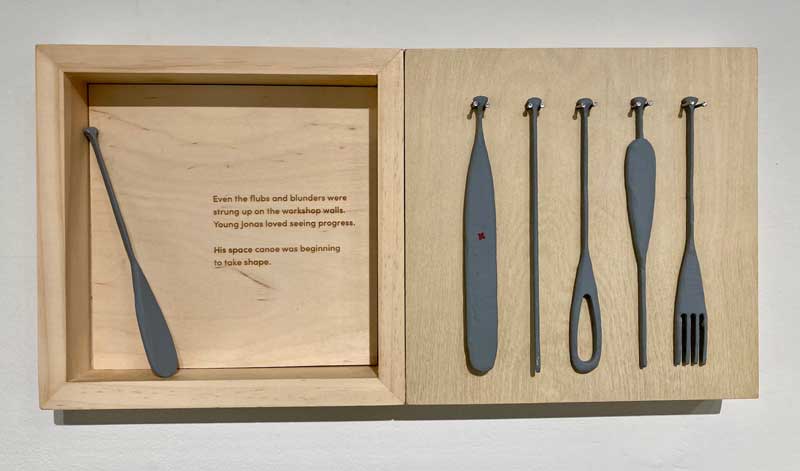 O'Gorman stated, "You can't imagine how much it means to me to give these children's voices a space in which to be heard, to give their lives the dignity we took from them so cruelly."
The pieces themselves incorporate a range of styles as diverse as their artists, from cold metallic sketches to more colorful stained glass. What unites them is the visual response to the stories of the children and what they are experiencing.
"I could not have predicted the profound reflections of sorrow and hope present in each of the 16 artists' works." Lozar continued "These artists, although geographically distant from the border and working in diverse media, created heartfelt pieces that grapple with one of the great crises of our time."
By Kailee Galloway '23