Bed Building Volunteers Garner National Attention for Community Impact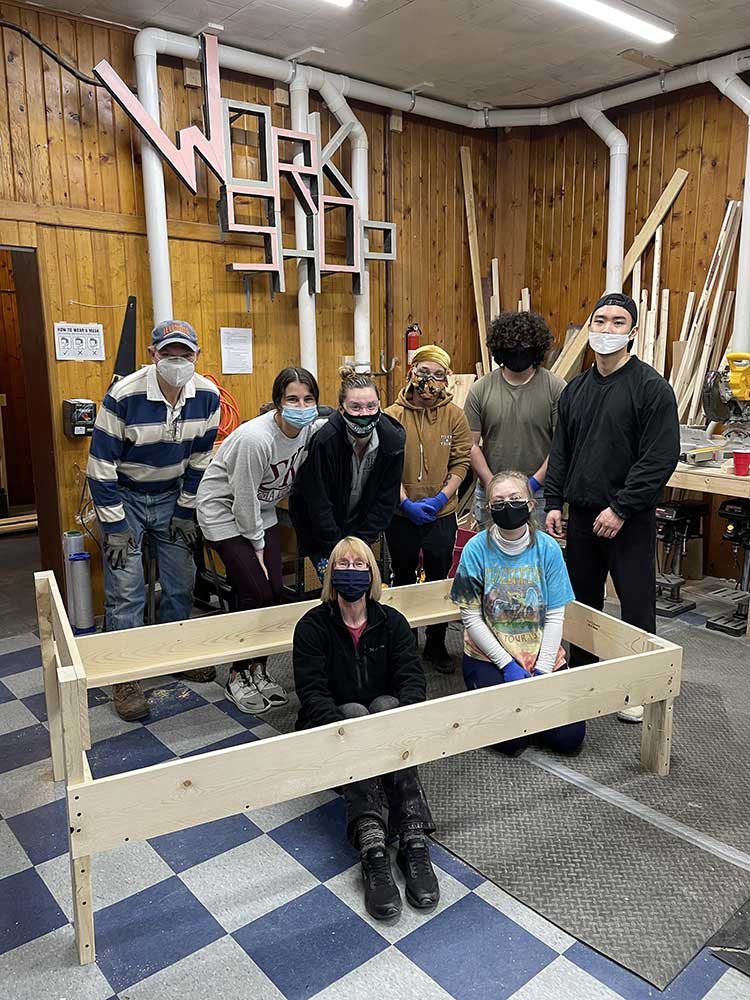 March 29, 2021
BLOOMINGTON, Ill. — Illinois Wesleyan students in this year's Action Research Center (ARC) seminar built beds for local kids as part of the West Bloomington Revitalization Project's (WBRP) Bed Blitz, which was featured nationally on Thursday, March 25 during The Drew Barrymore Show on CBS.
"The Bed Blitz reminds us that there are members of our community that need our help," said Deborah Halprein, director of the IWU Action Research Center, a campus resource dedicated to connecting students with the Bloomington-Normal community. "I have always been proud of IWU students who show tremendous leadership, creativity, and resourcefulness."
Students in the seminar collectively built three twin-sized bed frames with the help of WBRP master carpenter Bob Kerestes. Each frame comes with a brand new mattress, sheets, pillows, a blanket or quilt, laundry detergent, books, a hygiene kit, and a teddy bear.
Normally held every fall at YouthBuild, the Bed Blitz is a community event with hundreds of volunteers working to meet requests for beds, typically from schools, churches and other neighborhood organizations. Due to COVID-19 restrictions, the 2020 Bed Blitz was canceled, leaving smaller groups like the ARC seminar to fulfill requests while adhering to strict COVID-19 precautions.
In combining classroom learning with field experiences like the Bed Blitz, students gain a fuller understanding of community outreach work. Illinois Wesleyan Professor Emerita Karen Schmidt, who is teaching this semester's ARC seminar said, "Group projects like the Bed Blitz provide real time, real world experience with community engagement and active research –– it builds on the work of others, relies on partnerships and good communication skills, and highlights the reciprocal nature of service learning and engaged research practices. At mid-semester, it's also a chance to engage the left and right brain –– and the heart."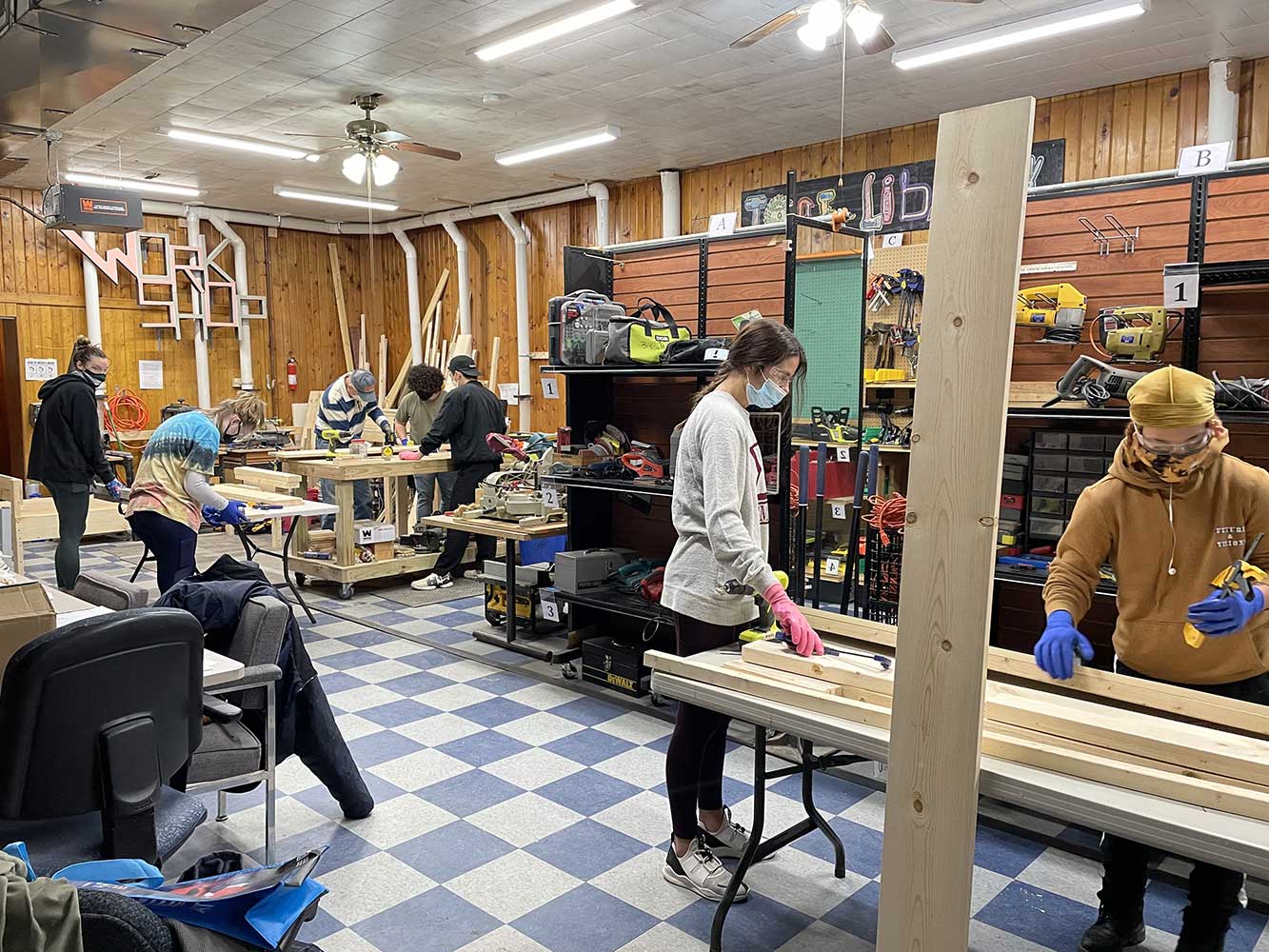 Engaging the mind and the heart is nothing new to Illinois Wesleyan. Both the Bed Blitz, which stems from the Bench Blitz project started by Julie Lewis '16, and the WBRP have strong historical ties to the University. Since the ARC's involvement in establishing the WBRP more than ten years ago, it has since served as the focus for grant writing courses, internships, work-study opportunities, ARC seminars and much more.
"I think it's a really unique campus-community partnership," said Halperin. "We have been involved with every aspect of the organization's growth and development. IWU expands the capacity of this small, grass-roots organization to achieve their mission."
This campus-community connection is integral to the IWU experience, from one-off volunteer opportunities to semester-long research projects. "We have valuable partnerships with nonprofits, local government, small businesses, and coalitions for important social justice causes," Halperin added. "There is tremendous opportunity for students to have challenging and meaningful experiences here in Bloomington-Normal. IWU is so well connected and that means access to great internships, volunteering, undergraduate research, service projects for groups, and mentors. This community enriches the Wesleyan education."
As yearly requests for beds continue to rise, Halperin hopes that the service-oriented spirit students demonstrated at the Bed Blitz will pervade the larger IWU circle.
"Because of COVID, some families are facing hardships like never before. Whether we build beds, volunteer to tutor kids, commit to shopping at local small businesses, or put books in a Little Free Library – this is the time to invest in your community."
By Rachel McCarthy '21